Forward momentum
Ray Wilkins says Arsenal's firepower will outweigh their defensive frailties against Borussia Dortmund.
Last Updated: 22/11/11 7:35pm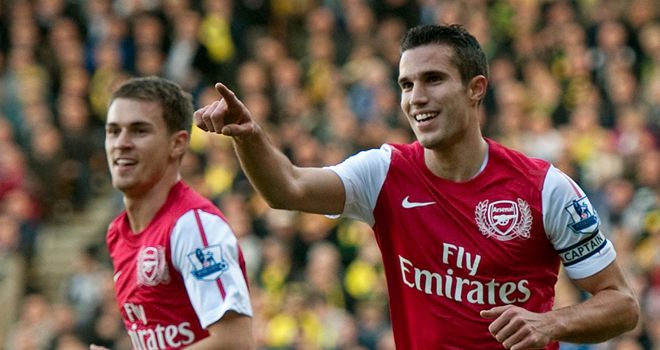 Arsenal have done wonderfully well of late, but you still get the feeling nothing is a foregone conclusion for them.
Robin van Persie is in the form of his life but even against Norwich there were one or two scary moments at the back. I think that is just the way it is going to be for Arsene Wenger for now and it might just be a case of scoring more than they let in.
Add to that the fact that Dortmund went to Bayern Munich at the weekend and won 1-0 and I am sure Arsenal fans heading to The Emirates will not be taking anything for granted.
They should in all fairness be two points better off and already home and hosed. I don't remember Dortmund creating too much out in Germany before Ivan Perisic popped up with that absolute belter right at the death.
Arsenal came back from there and got beat at Blackburn and Tottenham but since then, have slowly but surely got back on track. Their confidence has grown with each result even if, as I've said, there have been one or two defensive issues along the way.
In defence of that defence they have had a pretty tough time with injury. They have lost Bacary Sagna, who has been one of the Premier League's most consistent right-backs over the years and his replacement Carl Jenkinson. Throw in Keiran Gibbs and their main man at the back, Thomas Vermaelen, then maybe it's no surprise that Arsenal have struggled at times.
Having Vermaelen back is a massive boost for them, now all they need is Per Mertesacker to get to grips with our game. It is just a question of getting used to the pace of the Premier League and being constantly put under pressure by attackers.
Tirelessly
I think that goal at Norwich on Saturday summed his problems up in a nutshell. I am sure he will come good and realise that sometimes it is just a question of putting your boot through the ball!
Mertesacker might well appreciate coming up against Dortmund, simply because he will be more used to their style.
Robert Lewandowski, their Polish striker, might have got eight goals in 13 Bundesliga games, but I am pretty sure he will not work as tirelessly as Steve Morison and Grant Holt did on Saturday.
Vermaelen and Van Persie are the obvious stand-outs for Arsenal in any game, but one young man I think could have a big say on Tuesday night is Aaron Ramsey. He is an exceptional footballer who has grown this season and is an integral part of that spine that has helped them string together this decent run of results.
He is so composed on the ball and always seems to find time to pick his pass. If he can do that in the Premier League, you would expect him to really flourish in the Champions League.
Dortmund will want to keep it nice and compact at the Emirates but the bottom line is they need to win this game to stand any chance of progressing, so if Arsenal are solid enough at the back, I can see them picking the visitors off.