First among equals
Ray Wilkins expects both Chelsea and Arsenal to qualify for the next stage of the Champions League.
Last Updated: 31/10/11 3:47pm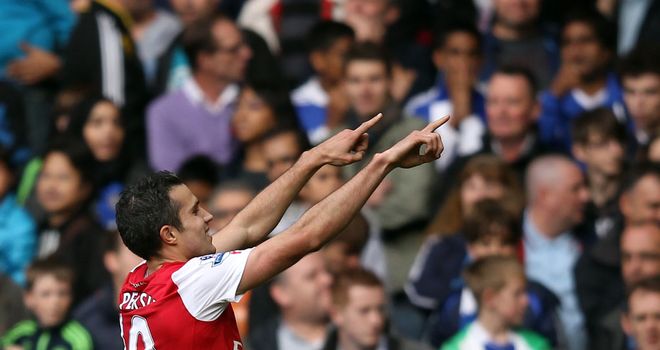 There's no doubt in my mind that Arsenal will qualify for the knockout stages of the Champions League on Tuesday.
Yes, Marseille have had a little bit of a go in the French League and now sit ninth in Ligue One after back-to-back wins over Ajaccio and Dijon.
But as much as they are improving, you have to say that a confident Arsenal side that has won 11 of their last 12 European home matches would be firm favourites going into this game at the Emirates.
It's never easy being that dominant on your home patch in Europe, because you come up against teams that play different styles and different systems.
But you have to give Arsenal credit; when they meet these teams who try to play football against them, more often than not, Arsene Wenger's side come out on top.
I can only describe Saturday's victory over Chelsea as weird. Actually, make that crazy.
With both sides keen to attack, the game was so open that it could have been 3-0 to Chelsea after five minutes, 3-2 after eight minutes and it ends up 5-3 to Arsenal after 90.
What is certain is that both of these teams must tighten up when they qualify for the later stages of the Champions League, otherwise the top European sides will pull them to pieces.
Arsenal are indifferent at the back right now.
After the game kicked off on Saturday, I thought Chelsea were going to win by five or six, because they got in three or four times - especially down the left through Ashley Cole and on the right where Daniel Sturridge had a lot of joy early on against Andre Santos - so Arsenal do have to tighten up, big time. Thomas Vermaelen's full return can't come soon enough.
I expect Arsenal to take the ball off Didier Deschamp's side on Tuesday and retain it and enjoy the majority of the chances; that would be the best form of defence.
Marseille will feel that they've got to get something out of this game; Didier will be very prudent in the way that he sets his team up and play counter-attacking football, because Marseille do have pace in their side.
The first 20 minutes is where these games are usually won and lost at the Emirates because Arsenal do come out with a real intent. If Marseille can get over that period and stay in the game, then they've got half a chance.
Arsenal's ace in the pack - Robin van Persie - is thankfully steering clear of injury and proving again what a world-class marksman he is.
His movement on Saturday was exceptional. I watched the game from a high vantage point and kept my eye on his play off the ball, which was very good indeed.
So I wasn't surprised that he grabbed that hat-trick. He could have had an easier one in the first half but, nevertheless, he was impressive, as was Aaron Ramsey.
The lad had a super game and is looking fit and strong; his footballing brain is exceptional.
Alex Song gives them that little bit of stability in the holding midfield position and Mikel Arteta is a clever ball player, who may not put too many telling passes through, but certainly has the ability to retain possession of the ball. That's what is required when you play against sides such as Marseille.
I'd imagine Wenger would play 4-3-3 on Tuesday and keep it nice and solid in the middle of the pitch with pace on the outside.
With van Persie in form - if he plays (you can never be 100 per cent sure with Wenger) - Arsenal should be too potent.
Genk v Chelsea
Every coach of a top club has at least one problem in common - how to give each of their players the pitch time they need.
Andre Villas-Boas is no different and I expect him to change things around again for Chelsea's trip to Genk.
It will be interesting to see which way he goes but I'm sure that with some of the defensive lapses that have come about up to now, it might be advisable to start by getting a solid central partnership on the team-sheet.
As much as we talk about forwards getting to know each other, it's very important that defenders are comfortable with those around them.
On that basis, it would be quite advisable for AVB to go with a solid team because they don't need to be losing three games on the spin.
If they were to lose in Genk - and I don't think for one minute that they will - that would be no good for anybody's confidence.
Like most, I'm anticipating a Chelsea victory because the hosts have only scored once in four Champions League home games and have gone goalless in seven out of nine, home and away.
For me, John Terry plays; Alex hasn't played too much but in the time I was fortunate to work with him, I found him a solid, solid centre-half.
He's powerful and can use the ball. I'd select those two and play Ivanovic at full-back with Cole on the other side. That gives you a very solid back four.
Daniel Sturridge has made a very nice little berth for himself up front; this is probably more of an important game for the Josh McEachrans and the Oriol Romeus to show their worth.
I know the doom-mongers are out and about given everything that has happened at the Bridge in recent weeks, but I don't think AVB is feeling the heat.
Most if not all teams are going to get beaten during the season - that's a fact of life.
When you look around the squad Chelsea have got, I don't imagine them having too many problems going forward, whether that be Champions League or Premier League.
There is no need for anyone to press any panic buttons at the moment. Chelsea have to make sure they get out there and do the business. By the time the knockout stages roll around, I've no doubt they'll be back on the up.
There are no problems in football, only solutions.