A Real superstar
Georgie Thompson and Special Report spend a day in the presence of a genuine icon... Cristiano Ronaldo
Last Updated: 17/10/11 8:25am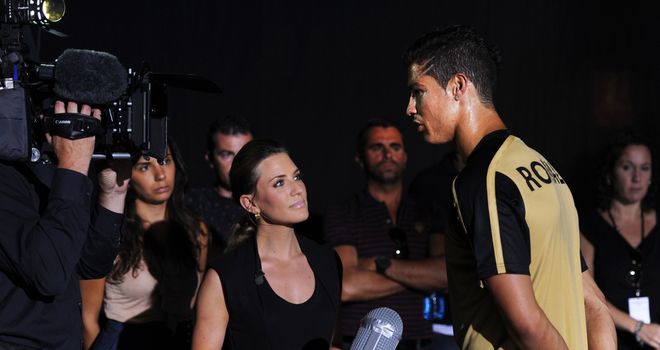 Madrid - or rather an industrial estate about 10km outside of the Spanish capital.
It's not quite what I had in mind when I was assigned an interview with the world's most expensive footballer - but that's where my crew and I ended up meeting Cristiano Ronaldo.
I say industrial estate, but I mean a film set on an industrial estate. Whoever said making television was glamorous? It's not. Well, it wasn't until Ronaldo arrived and then everything changed.
There is something mesmerising about a star. I don't know if they are born with it or if they just accumulate it over time as their stock rises, but it's there, undeniably; an ability to silence a room just by walking into it. Cristiano Ronaldo can do that.
There was a real buzz about the place when we arrived in the early hours to set up for the day's shoot and prepare to interview one of the biggest names in football.
The documentary team we were working alongside arrived on-site long before we did.
They had been hard at it through the night, rigging, lighting, testing equipment, doing dry runs and while this cast of hundreds was exhausted by the preparation behind such a project, they were beyond excited about meeting the subject of it.
And why wouldn't they be?
They were in place, as were we, to put Real Madrid's superstar player through his paces; their aim, to scientifically prove why Ronaldo is 'the complete footballer'.
Is it his pace, his technique, his skill, his speed, his accuracy and/or agility that sets him apart from the rest? A series of trials would reveal all and none of us could wait to see Ronaldo tried and tested under these lab-like conditions.
So there we all were, planning camera angles, looking at different interview locations and scoffing bacon butties when CR7 rocked up and shut us all up in an instant.
Perfectionist
Super-tanned, sporting a slick quiff and his Real Madrid match kit he looked every inch the moneyed footballer he now is. He walked the walk, he talked the talk and he commanded the stage - in this case a synthetic grass football pitch - as well as any movie actor could or would.
Watching him smash a ball through a series of glass panels in order to prove the power of a single strike you could detect his frustration at not managing to break all in one go.
A second attempt put paid to the rest still standing after his first effort. He had redeemed himself. Phew! It was becoming clear as the day progressed that Cristiano is something of a perfectionist.
This is a man who wakes up in the morning wanting to be the best footballer in the world. This is what makes a star. How many of us can truly say that we set out to be the world's best at what we do when we wake up in the morning?
Sure, we'd all like to do our job well but to be the best at it in the world? That is something altogether very different and in the end what differentiates us from them; us normal folk from stars like Ronaldo and co.
Flawless
In between takes and trials we snuck a few moments with Cristiano and he spent a decent chunk of his lunch break chit-chatting with me about stuff you'd expect to hear him talk about; Manchester United, Fergie, Mourinho.
But he was also open about his childhood and what his life was like before this other worldly fame found him.
I ended our interview by asking him who he believes is the best player on the planet. It was a bit unfair really because I reckon he thinks he is - but I wanted to hear him say it!
Instead, he chose to be diplomatic, or maybe he really does believe what he said. But I didn't buy it. In an otherwise flawless performance it was the least convincing I'd seen him all day.
You can make up your own mind and let me know...
To find out more join me on the Special Report, on Monday at 7.30pm on Sky Sports News HD channel 405. If you forget to Sky Plus our weekly report you can always catch it on Sky Anytime and follow me on twitter @officiallyGT.