Johnny Phillips urges Fulham to retain belief of great escape
Fulham utility man Kieran Richardson tells Johnny Phillips that hope of a great escape springs eternal.
Last Updated: 25/02/14 4:13pm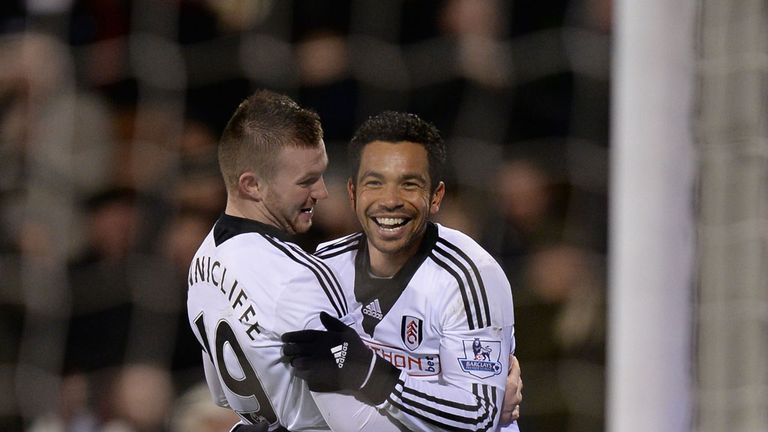 The Baggies had just beaten Portsmouth 2-0 to complete the unlikeliest of Premier League survival bids and avoid relegation.
Bryan Robson's men were the only team in the bottom four to win that day, and in doing so became the first in the Premier League era to avoid relegation from the position of bottom at Christmas.
"When I joined West Brom in January that season, it was a toss-up whether I went to join them or Norwich," Richardson recalled. "I chose West Brom because of Bryan Robson and his affiliation with Manchester United.
"It was an unbelievable time. We had a lot of characters in that team like Kevin Campbell, Geoff Horsfield, Jonathan Greening and Zoltan Gera and we got on really well off the pitch. It was a special day, that final day."
It's hard to say whether or not Fulham's current plight is worse than Albion's at that time.
No-one gave Robson's men a prayer nine years ago, but then it's hard to find too many pundits nailing their colours to Fulham's survival hopes at the moment.
Richardson was positive and pragmatic when I caught up with him at the club's Motspur Park training complex this week.
"We can do it and we all believe we can do it. We're four points out of it at the moment, that's nothing too crazy. But as each game goes by, the chances get further away, so you need to pick up the points.
"Teams on 28 points and below are still amongst it, all we've got to do is focus on Fulham and the next game."
Gas
Manager of the month is taking on a new meaning, with the Cottagers now on their third man since December, though Felix Magath made a promising start to his role on Saturday.
They deserved their first-half lead against West Brom, and looked like holding on for all three points until Matej Vydra's late effort trickled under the excellent Maarten Stekelenburg.
Richardson said: "In the first half, we played particularly well, we'd worked very hard in training on closing the opposition down. But in the second half, we took our feet off the gas a bit and got a bit tired.
"We were gutted in the changing room after but the gaffer was very positive that we got a point and we could move on to the next game."
Magath is an engaging character. He answered our pre and post-match questions candidly at The Hawthorns and although his English is not perfect, he made every effort to get his thoughts across.
"There were rumours going on about extra training, extra this and that, but I've found him spot on," added Richardson. "I like to be worked hard to make me a better player and get my fitness up.
"At the moment, we are bottom of the league so whatever it takes to get out of that situation we are willing to do. He's achieved so much as a player and a manager so when he talks you listen to him."
He has been given only 12 games to make an impression - 11 now - and next up is a local derby against Chelsea. How much can any manager do in this situation?
"We're working harder together as a team," responded Richardson. "He's drummed that into us, to work harder as a team. Individually, it's sometimes not enough and we realise we need to be together as a team and that's the only way we're going to get out of it."
Unique
Premier League traditionalists (if that's not an oxymoron) will be disappointed if Fulham can't escape their current predicament as a trip to Craven Cottage is always a highlight.
The famous Cottage itself is only a small part of the experience. The best way to reach the ground is a walk along The Thames through Bishop's Park. On arrival, the exterior of the Grade II listed Stevenage Road Stand would have any architect purring.
And whilst fans who enjoy engaging in parochial disputes may not concur, there is something very civilised and progressive about the neutral part of the Putney End. Richardson, who graced Old Trafford for many years, agrees.
"It's a family club. The supporters are top drawer and we need them more than ever now to help us get out of this," he said.
Saturday's strong favourites will be the brasher visitors from a couple of miles down the road, but Richardson knows the odds are there to be beaten and believes his current team can garner the spirit of nine years ago when West Brom's great escape took everyone by surprise.
You can see our feature on Fulham this weekend on Soccer Saturday.