Johnny Phillips drops in on Met Police football team who have made it to FA Cup first round proper
The Met Police are on FA Cup duty on the pitch this weekend. Johnny Phillips investigates...
Last Updated: 31/10/12 3:51pm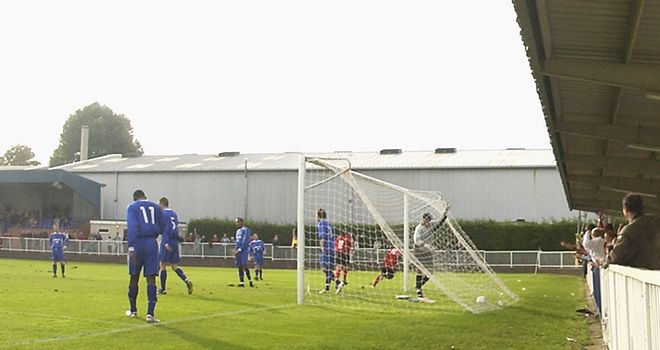 The oldest cup competition in the world, pitting professionals against postmen and world beaters against window cleaners.
With such a wealth of stories to choose from it can be difficult to pick out a tie. This year's draw had added historic poignancy with two relatively recent winners of the competition falling on hard times. And sure enough one minnow was lucky enough to get the plum tie.
Southern League side Arlesey Town have a trip to 1987 winners Coventry City to look forward to. The Bedfordshire club has a proud history, with Craig Mackail-Smith, Dave Kitson and Sam Baldock counted among its former players. Portsmouth, winners in 2008, are at home to Notts County.
On the Lancashire coast, AFC Fylde will fancy an upset against Accrington Stanley. And Hereford United, teetering on the brink of extinction, welcome back former manager Graham Turner and his Shrewsbury Town side.
Spoilt for choice on who to focus on with plenty of non-league sides in the draw, many with realistic hopes of getting into the Second Round, we sought a helping hand from the law.
Metropolitan Police have one of the hardest tasks of all, drawn at home to League One promotion chasers Crawley Town. In midweek I went along to their tree-lined Imber Court ground in East Molesey to see how they were preparing for their biggest game in years.
Jim Cooper's side lie halfway up the Isthmian League Premier Division and on Tuesday evening hosted Leiston for an FA Trophy 2nd Qualifying Round replay. It was a cracker. Ok, there weren't 12 goals, there was no comeback from four goals down and it wasn't live on Sky Sports HD but it was good entertainment for the spectators who braved the cold.
Leiston won 4-3 leaving Cooper ruing some shoddy defending after his side had dominated much of the game.
Rollicking
Judging from the rollocking that was delivered to his players in the dressing room at full-time it was a defeat that hurt the manager, but he is only too aware that at this level it is hard for the players not to have had an eye on Saturday's big game.
After all the players had cleared off to the clubhouse for a drink , Cooper spoke to the assembled press - which consisted of the Surrey Advertiser, The Independent and Soccer Saturday.
Injuries have hit at just the wrong time - with half the team facing fitness tests - but regardless of what team Cooper can put out they will not be easy opponents on Saturday. Any team that wins four qualifying rounds just to get this far isn't going to be a pushover. As Cooper spoke about the defeat to Leiston and looked ahead to Saturday, kit manager Chris Macpherson tidied up around him.
For Macpherson it is a labour of love. His son Gavin is the assistant manager and he loves being involved too.
"It's a unique club," he explained. "Because it's the Metropolitan Police it's not like representing a town or anything like that.
"There's an ethos about the club which is different to any other. Someone said in the non-league paper this week that we are a novelty club!"
Present
It's not like it used to be, when the entire team was made up of serving policemen. Now there are just two in the first team, but the management and board are well represented making up for the shortfall in playing staff. And if tempers do fray on the pitch, you can be sure they keep a cool head.
"They get enough problems on the job without getting involved here," Macpherson continued.
"It's nice to be involved with this club because it's a friendly club. It's all about the football here, it's not about the police."
The Met has one of the smallest fan-bases in the league. There weren't many present when we were filming but Macpherson assured us the main stand was a sell-out for the Crawley match, and with a decent sized following expected from the Sussex club a welcome payday is on the cards.
Which, given the numbers expected, lead to a question about who exactly would be policing Saturday's match and whether or not The Met would be called on for some in-house work. Not a chance.
"Surrey Police. We're in Surrey!" was the answer.