Johnny Phillips blogs on firefighter-turned-Plymouth Argyle striker Rhys Griffiths
Plymouth's Rhys Griffiths is determined to make the most of his late shot as a pro, says Johnny Phillips.
Last Updated: 17/10/12 4:56pm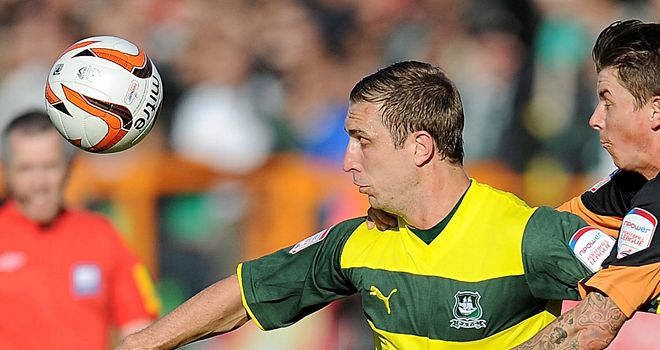 It provides a chance for players who wouldn't always attract much national attention to grab a bit of the limelight usually snaffled by the all-consuming Premier League. It didn't take long for one player in particular to announce his arrival. After just one minute 10 seconds Rhys Griffiths scored from a penalty to set Plymouth on their way to a fine 4-1 away win at Barnet.
The previous week I had travelled down to Devon to find out how the 32-year-old was settling in at his new club. In some ways his transfer from his part-time playing days with Llanelli in the League of Wales was the most interesting deal of the summer. It was his first professional contract and I doubt there has ever been a player who has waited so long to become a professional footballer. The temptation was to ask what kept him?
"I've got a great job back in Wales which was another ambition of mine, something I'd always wanted to do. I was enjoying playing part-time football in the League of Wales, I'm proud of that league and enjoyed playing in it. But it got to the stage where I thought, 'Well, it's now or never!'"
Exploits
That job is a firefighter with the Welsh Fire Service at their Penarth station just outside Cardiff. He has been in their full-time employ for seven years and had always juggled the job with his part-time football commitments. However, a year or so earlier he'd met Argyle boss Carl Fletcher at a coaching course for his UEFA B License and the pair had got talking. This summer they met up again doing their A badges.
Fletcher knew all about his playing exploits in Wales. "He had a great scoring record in the League of Wales, it was something like 180 goals in 181 games," he said. "I just asked him for a trial. If it didn't work out then he could go back to what he was doing but if did then great, we could work something out."
Griffiths is rightly proud of his work with the emergency services so had to seek permission for some time off from his bosses. "I knew there was a career break available for certain circumstances," he explained. "And they've been very good, particularly my colleagues, they really looked after me helping me get the time off so I could come down here straight away."
The goals have started to come too. After an injury early on in the season he has now scored in each of the last two league games. He's clearly taken to life as pro-footballer and at the moment it's working out.
"It's an opportunity for him and an opportunity for us," added Fletcher. "We can both help each other out and fingers crossed we can keep going the way it is. He's fitted in really well, the lads really like him. He's very mature and puts a different perspective on things when maybe they aren't going so well."
Significant
Griffiths knows only too well there are more important things in life than football, but what about his family. Are they more proud of him as a footballer or a fireman?
"I put so much into football to get to here," he said. "I've worked hard all the way from being a child to get to this point so I think they empathise with how I feel to be here now. But I think ultimately to be a fireman is a more significant job than a footballer so I think they're more proud of me for that, but I'm not sure."
The striker has a two-year career break open to him before he'll be called back by the Welsh Fire Service. At the moment he is only signed on for one at Plymouth, but the early signs are that he's making the most of his late, late chance in professional football.