Hunt-ing success
Reading striker Noel Hunt tells Johnny Phillips why he is not fazed by his side's slow start to the season.
Last Updated: 04/10/12 6:10pm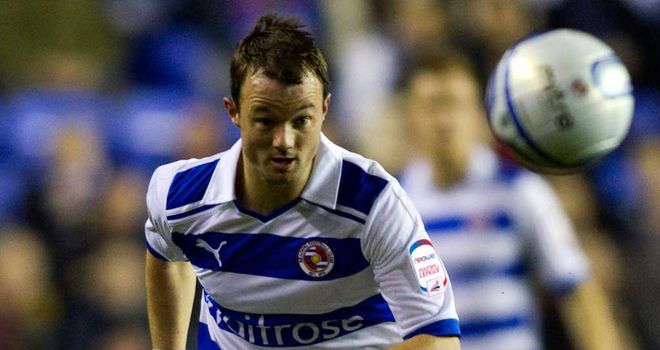 Reading's training ground in the early October sunshine was a great place to be sent to do an interview for Soccer Saturday this week.
There's always a warm welcome at the pleasant Hogwood Park complex and the players and management do their utmost to accommodate our requests for time.
This week it was Noel Hunt who obliged and it's an important season for the Irishman. He is entering the final year of his contract and helping keep the Royals in the Premier League would be the perfect outcome.
"We've been so close to getting to the Premier League before and it would have been nice to get here earlier," said the striker. "I think the hunger I've had over the last three or four years has helped me.
"I'm 28 now and this year I really want to prove I can play in the Premier League. It's massive for all the boys here."
Tepid
Hunt didn't start the season as first-choice striker but he's worked his way into Brian McDermott's side now and his well-taken goal against Newcastle last weekend helped earn a valuable point. In the end it was an exciting game for the spectators after a tepid first half. So what was it like to play in?
"Great," he added. "It's hard to see when you're in it but we were all at it. When Jimmy Kebe scored I thought we'd kick on but 40 seconds later Demba Ba scored that great goal.
"We had to go again and thankfully we got a second and we were dominating then, but obviously Ba's second goal was handed to him so it was a killer for us!"
There is no time to reflect on Ba's dubious second. Against Swansea on Saturday they go in search of that first league win which would take some pressure off the newly-promoted team.
You would have thought that the longer it takes to get that victory under their belts the more the players will be on edge, but Hunt called upon history to suggest otherwise.
"This time last year we were sitting second bottom of the Championship. We had Doncaster at home and if we'd been beaten in that we would have been bottom. Thankfully we won it and kicked on from there to win the league. We are slow starters, it's been that way since I've been here. Hopefully the points will come."
Appetite
Hunt has not been able to add to his three international caps since October 2009 and watched on as brother Stephen and former team-mates Kevin Doyle and Shane Long went out to Euro 2012 in the summer.
A good campaign now would put pressure on Giovanni Trappatoni to call him up into the squad again, and Hunt has already shown he has an appetite for competition for places at club level, having waited patiently for his chance to shine.
"Even when I first came to the club there was competition from Doyler and Longy (Shane Long) and Leroy Lita. We've always had really good strikers. This season Pavel (Pogrebnyak) has come in and done so well and it keeps the competition fresh.
"We've got five good strikers now, but every Premier League team has that up front. I didn't start the season but you've got to keep working hard and not let your head go. When you get called upon you've got to prove you can score goals."
"If Thursday's training session was anything to go by then Hunt will be just fine this season. He has the required energy levels that his manager insists upon and he looks as sharp as he has ever done during his five seasons with the club.
"There are those in sport who put personal glory ahead of team achievements. Hunt is definitely not in that category, but every Reading fan will be willing him to succeed on both levels this season.