Still tackling life
Charlie Oatway tells Johnny Phillips about putting his life - and Brighton's future - on solid ground.
Last Updated: 05/09/12 12:32pm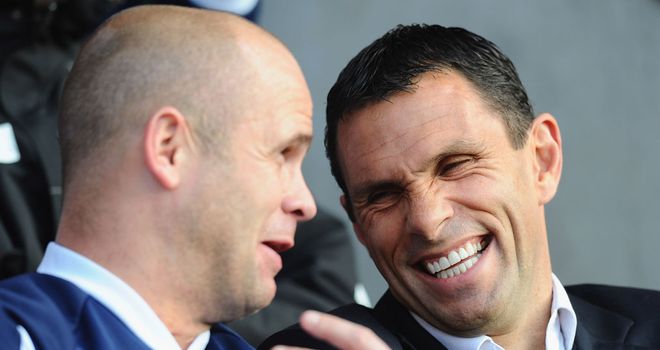 Testimonials for footballers don't always go down well with supporters in this day and age.
When the top stars earn more in a week than many of those watching can dream of earning in a year it's easy to see why and, of course, nowadays players don't tend to hang around long enough to earn one anyway.
But there are always exceptions and down on the south coast there is a deserving one. Charlie Oatway, sorry, Anthony Philip David Terry Frank Donald Stanley Gerry Gordon Stephen James Oatway is the current first-team coach at Brighton and Hove Albion.
He was formerly a mainstay of the Seagulls midfield, having been signed by Micky Adams in 1999, before a serious injury ended his career. Plenty of footballers struggle with a second career after the game but, for Charlie, what to do next was a particular problem.
He was an undiagnosed dyslexic who had struggled with numeracy and literacy problems all his life. "I did quite a bit of work with the community scheme when I was a player, talking about my struggles with numeracy and literacy, and helping out at centres for adults that dealt with these problems.
"Even now I'm not completely over these difficulties myself. I'm better than what I was. I can read okay but my spelling is non-existent," he explained.
Donating
The club was supportive on his retirement and with their help he started to tackle these issues head on whilst giving something back in return.
He was quickly given a formal role in Albion in the Community, the club's community trust. It led to him writing a book 'Tackling Life' with the help of Alan Sanders, director of Albion in the Community.
The book charts not just how he confronted these issues, but also the way he turned his life around after early brushes with the law threatened to derail his career before it had begun. This is why he is donating 50 per cent of his testimonial year takings to Albion in the Community and other charities and there is a very special event kicking the year off - more on that later.
But after two seasons Gus Poyet walked into the club and Charlie was unsure of what would happen next with the inevitable staffing reshuffles that go hand in hand with managerial changes. He needn't have worried as the new man saw his potential in a coaching role.
"I was honest with Gus and told him about my circumstances and he said he didn't care. Anything that came up at the club that required assistance he'd sort out. He wanted me to coach and he said to get on with that and not let anything else affect that. Gus has been brilliant with me."
The new management team has been a success. Charlie looks around the Amex Stadium now and sees a club transformed from the old temporary Withdean home, when gates barely crept past 5,000. With 22,000 season ticket holders and attendances still rising it's tempting to ask what has changed, but this would miss the point.
"Because of the situation we were fighting for so long - to get a new ground - everyone has stuck together. I know that sounds like a bit of a cliché but it's a fact. Because we needed everyone to push in the right direction to go for the ground move the togetherness has been there for donkey's years.
The former chairman Dick Knight left us in a good state with the move sorted and now Tony Bloom and the current board have moved it onto the next step with the actual building of the ground."
Fundraising
The club do some sterling work in the community and next month three Albion season-ticket holders are attempting to conquer Africa''s highest mountain, Kilimanjaro, in aid of a special cause.
Twelve year-olds Chelsea Knight and Ellie Mai Scott met at primary school and both suffer with chronic renal failure and underwent kidney transplants at The Evelina Children's Hospital in London. There is a 12 in one million chance of getting this condition so when two from the same class contracted it, their friends and family rallied round.
The club are supporting Ellie Mai's dad Mitchell and his friends Brendan Gilligan and Anthony Washer in their bid to conquer Kilimanjaro. It's the first fundraising event of Charlie's testimonial year and if you wish to help out then you can support it here http://uk.virginmoneygiving.com/EllieMaiAppeal with all proceeds going to The Evelina Children's Hospital.
Charlie reckons they need all the help they can get. "Their bodies are not built for this. They're not finely-tuned athletes, they're going to find this really tough. Mentally they'll have tough times too. I take my hat off to these three because they don't know what they're letting themselves in for! Gus is supporting this too; he gets involved in everything with the community as well. It makes a massive difference to have his support."
And before we finished chatting, I had to ask him about that name of his? Not that he hasn't been asked enough already. For those that don't know, the 11 Christian names come from the 1973 QPR team, his parents both being avid Rangers fans. "What could I do about that?" he complained. "It's a bit of a burden as the way I played football was hardly like that team of the Seventies. I'm not really renowned for my technical ability."
That much is true, but he is no less popular for it. Charlie Oatway's testimonial is one testimonial that fans are happy to support.
If you have any feature ideas of your own that you think we should be covering on Soccer Saturday during 2012/13 then you can tweet me your ideas at @skyjohnnyp