Mad but not bad
Paolo Di Canio may be a maverick, says Johnny Phillips, but he has got Swindon buzzing.
Last Updated: 23/08/12 8:56am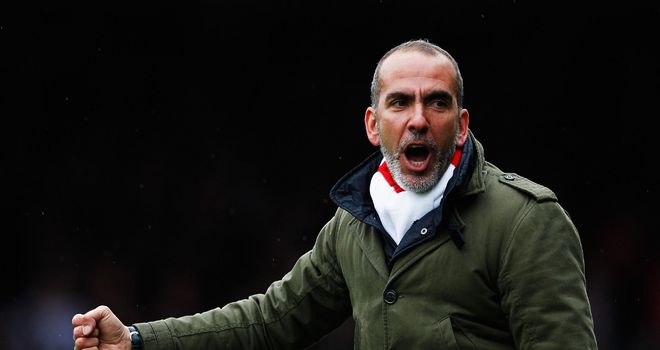 Paolo Di Canio was such a good footballer that his reputation off the field was often overlooked.
As a player he was a joy to watch but his career was chequered with disciplinary issues from pushing referees over to fascist salutes.
Nowadays, as a manager, the Italian insists he is a reformed character, claiming on his arrival at Swindon that we would see "a new Paolo Di Canio - cooler, more quiet, more focused."
This may be so when compared to inciting Lazio's ultras but there has been enough evidence that he has not entirely calmed down.
There have been several run-ins with players who haven't taken to his managerial style, and a bust up with Leon Clarke caught on the Sky Sports cameras last season was not untypical of the type of confrontation Di Canio can become embroiled in.
His time at the County Ground got off to a terrible start - after an opening day victory they lost four league games on the bounce - and by the time of his bust up with Clarke in a subsequent Carling Cup defeat at home to Southampton, there were plenty predicting that Di Canio's time in charge would be short-lived.
Dominates
Certainly no-one was suggesting they would go on and win the League Two title but that's exactly what they did, in a style that captivated onlookers.
On Tuesday night I saw first hand what sort of a team he has built at Swindon, when, for the second home game in a row, they came away with a 3-0 victory. On this occasion it could have been double that.
With Rafaele De Vita and Matt Ritchie giving the team pace and skill out wide and Tommy Miller and Simon Ferry comfortable and composed in the middle, they possess a midfield that dominates from the start.
Factor in an organised defence, with attacking fullbacks and a sharp attack, and it's easy to see why they are fancied to win another promotion.
Di Canio certainly thinks they've got a chance. In his post-match interview with me he insisted they could beat any team in the country at the County Ground, whilst emphasising that it was the discipline, knowledge and work ethic of his players that got them the result. He then marched off and went to help the groundsman mow the pitch.
A character or attention seeking? It depends on your view point. At Swindon they love him. His touchline demeanour is more deranged than demure. He appears to spend more time sounding off at the substitutes than watching the match.
I spoke to one player in the tunnel after the game who revealed he could write a book based on just one pre-season with him. But the players have bought into it.
Building
At full-time, as he put a congratulating arm around each departing player, the waiting crowd urged Di Canio onto the pitch where his fist pumping and applauding of the fans went down a storm on the terraces.
Make no mistake, he is revered in this part of the West Country and if he has his detractors they were not in evidence on this evening.
Where exactly he can take Swindon is another matter. Of course they've been here before with a big name.
When Glenn Hoddle stepped in as player-manager towards the end of the 1990/91 season the club was still recovering from the scandal or irregular payments to players. Hoddle won promotion to the Premier League in his second full season.
Di Canio is an all-together different quantity. There is a genuine sense that no-one except the man himself knows what is around the corner.
Momentum is everything in football and it is definitely building at Swindon. How the locals would love him to hang around long enough to see just where the ceiling is in this latest story of revival.