Reds revolution
Johnny Phillips chats to Steve McMahon about Brendan Rodgers' revolution at Liverpool.
Last Updated: 15/08/12 8:39am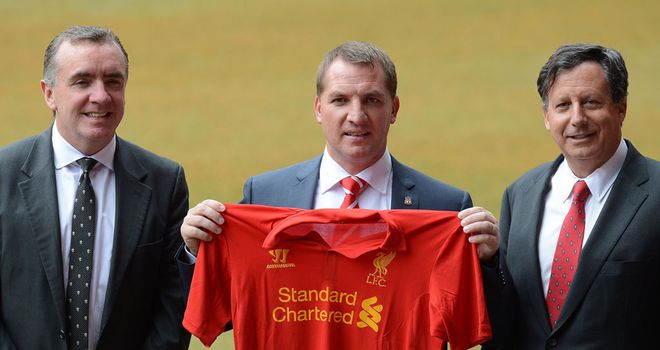 So, football is upon us again.
It's been a fantastic summer. Spain were worthy winners of the Euros, the Olympics blew everyone away, Rory McIlroy won another major and the top two teams in world cricket are still slugging it out in a Test series on these shores. But none of this will see you through the long hard winter months and beyond. That's what Soccer Saturday is for. From this weekend until May we're back to see you through another season of twists and turns.
Where to start? Well, if there is one club in the Premier League taking a step into the unknown this season then that club is Liverpool.
The events that unfold at Anfield over the next 10 months could be the most fascinating narrative of the entire campaign. What happens between now and May could end up having a lasting impact on Liverpool's long-term future.
Bold
A bold decision was made to relieve Kenny Dalglish of his management duties. It could be interpreted as a harsh one too. The club's greatest ever player had done much to unite and galvanise everyone connected with Liverpool after a difficult period under Roy Hodgson. He won a trophy too and although there were huge shortcomings in the team's league performances the general consensus was that he deserved another season. It wasn't to be.
The Fenway Sports Group will have been well aware that dismissing Dalglish would concern a significant part of the club's support. That he hasn't been replaced with a stellar name from one of Europe's top clubs is to be celebrated. Brendan Rodgers' appointment is a shot in the arm for any young and progressive manager on these shores. It is unquestionably a gamble but the way Swansea outplayed Liverpool twice last season should at least reassure supporters that the style of football from now on will be pleasing on the eye.
But this appointment is about much more than that. Liverpool Football Club has reached an interesting crossroads, having fallen significantly behind the challengers for the title. As last season showed the team isn't currently troubling the competitors for Champions League football either. Were it any other club the temptation would be to suggest their time had passed. But Liverpool aren't any other club.
Despite huge difficulties off the pitch they refused to let the disastrous tenure of Hicks and Gillett destroy them from within. In trusting Dalglish to bring unity to the club the new owners showed an awareness of history. Now they are looking for something different. What Rodgers has to do is find a new identity for a club that forged its reputation on being the very best.
Wait
Over 22 years have gone by since their last title victory. It was on 28th April 1990 that Liverpool reclaimed the title from Arsenal with a straight forward 2-1 victory over Queens Park Rangers. They won the league at a canter that season and it rounded off a decade of success; seven titles in just 10 years, 18 in all. But the date is significant because it demonstrates that for Liverpool fans under the age of 30, there can be no real understanding of what this period was like, winning titles with a regularity not previously seen in English football. Since then a whole generation of supporters has grown up, starting families of their own, without witnessing a single title win.
Growing up in the city in the Eighties I remember attending the QPR game along with three generations of my own family. A gran who watched Billy Liddell, a mum who was more a fan of Ian Callaghan and a sister who was Johnny Barnes all the way. Not for a minute did anyone present in the stands believe that would be the end of the title-winning dynasty. Neither did the players. Steve McMahon, a magnificent mainstay of the midfield, also recalls the day and the era well. He now spends his time working in Singapore but I caught up with him back at his home in the north-west during the summer months to talk about the Reds - past and present.
"If someone would have had me a bet that Liverpool wouldn't have won the league again from that day in 1990 - and I was captain when it happened because Alan Hansen had gone off injured, as was the norm by then," reflected McMahon, smiling. "If someone had said Liverpool won't win the league again up until this day I'd have put lots of money on that not being the case."
Patience
It is important that Rodgers is given every chance to start the building process again. Since former chairman David Moores sold up - and some say sold out - to the first lot of American owners in 2007, three managers have lost their jobs. In five years that doesn't sound like many by today's standards but it is a sign that all has not been well. If Liverpool want to begin the process of becoming title challengers again, then the patience for which they were once renowned must be restored.
"I think Liverpool will get there, even with this latest restructuring now, I think they'll get there with time. But we have to give them time, you can't keep sacking managers. It's not just the money you're spending doing that, it's also the chaos you're creating in and around the club. It's not the way Liverpool is run," added McMahon.
Rodgers is being thrown in at the deep end. His excellent coaching and man-management brought great results at Swansea. His team were dubbed the 'Barcelona of the Premier League' and drew plaudits wherever they went. Naturally, it will be different at Liverpool. The retention of Luis Suarez on a new contract is perhaps the best work of the new manager and the board this summer, staving off strong interest from Europe. Some money has been made available for new signings in Joe Allen and Fabio Borini but the squad is still short on experience with the departures of Dirk Kuyt, Maxi Rodriguez and Craig Bellamy. So, in the eyes of McMahon, what does the Northern Irishman need to take away from his first season?
Expectations
"Eighth in the league is not very good, that's for sure. And I don't think seventh will be any good next year either. They've got to get closer to that fourth spot. If Spurs are banging away on that Champions League door then so should Liverpool. I think everything is structurally there. They have the owners' backing now so I don't think they'll fall away but team-wise I thought Kenny was let down by a couple of his signings.
"They've got to get near fourth though. We've not done that for a couple of years. Then looking further forward get to third and see what happens. Manchester City are going to be tougher and tougher to beat. United will always be there too with their history. But Liverpool should be there. We should be talking about them when we talk about whose in the mix for Championships."
McMahon believes it's time for the club to recognise exactly where it stands in the current landscape of the Premier League and prepare for a long journey. If Rodgers is their man then give him the space to work. And if his potential is realised then talk of titles may not remain the preserve of the over thirties.
*We'll be focussing on Liverpool and others on our first Gillette Soccer Saturday of the season on August 19. And if you have any feature ideas of your own that you think we should be covering on Soccer Saturday during 2012/13 then you can tweet me your ideas at @skyjohnnyp