Style and substance
Joleon Lescott talks clothes, Tevez and Man City's title aspirations with Soccer Saturday's Johnny Phillips.
Last Updated: 18/04/12 12:45pm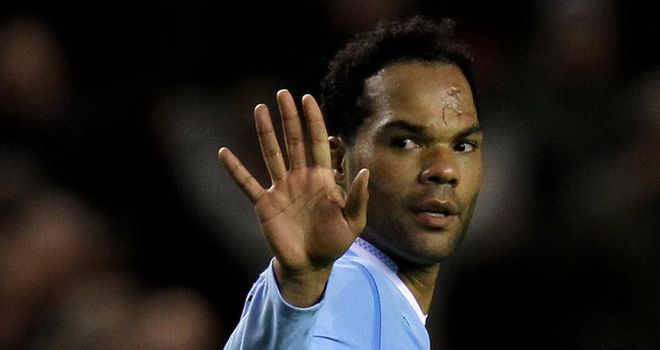 Fashion and football haven't always been easy companions and Soccer Saturday is certainly no style council.
So, on Wednesday night we went along to the Manchester Art Gallery for the launch of the Lescott Stewart clothing label to see how it's done properly. It's the brainchild of footballers Joleon Lescott, his brother Aaron and Jordan Stewart.
A host of team-mates and local celebrities from the world of fashion, TV and soaps were on hand to give their approval to the range which has had a hands-on input from the three footballers since the start.
"When I was 15 I got the opportunity to do some bits for a friend who owned his own clothes shop. I really enjoyed the process of picking the colours and the cuts of the clothing," explained Joleon.
"Then some years later I was sat down with my brother and Jordan and we discussed doing something like our own fashion label. Fortunately my brother retired last year so he's been really hands-on with it."
It helps that at Manchester City, Lescott has found a group of players who have taken a keen interest in the label since day one.
"We just created a few T-shirts to start with but they went down really well with my team-mates so we had to have a re-think about making more stuff," he added.
So, do the City lads get competitive with their fashion? "It's probably more the shoe game. Samir [Nasri] has upped it with his styles and Nigel De Jong has a decent range of shoes, so I'd say that's more competitive than the clothes."
Claw back
The launch came at a time when the players had a rare midweek break from playing; the intensity of the title race showing no signs of abating. Just when it looked like Man United had built up an unassailable lead at the top, they lost at Wigan, allowing City to claw back some of the ground they'd lost.
"I think knowing the importance of every game has spurred us on," Lescott said. "No-one would have had that down as a Wigan win, but we need to take care of our own games first.
"I think initially when we had a five-point gap we were feeling confident that we could maintain our consistency but that wasn't to be. Unfortunately our dip in form came at the wrong time. The Arsenal game was the low point, not just because of the result but because we felt we didn't play well."
City's fantastic win over Norwich last weekend was a warning that they haven't given up the hunt. Back came the sharp counter-attacking football that had been their trademark earlier in the season; a time when they looked like they could score with every single attack.
Sergio Aguero helped himself to a hat-trick at Carrow Road and so, too, did Carlos Tevez. So, has the Argentine been welcomed back into the fold?
"Yeah, definitely. I think it showed in his performance and his appetite for goals. He may have felt he had something to prove but we didn't feel that. We all like Carlos and get on well with him. Obviously what happened wasn't great but we think it's been handled in the right way now and it's great to have him back."
Response
Now everyone's attention is turning to the derby on April 30. There may be other fixtures to come before then, but try telling that to City and United fans.
City's trip to Wolves on Sunday will be seen as a guaranteed three points by their supporters but Lescott won't have a word of it. The match will also mark a first return to Molineux for the player who cut his footballing cloth with the Black Country club.
"Hopefully I'll be able to play as I haven't played there since I left. I've had a great response from fans when we played Wolves at home so hopefully I won't get booed there! I've still got a lot of friends at the club and I'm a big fan of Terry Connor, it's just disappointing the way things have gone for him lately."
Lescott's return to Wolverhampton will be an occasion for him to savour. He left Wolves for £5m after graduating through the club's youth system and becoming a fundamental part of the team which secured a first promotion to the top flight in almost 20 years back in 2003.
He then became one of the foundations of David Moyes' defence at Everton before eventually moving down the East Lancs Road when the offer of a big money move persuaded the Blues to turn in a £20m profit on the player.
He has already had his first taste of silverware with City's FA Cup triumph last season, but he knows that a title is what is needed for this team to prove its worth.
Next season they'll be one of the favourites once more, but while there is still a derby to play, don't rule out City's chances just yet.
"We'll take care of this game coming up" Lescott added. "But I'm sure whatever the outcome of the weekend's games, whether the gap is eight points, five or two, the derby game is going to be magnified to a massive degree."
You can see the full interview with Joleon Lescott on Soccer Saturday this weekend, from 12pm on Sky Sports News HD, channel 405.