A family man
Johnny Phillips talks to the widow of Gary Ablett, who won the FA Cup with Liverpool and Everton.
Last Updated: 12/04/12 4:08pm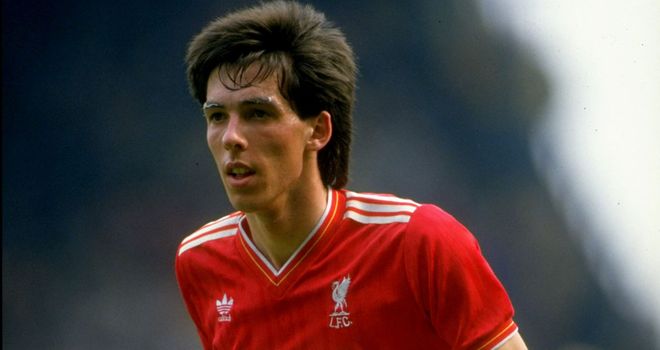 Saturday's FA Cup semi-final evokes memories of a time when Liverpool and Everton were at the peak of English football; the greatest clubs in the land.
They appeared to be permanent tenants of Wembley throughout the Eighties. Barely a year that decade passed without one or both of the two clubs gracing the Wembley turf. In 1989 they met each other in the FA Cup Final for the second time in three years. On the winning side that day was Gary Ablett, an unassuming local lad who'd broken into one of the finest club sides in the history of European football.
It was the second of three trophies he won at Liverpool, the others being the League Championships of 1988 and 1990 - the last time the Reds lifted the title. In 1992 he relocated across Stanley Park and joined Everton, where he helped the Blues lift the FA Cup in 1995, their last piece of silverware, and in doing so became the only player ever to win the Cup with both Merseyside clubs.
After retiring from playing he returned to both clubs later in his life as a coach, spending four years at Everton's successful youth academy before moving to Liverpool as reserve team manager and winning the Premier Reserve League in 2008. In July 2010, after a short spell as Stockport County manager, Ablett joined Ipswich's coaching staff. But he was soon diagnosed with Non-Hodgkin's lymphoma, a form of blood cancer.
After a 16-month battle with the illness he died in January this year. He was 46 years old. On Saturday, as the two clubs meet again at Wembley for the first time in 23 years, sitting in the stands will be his wife Jacqueline and their three children. His two boys have made sure the Ablett family continues to have a foot in both camps; Reece is a Red and Riley a Blue.
"We've been invited by the FA to the game so we're looking forward to it." said Jacqueline. "With Gary playing for both clubs it's fitting I've got one Red and one Blue. Although it wasn't great in the house the other night when Liverpool had the keeper sent off against Blackburn. Riley was delighted and Reece wasn't! We're looking forward to Saturday but someone's going to be upset coming home."
The support Jacqueline has received has both overwhelmed and amazed her, and is a source of great comfort. "We knew how much he was respected through his football and his coaching of the younger players at both clubs," she added. "But the support we've had from both sets of supporters has been amazing and I think he'd be shocked if he was here today. We've always gone under the radar; he's never been high profile so the support we've received has been lovely. To us, Gary would go to work, do his job and come home. We never really got swept up in it all, it was just his job. He'd come home and we'd be a normal family."
It was during Gary's battle with illness that he decided to write a book, 'The Game Of My Life' which comes out after the weekend's game and tells the inspirational story of his determination to succeed in his career and his life.
"The book came about when he was recovering from his bone marrow transplant. It was for him really, because he missed being out on the training field so much," Jacqueline revealed. "It was last May he started writing it and he finished it in December. It was about going back over his career, and how hard it was breaking into that [Liverpool] team full of superstars. To me, looking back, everything Gary wanted to do he had to fight to do. Nothing was handed to him at all. But he always did it with dignity and tackled things head on. And he dealt with his illness in exactly the same way. Gary actually finished the book up to December and then he quickly deteriorated so I finished the last chapter."
It's his steely will to succeed that has been his greatest legacy according to Jacqueline. "He believed in his own ability and that's what got him through," she explained. "He faced things head on. He'd always say 'Life is about choices and sometimes you make the wrong choices but you have to learn from them.' I think that's where I've got my strength from because I don't know how I'm sitting here today doing this interview. I just think the way Gary made an impact on me, you have to go forwards and keep going. And you will get there."
Jacqueline and her family's bravery in the face of such adversity is an inspiration in itself. Football was never a big part of her life growing up. When she originally met Gary on a night out before they were together she knew little about the game. She even went home and told her brother she'd met Gary Gillespie, before he worked out who it was and put her right. Now, though, she couldn't imagine a life without it. And her two sons appear to have some of that determination on the football field that served their father so well.
"They both still play football." Jacqueline added. "I always go and watch because Gary worked when they played so I've always taken them to training and matches. After Gary passed away the youngest one, Riley, couldn't wait to score his first goal so he could dedicate it to his Dad."