Raising the profile
Johnny Phillips talks to Shay Given about his charity work and Ireland's hopes of success at Euro 2012.
Last Updated: 28/03/12 9:34am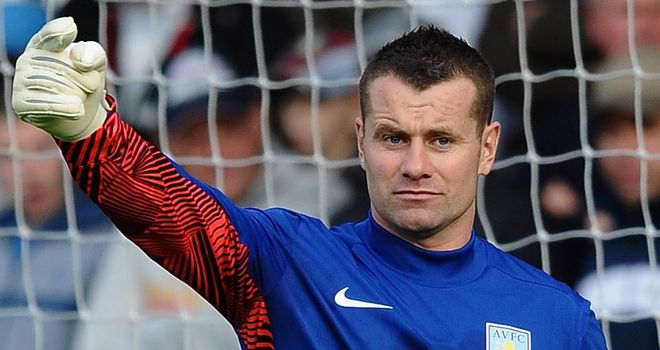 It didn't take the events of last week to bring home to Shay Given just how fragile a footballer's life can be.
Some years ago the goalkeeper found himself in the hands of the medics who attended to his own needs on the pitch. It was during a Premier League match in 2006 whilst playing for Newcastle that he endured a sickening collision with West Ham's Marlon Harewood.
"The game was down in London and I punctured my bowel. The paramedics were on the pitch pretty quickly and I was rushed off in an ambulance" he explained. "I woke up in hospital the next day after a serious operation.
"I was very thankful for what they did for me. I'm sure Fabrice (Muamba)and others, like Petr Cech, who've had serious problems on the pitch are thankful. Without these people I probably wouldn't be here because it's such a big trauma to the body."
When I caught up with the 35-year-old Irishman last week he was, like most people, impressed with the support for Muamba, but not surprised.
"The fans come along and support us and that's great. We are all very much part of the community and it's a shame when sometimes we're seen as detached because we're all human beings.
"We do try and lead normal lives, picking up the shopping and getting the food for the family. I feel part of the community and I think most footballers do; when something like this happens it does bring people together."
Rewarding
Given is heavily involved with raising money for MacMillan Cancer Research. He lost his mother to cancer when he was just five-years-old and alongside his wife, Jane, he organises a charity night each year called Fashion Kicks, something that has proved a remarkable success.
This year's event, on May 1, will be held in Manchester - the day after the Manchester derby. Westlife are headlining the night and players from both sides will be in attendance along with other team-mates and friends of the goalkeeper. Some will be cajoled onto the catwalk, too.
"A few of the players get up on the catwalk and do a bit of modelling but that's the fun side of it" said Given. "It's important that players try and make a difference. It's rewarding too, especially when you see how much can be raised on nights like this.
"We're getting a few different players from different clubs this year. I'm too old to do the modelling but my wife pushes me up there, it's for the cause really. None of us think we're models; we should do a balaclava range really!
"The event has sold out but there's still a great chance to win a VIP package to the night and tickets to the Manchester derby on our website at fashionkicks.org.uk."
Snatched away
By then, Given's thoughts will be drifting towards the European Championships in Poland and Ukraine. To say Ireland's qualification has righted a wrong is an understatement. The bitter taste left by Thierry Henry's handball in the World Cup play-off two years ago hasn't gone away.
"I'll probably never get over that, as players we'll remember it for the rest of our days. You work for two years to qualify for a World Cup and it's snatched away in the play-off like that. It's hard to take but the best thing about football is that you can't look back."
"The fact that we qualified for this tournament straight away gives us the belief that we are a good team and we deserve to be at major championships. Now we're there we don't want to be happy and content with just qualifying. We'll get nothing in Poland and Ukraine if we don't go out and perform. We've got to be on our game when we get out there and we're looking forward to it."
Given is one of a group of players - Richard Dunne, Damian Duff and Robbie Keane included - who are reaching the latter stages of their careers. Euro 2012 could well be the last chance he has on an international stage but Given is ruling nothing in or out with regards to the future.
"We're not getting any younger. A few of us have said we'll decide what we'll do after the summer. We realise we haven't got many major championships left in us but we're just going to give this one our best shot first and see what happens after that."