Bob did the job
Johnny Phillips talks to former Birmingham, Everton and Swansea striker Bob Latchford about his career.
Last Updated: 20/03/12 3:46pm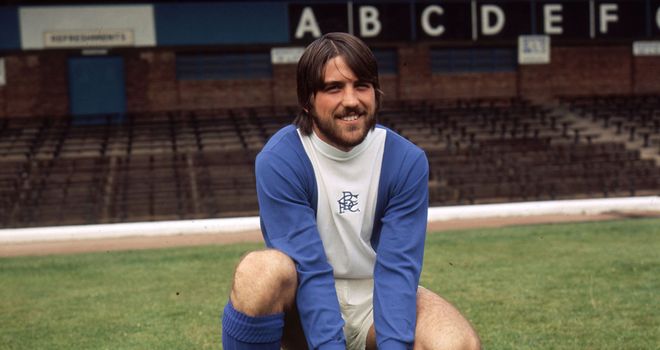 Whenever Steve McManaman scored a header in training at Liverpool in the mid-Nineties he used to wheel away in celebration shouting "Latchford!" much to the amusement of the other Evertonians on the books of the Anfield club at the time.
For McManaman and other Blues supporters old enough to remember the Everton team of the late 70s, Bob Latchford was a hero. But his appeal isn't just confined to those who watched him at Goodison Park. Before signing for Everton he played, with great distinction, for his home town club Birmingham City and then after leaving Merseyside moved to Swansea City where he became an instant success - his goals almost delivering the Swans an unlikely league title in 1982.
This weekend, Swansea will host Everton in a top flight match for the first time in 30 years and Soccer Saturday went along to see the legendary No 9 in Nuremburg, Germany, where he now resides with his partner and young children. His iconic status with both sets of supporters has much to do with his prolific record and an insatiable appetite for goals.
Latchford recalls: "I suppose people will remember me for my heading ability but I could score with either foot too. But it's the heading that the fans seem to rememeber. The ultimate thing about being on the football pitch for me was scoring. I wouldn't say I was desperately disappointed if I didn't score but, put it this way, I felt a lot better if I did."
Lethal
At Birmingham, Latchford plundered 84 goals in 194 games, prompting Everton to fork out £350,000 for his services in 1974, a British transfer record. The Merseysiders had a proud history of forwards at the time, from the great Dixie Dean through to Joe Royle, who led the line in the 1970 title winning side. Latchford was an immediate hit. In all he scored 138 goals in 289 appearances for them and struck up a bond with the supporters that remains to this day.
"Everton is a club that gets into your blood" he says. "Ask any player from outside Liverpool who has moved there and it just gets in your blood. The players have a real genuine affinity with the fans. Even now the supporters take such pride in their ex-players and want to know how they're getting on. I'm a Brummie, born and bred, that's where my soul is. But my heart is with Everton. They're a unique bunch of supporters."
The closest he came to winning a trophy was a runners-up medal in the 1977 League Cup Final and though team honours eluded him, he is remembered for an individual feat that made national headlines. Ahead of the 1977/78 season, the Daily Express newspaper offered a £10,000 prize for the first footballer to score 30 goals in the First Division. Latchford needed two going into the final match against Chelsea.
"After about 70 minutes I finally scored to put us 4-0 up. So that took me to 29," he explained. "We got a corner with about 10 minutes to go and I was just about to head it in when Mick Lyons came up from the back, jumped in front of me and nodded it home. He just looked at me and said 'Sorry Latch!' I told him not to worry but time was running out now. Fortunately we got a penalty when Lyons came back up for another attack and went down under a challenge. I just waited for the referee, took a deep breath and slotted it home."
Goodison erupted, with several fans coming onto the pitch to celebrate the achievement. But the story doesn't end there. Latchford didn't get £10,000. Half of it was split between the PFA and Football League - leaving the striker with the other half. He then put £4,000 into the Everton players' pool and decided to keep £1,000 himself. But after a knock on his door some months later, a taxman appeared demanding his share of the original £10,000. The case ended up in court several years later.
"I ended up spending more money fighting the tax man than what I ended up taking in the first place" he revealed. "You can't win with the tax man! But I'm very proud of scoring the 30 goals. It was one of the high points of my time at Goodison and it gave the fans something to shout about too."
Switch
Latchford's spell at Everton ended with a surprise move to Swansea in 1981. John Toshack's team had come through the divisions and it was their first time in the top flight. He could not have made a better start, scoring a hat-trick in a 5-1 opening day rout of Leeds. The Swans were involved in a battle for the title with Liverpool that went all the way through until April, when they eventually lost pace with the Eurpoean champions.
"It was a fairytale start against Leeds," says Latchford. "We eventually got to the top around late March and stayed in there for a couple of games. But then we lost all our remaining games and it killed us. It's hard to put your finger on why we blew up at the death. We could have won it. It would have been an even bigger fairytale, but it wasn't to be."
Toshack's team fell apart the following season as financial pressures resulted in several players leaving. Latchford went on to a spell in Holland with NEC Breda after that but never again hit the scoring form that had begun over a decade earlier in Birmingham. He made over 500 appearance in the Football League and also won 12 England caps.
30 years on from the heady days of terrorising the best defenders in England, the memories are still fresh. He reminisced: "All the clubs I played for I keep in touch with. The game this weekend brings back the memories and makes me feel part of those clubs again. I do miss it. It's such a short part of your life in a way but a massive part. I was very fortunate to have the ability I did and play in the era I did."
You can see our full interview with Bob Latchford out in Germany on Soccer Saturday this weekend.