Tottenham's King-pin
Spurs' Ledley King talks knees, title charges and THAT defeat to Arsenal with our blogger Johnny Phillips.
Last Updated: 01/03/12 1:20pm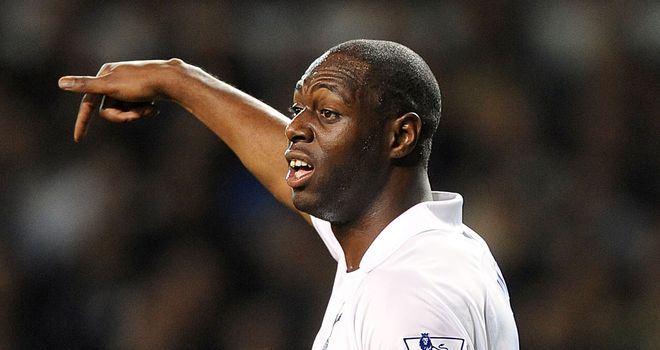 Getting footballers to front up after a bad defeat can be awkward.
Getting them to front up after having five goals thumped past them by their arch rivals and, in the process, possibly ending all hopes of the title, can be even trickier - but Ledley King isn't a normal footballer.
Every time he takes to the pitch he defies medical opinion. A knee with no cartilage shouldn't stand up to the demands of Premier League football but King ensures that it does. Answering a few questions for Soccer Saturday is child's play in comparison.
So let's not beat about the bush then, Ledley. Why on earth did it go so wrong against Arsenal on Sunday? "Even at 2-0 I felt we needed to make changes. They were coming at us in floods" he said.
"We didn't get to halftime with a lead but even so, 2-2 at The Emirates is not the end of the world and you go on and try to win it.
"But we didn't give ourselves the opportunity and conceded very early in the second half. After that we were just chasing it and got picked off. It was very disappointing."
The defeat probably ended Spurs hopes of the title, but the club's longest-serving player is proud of what has already been achieved this season. "We've never really been involved in a title challenge before and it took us a few games to realise that" he added.
"After the first couple of games we went on a run and as the season has progressed we've gone from strength to strength and we're in a great position, even though it looks like the title challenge is fading."
Heart
King is Spurs through and through. When I caught up with him this week he was mentoring a project with the Tottenham Hotspur Foundation at White Hart Lane Community Centre in the heart of the borough of Haringey. 'Skills is a sports and education programme for 12-19 year olds, many of whom have been identified as not in education, employment or training.
"I grew up in inner-city London myself," the defender said. "The chance to create an opportunity for youngsters to develop skills is a great idea. It gives a sense of achievement to them and I hope I can help affect a positive change in the lives of young people in the area by backing this project."
King has made a key impact on the pitch this season, playing many more games than most fans expected. That he has performed so well despite having to manage his persistent and chronic knee injury is all the more admirable.
"I've always said I can manage the knee, but with not training it's the muscles that you can't prepare for the intensity of the Premier League," he explained.
"The medical team are great. We're all working together trying to find new things and testing them to see how they work. It's not ideal, you'd rather be on the training ground, but as a professional you have to do what you can to get on the pitch."
As a result the 31-year-old has become more analytical of the game, studying match footage in greater detail than his team-mates during his time away from regular training.
It's given him an understanding of the game that is borne out in the way he reads the play. "Sometimes watching a game can last a few hours just by replaying incidents over and over. It's something I enjoy doing and it helps me to get into a game mode", he added.
Formality
Kingadmits that in some matches he doesn't always feel at the peak of his performance levels but for Harry Redknapp he has been an integral part of the team's success.
The club captain goes into Sunday's match against Manchester United knowing that it is in these games that they are now being judged. A Champions League place should be a formality from here. Regularly beating the two Manchester clubs is the next step.
"Competing against them and having your fair share of results is something I haven't done nearly enough in my career against Manchester United. It's something I believe we have the capability of doing at this time. They can't afford too many defeats either so it's got the makings of a big game."
Chatting to King it's clear he is enjoying being part of a fantastic team, which he believes is on the cusp of going on to greater things. This may be his 14th season as a professional at the club, but it is the future of this team which excites him most.
You can see the full interview with Ledley King on this week's Soccer Saturday from 12pm on Sky Sports News HD.