The Miller's tale
Kenny Miller told Johnny Phillips that Cardiff can topple Liverpool in the Carling Cup final.
Last Updated: 23/02/12 2:24pm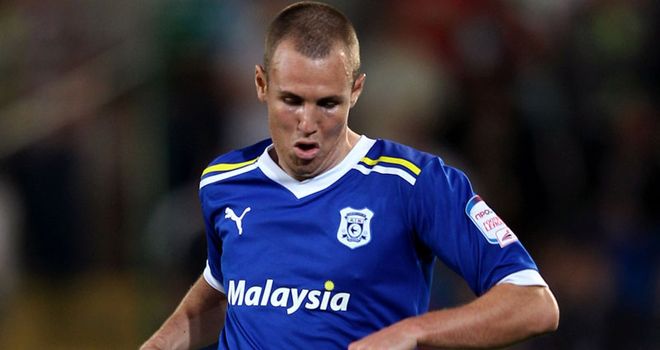 Kenny Miller's career has been anything but straightforward.
Any player who crosses the Old Firm divide will stand out, but to do so twice is all the more headline grabbing.
As well as spells with the Glasgow giants, he enjoyed a successful time with Wolves and headed out to Turkey for something completely different with Bursaspor, but it was during his time at the Ataturk Stadium that Miller began to fall out of love with playing.
Despite scoring important goals for the club, the lifestyle was unsettling him. "It was everything really," he explained. "The training hours were different, the stuff around that and the distances involved. It was bad for me and my family and we really needed to sort something out quite quickly once I knew it wasn't right."
After just 15 games he received a call from his old Scotland international team-mate Malky Mackay last summer and was offered the chance to come back to the United Kingdom. A deal was agreed just before the start of the season and Miller became an instant hit when he scored a stoppage-time winner for the Bluebirds on the opening weekend of the season at West Ham.
Aggressive
When I caught up with him this week in Cardiff Bay, he was looking forward to one of the biggest weekends of his club career. Cardiff are outsiders for Sunday's Carling Cup Final against Liverpool but they shouldn't be discounted.
"The way we play we've got a chance," said the 32-year-old striker. "Malky was an aggressive player in defence and he's like that as a manager. He wants the best and demands 100 per cent. We're set up in a solid way and it's worked for us this season. We've had a little dip of late but we know we can give anyone a game."
Miller is the tireless frontrunner of the team, more often than not leading the attack on his own. "It doesn't bother me," he added.
"As long as everyone else is working hard and doing their jobs I know I'll get support. Don Cowie and Aron Gunnarsson have been great running through from midfield and it's a role I'm used to playing with Scotland."
There are half a dozen Scots plying their trade in the Welsh capital. Miller's accent may not be impenetrable but it is strong. He disagrees.
"I'm one of the better ones. I don't talk half as fast as some of the others! We get on well with each other, though, and more importantly we get on well with everybody else at the club.
"It's a great city to be in and the club is going well. We've had a dip lately but if we can get back to the way we were playing a month or so ago then we'll be in the promotion frame at the end of the season."
Respect
It's hard for a club of Cardiff's resources to maintain a challenge on both fronts but that is exactly what they are doing. Sunday's final will be a special day and Miller offered this advice to the younger players in the squad.
"It's important we don't get overawed by it. We've earned the right to enjoy the day and although we know Liverpool are a great club and we respect them as a team, we need to concentrate on what we're good at. We won't make it easy for them."
It was in Cardiff 10 years ago that Miller enjoyed his first big-game experience. He scored for Wolves in a 3-0 play-off final victory over Sheffield United at the Millenium Stadium to take the club into the top flight for the first time in 20 years.
"I'll settle for the same half-time score on Saturday," he said. "We were 3-0 up at half-time and couldn't believe it. We just had to play out the second half, it was an amazing day really, I remember it well."
Sunday's match will be a fascinating final and the leader of Cardiff's attack will be out to make it even more memorable for the Bluebirds.
You can see the full interview with Kenny Miller on Soccer Saturday from midday on Sky Sports News HD.