Home once more
Johnny Phillips catches up with John Hartson ahead of Swansea's home clash against Arsenal.
Last Updated: 14/01/12 3:53pm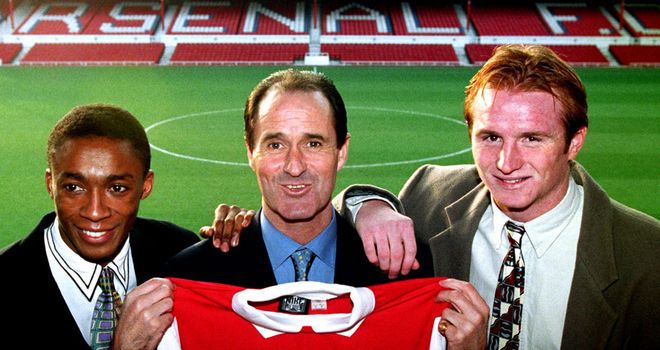 You may have noticed that Arsene Wenger signed a striker last weekend and if you hadn't you will have done by the time Tuesday morning's papers were delivered.
Thierry Henry could well earn a place from the start against Swansea this Sunday and looking on from the stands with interest at the Liberty Stadium will be a striker whom Wenger picked in his very first game as manager at Arsenal.
John Hartson played up front with Ian Wright in a 2-0 win at Blackburn on October 12 1996. Already famous as the country's most expensive teenager, having signed from Luton Town for £2.5m as a 19 year old, he went on to become a Premier League stalwart, playing for West Ham, Wimbledon and Coventry City before moving to Celtic and gracing the Champions League.
But Hartson's world was turned upside down at the age of 33. He was diagnosed with cancer. So far developed was the illness that few thought he'd pull through.
"I've been very fortunate to come through it," he revealed. "I was gravely ill. It was a long tough battle. The prognosis I was given, I should have died. When you're in hospital and you've got wires strapped to you and the machines whirring away it's a tough thing. It was without doubt the toughest experience I've had in my life."
Appreciate
Walking across the expansive beaches of the Mumbles in the winter sun with the former Welsh international this week, it was clear to see how much his battle with cancer had made him take stock.
He reflected: "There's nothing like it for me. It's a beautiful part of the world and I probably didn't appreciate it when I was younger growing up. I often come down here on my own just to have a stroll and appreciate the fact I'm still here. I owe that to so many people."
Hartson's way of paying back those who cared for him is through the John Hartson Foundation which raises thousands of pounds for children's and cancer charities across the country. It's a big commitment and Hartson is planning to walk to the top of Ben Nevis later in the year as part of a fundraising team.
But for now, Swansea is Hartson's home once more. He was brought up watching the Swans' last successful top flight team in the 1981/82 season and 30 years on is enjoying their latest incarnation in the Premier League. "They've just been terrific to watch, the way they fizz the ball around. Harry Redknapp came down here the other week with Spurs and couldn't believe the way they play. Brendan Rodgers has to take credit for this, but there has been so much done by so many people behind the scenes to get them here."
It may have been 16 years ago, but Hartson vividly remembers that day he signed on at Arsenal. "David Pleat called me into his office at Luton", he explained. "He said, 'John I need you to go home, have a shave and put a suit on because we're going to meet George Graham!' And George walked down the tunnel with me at Highbury and said if I signed I'd be walking out on that pitch in front of 40,000 people that weekend to play up front with the England centre forward. I just put pen to paper there and then."
Both clubs have moved into new stadiums since. The Vetch and Highbury served both well but progress off the pitch was essential and it's hard to find too many supporters who complain about their new surroundings at either club. Sunday's match will be the first time Arsenal visit the Liberty Stadium and no-one will be hoping it becomes a regular occurrence more than John Hartson.
You can see the extended interview with John Hartson on Soccer Saturday this weekend.