Tweet and sour
Johnny Phillips reveals why Mick McCarthy hates Twitter and wonders whether referees should get typing.
Last Updated: 12/12/11 6:25pm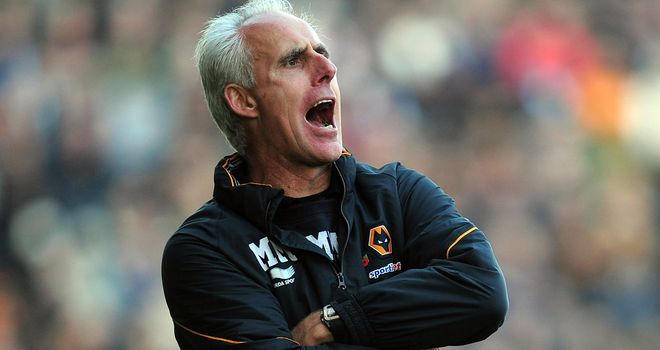 If Joey Barton has two eggs for breakfast then within seconds, if he wants us to, we'll all know about it.
These days the fastest way of finding anything out appears to be via Twitter. So last week @SkyJohnnyP joined to see what all the fuss was about. And I quite like it.
It has plenty of benefits, but also has a rich seam of material that no doubt has the lawyers coiled like springs, waiting to pounce. Chief victims appear to be football managers.
There seems to be a parody account for every manager in the league and the fake accounts of Sam Allardyce and Mick McCarthy have tens of thousands of followers.
Quite what the majority of managers themselves make of all this I'm not sure. McCarthy has gone on record with his dislike for Twitter.
When he tried to sign Steve Sidwell from Aston Villa last year, one of his fringe squad players tweeted that Sidwell was in the stands watching a game at Molineux during talks and, before you had time to re-Tweet, his agent had got the call to go to Fulham.
#bloody nightmare, I think, is the terminology Mick would have been using had he been on Twitter himself.
Connect
There is, of course, a more serious issue to all this. Most clubs have already sought expert media and legal advice for players who choose to use this platform.
For the majority, it's a great way to connect directly with supporters without quotes being misinterpreted or reworded in the press. That more and more footballers are comfortable signing up for Twitter suggests it is clearly a platform that resonates with them.
But there have been plenty of occasions when players have fallen foul of their clubs or the FA with indiscretions on Twitter.
Ryan Babel famously wound up the authorities by posting a doctored photo of referee Howard Webb in a Manchester United shirt. Babel added: "And they call him one of the best referees. That's a joke." He subsequently removed the link and wrote an apology on Twitter to Webb, but not before being handed a £10,000 fine.
Now as far as I can see, there aren't any referees out there on Twitter - which is a great shame. I like the idea of under-fire officials getting their own back and being able to sound off at players, managers and fans.
It could surely have a huge therapeutic value to referees as they let off steam against all and sundry after a particularly harrowing game during which they've been mercilessly targeted for stick.
Mastering
In fact, why restrict tweeting to after games? The fourth official has already shown his capabilities with technology, mastering the electronic substitution board with ease.
Instead of haranguing managers to stay in their technical area for 90 minutes, they could use the time far more productively. They should be Tweeting fans or viewers at home explaining some of the baffling decisions being made by their colleagues on the pitch.
Next time Demba Ba is hauled down by David Luiz when clean through on goal, instead of 50,000 fans at St James' Park baying for blood, an erudite Tweet from the fourth official explaining that Mike Dean thought the through ball was going to run straight into the hands of Petr Cech would diffuse all the tension. Or maybe not.
Most of the Soccer Saturday panel can be found on Twitter, taking a lead from Kammy who embraced social media first and has acquired hundreds of thousands of followers.
But maybe the last word should be left to a real manager. "All the best to #Marcus and @GBarlowOfficial tonight. Good luck wee man" was the Tweet that dropped onto my timeline on Sunday night.
Well, Marcus didn't quite go all the way on the X Factor but I'm sure @kennethdalglish was proud nonetheless.