Living the dream
Johnny Phillips catches up with Robbie Keane, a man still looking for that Hollywood ending...
Last Updated: 23/11/11 3:01pm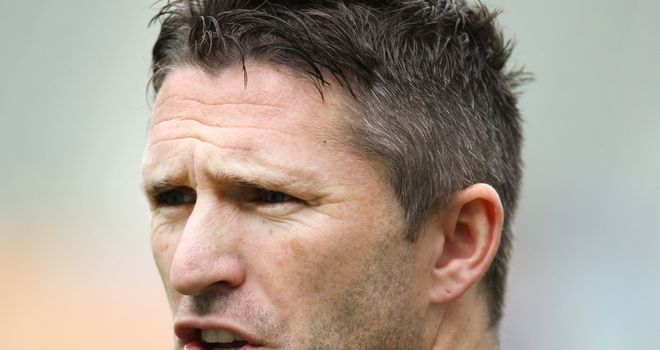 Downtown Los Angeles is not where Robbie Keane imagined he'd be spending the foreseeable future when he reported back for pre-season training at Spurs this summer, but then nothing has ever been predictable in an extraordinary career for the Irishman.
On Sunday Keane set up the winner to help his LA Galaxy side lift the MLS Cup with a 1-0 win over Houston Dynamos at the Home Depot Center. That success capped one of the best weeks of a career he can be proud of. And it's a career that still has time to get better.
I caught up with the 31-year-old Dubliner at his hotel in Los Angeles the day before that MLS Final in one of the few moments of down time he was afforded in a week that had taken in Tallinn, Dublin and a trans-Atlantic flight back to California. If he was suffering from jetlag it certainly wasn't showing.
"I only came back from injury a few weeks ago and I've played six play-off games in the last two-and-half weeks so it's been quite hectic," he admitted.
"But I've really enjoyed the three months I've had here. They're great people to work with and it's not a bad place to live either. It's completely different from what I'm used to back in England or Ireland, I can walk down the street and not get recognised. The move probably came two years earlier than I expected but when I got the call it just felt right to come."
Keane has been transferred for over £70m in a career that began with two debut goals as a precocious 16-year-old at Wolves, when manager Mark McGhee threw him straight from the youth team into the first XI.
It was a meteoric rise and within three years of that goal in the Championship, and still a teenager, he was walking out at the San Siro as an Inter Milan player.
"It was something that in no way I could turn down," he revealed. "It didn't work out but I'll never forget the experience and I will always have that to look back on when I've finished."
He left Milan in 2001 and it was at Leeds, Spurs and Liverpool that the striker played out the rest of the decade. Unsurprisingly he holds his first spell at White Hart Lane dearest.
"It was the best time of my football career and to be signed by such a great player as Glenn Hoddle was pretty special," he explained.
Hoddle didn't last long and Keane had to watch managers come and go before he finally won some silverware under Juande Ramos in the form of the Carling Cup.
Inexperienced
It was at Spurs where he formed his favourite strike partnership, linking up with Dimitar Berbatov. "If you look at the partnership I had with Berbatov, we had a great relationship. He's a quiet lad off the pitch but if you look at the way we played we complemented each other very well and everything seemed to click for us at Tottenham in those two seasons together," he added.
Recapturing his best form at Liverpool and in a second period at Spurs proved harder but despite being in and out of the team at club level, he remained a talisman for his country.
Keane is one of the senior faces of this Ireland team, along with Shay Given, Richard Dunne and Damien Duff. The rest of the squad are inexperienced but Giovanni Trapattoni has led them to their first European Championships for 20 years.
"He brings a calmness to the dressing room before games. There's no panic," Keane said of the 72-year-old manager. "That certainly helps the players on the pitch and if you look what we've done in this campaign and the last World Cup campaign, we've lost just one game in both sets of qualifiers. That's a great achievement."
Astonishing
A greater achievement is Keane's international scoring record. He has 53 goals for his country now. Only Miroslav Klose of Germany has more of any current international in Europe. For Keane to be up in second on that list is incredible.
Of his English peers he is way in front of Michael Owen (40) and Wayne Rooney (28). In fact no England international has ever recorded half a century of international goals; Sir Bobby Charlton coming closest with 49. That Keane has achieved this with a nation that has only ever once before qualified for a major finals during his career and does not have the resources other major European football powers can call upon is astonishing.
Persuading the player himself to reflect on such a record is harder. Keane doesn't court publicity and believes the time to look back is when his career comes to a close. With two years remaining on his contract at Galaxy there are more MLS titles in his sights. And then of course, there is Euro 2012.
"If you look at the history of the Irish teams in championships they always upset a few people. We have the players to make an impact. People say we're not a free-flowing team but we don't concede many goals and we've scored plenty in this campaign. We can certainly make an impact over there."
It is clear from spending just a short amount of time with Keane that playing the game is all he wants to do. He is not content to pick up his wages from the bench and that is why he has never shied away from moving on when the time is right.
With a domestic title secured in his first season in America, his country's greatest ever scorer is now hoping Ireland's campaign will have that Hollywood ending next summer.
You can see the full interview with Robbie Keane in America on Socccer Saturday this weekend.