Flexible friends
Johnny Phillips salutes Stephen Ward's versatility and looks at some other successful utility players.
Last Updated: 08/11/11 12:29pm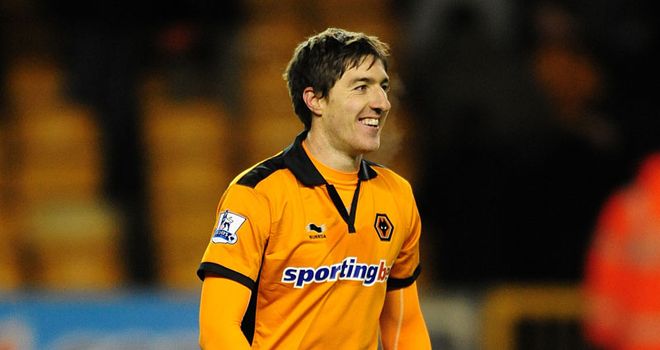 The true value of the utility player was highlighted at the weekend in one of Sunday's live Sky games.
Wolves entertained Wigan in a match both sets of supporters were clearly apprehensive about given the recent form of their teams.
It was Mick McCarthy's men who registered the win, jumped up to 13th in the table and left everyone at Molineux wondering what all the fuss was about.
And the man who sealed victory, with his side's third goal, was left-back Stephen Ward.
The 26-year-old Dubliner has been the club's most consistent performer this season, giving the impression he's played in that position all throughout his career - which couldn't be further from the truth.
Terrific business
Ward was signed by McCarthy in January 2007 as a striker. The £100,000 fee paid to Irish side Bohemians was loose change, even for a team in the Championship, but it has proved to be a terrific bit of business.
Ward was an immediate hit with supporters, scoring important goals and forming an effective partnership with Andy Keogh that took an un-fancied team to the play-offs.
But the following year was injury-plagued and, as McCarthy turned elsewhere for a goalscorer, Ward found himself in and out of the team.
By the time Wolves reached the Premier League in 2009, supporters presumed his days were numbered, but McCarthy has always valued the player highly in his squad.
Ward is the antithesis of the celebrity footballer; a willing worker, placing the team ethic above personal triumph and always giving his all.
He was eventually handed an opportunity at left-back and has now made the position his own. So much so that by May of this year, Giovanni Trapattoni, a man who knows a thing or two about defensive qualities, called him up to the Ireland squad for his first full cap.
This week Ireland take on Estonia in a tie that will define Trapattoni's reign. Like McCarthy, he has assembled a team whose whole is greater than the sum of its parts. Ward has become a key member of a squad looking to reach its first major finals in 10 years. Not bad for a player who has only been learning his new position for a couple of seasons.
Opposite direction
The transformation is reminiscent of a player who made a spectacular move in the opposite direction, up the pitch.
Paul Warhust had made his name as a centre-half with Oldham Athletic and Sheffield Wednesday at the start of the 1990s. But in the 92/93 season, with the Owls going well in the cup competitions, they lost strikers David Hirst and Mark Bright to injury.
Trevor Francis surprised supporters by turning to Warhust as the solution, but it turned out to be an inspired move. The defender scored in 12 successive matches as Wednesday made it all the way to both cup finals.
It didn't end there. England manager Graham Taylor was so impressed that he called him up into the national team as a striker.
Unfortunately, an injury deprived Warhurst the chance of playing for his country, but it was a remarkable period in the player's career. He eventually reverted back to central defence, but turned out in midfield and up front on occasion for his subsequent Premier League clubs Blackburn and Bolton.
Warhurst was at least an outfield player to start with. For a more unlikely conversion, I give you Hull City keeper Alan Fettis who, in a similar injury crisis in the early nineties, turned out as a striker and actually managed a couple of goals, although it was a switch that didn't stand the test of time, despite earning Fettis cult status at Boothferry Park.
Ward's development is a more common one for the utility player, moving further and further back through the team's formation. But he has adapted so well and when the need arises, he slots into his natural role with ease, as proved with his wonderfully-taken goal against Liverpool at Anfield last season in a rare start up front.
Utility players may not be the most fashionable in the modern era, but a good one is worth his weight in gold.
Who are the most versatile players you can think of? Let us know using the feedback form below...