The risk with rewards
Johnny Phillips finds X Factor fan Darren Bent in tune and hoping to get Fabio Capello's vote next summer.
Last Updated: 03/11/11 2:06pm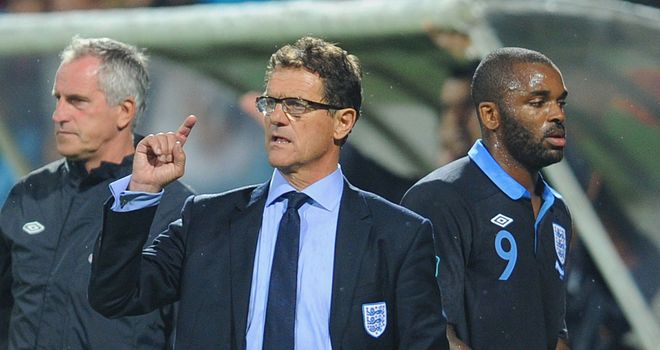 Between now and next summer a different battle will be taking place in the Premier League alongside the main race for the title.
When Wayne Rooney got sent off against Montenegro last month and was consequently banned for three matches at Euro 2012 a gaping hole emerged in England's attack. Who fills it will be the source of much conjecture and speculation between now and then.
Andy Carroll, Daniel Sturridge, Jermain Defoe, Danny Welbeck, Gabby Agbonlahor and Peter Crouch will, at the back of their minds, be wondering if they could grab a starting role. There might yet be another name who makes a late burst for selection up front.
And then there is Darren Bent. A man, who until now, has struggled to find his own identity in the England squad but whose goals at club and international level in the past year have been hugely important.
Bent divides opinion. His transfer fees total £53m so there are plenty in the game who believe in him, but he has endured criticism as a result of the numbers involved in those moves and has often found it hard to prove his worth.
He wasn't helped by that incident in January 2009, when a miss at White Hart Lane against Portsmouth prompted his manager at Spurs, Harry Redknapp, to announce: "You will never get a better chance to win a match. My missus could have scored that one."
Bent does miss chances, but he scores plenty too. Being in the right position at the right time is a well-worn cliché when describing goalscorers but it is particularly applicable to the Aston Villa forward. At 27 he is approaching the peak of his career, but his professional life now stretches a decade. When I caught up with him at Villa's Bodymoor Heath training ground this week he was surprised at how the years had flown by.
Comfortable
"I remember some of the older pro's when I was starting out at Ipswich saying make sure you enjoy it because it goes really quickly," he said. "And now I know what they're talking about. It's been 10 years, but it doesn't feel that way."
Bent appears settled at Aston Villa. The £24m transfer fee does not weigh heavily on his shoulders in a way it might once have done. He is comfortable in his surroundings and despite losing some key players over the summer, the striker is convinced Villa are a club looking up.
"We finished ninth last season and at the end of it people were saying 'what was all the fuss about, why was everyone so nervous?', but it wasn't like that, we were under pressure," he admitted. "But I think we got off to a good solid start this season and long may that continue."
With the transfers of Ashley Young and Stewart Downing in the summer, Bent lost two major supply lines but that hasn't reined in his targets for the season.
"I'd like to get in the Premier League 100 club, I think I'm only six away."Think? He's not fooling anyone. Strikers know their stats down to every goal.
"Obviously I'd like to win a trophy or two," he continued. "But I'm happy now. There's a great bunch of lads here and the facilities are second to none. Hopefully there are more good times ahead."
Crucial
Even had Rooney been available for the group games of next summer's European Championships, Bent would have a valid claim to a starting place. He has scored crucial goals in England's qualifying campaign and, after missing out on the last two World Cup squads, believes he deserves his chance.
"It would be unbelieveable for myself to finally make it to a major tournament and hopefully if I do get the nod I'll be able to do myself justice," he added.
Away from the pitch Bent has been channelling his energies into a supporting role lately. He was down at ITV's X Factor studios last weekend and has his feet firmly in The Risk's camp. "Fraizer Campbell is a good friend of mine and his brother Ashford is in The Risk and I hope they win. That's who I'm rooting for," he explained.
"He was in Nu Vibe before that and obviously they got the chop but he was that good they brought him back when one of The Risk dropped out so hopefully they can go all the way and win it."
Not being a devotee of the show I'll have to trust Bent's judgment on that one, but next summer it's only Fabio Capello's vote that will count.
You can see the extended interview with Darren Bent on Soccer Saturday, this weekend, from midday on Sky Sports News HD.