Making a difference
Johnny Phillips talks to ex-footballer James Thomas, who has gone from saving Swansea to saving lives.
Last Updated: 18/10/11 9:24am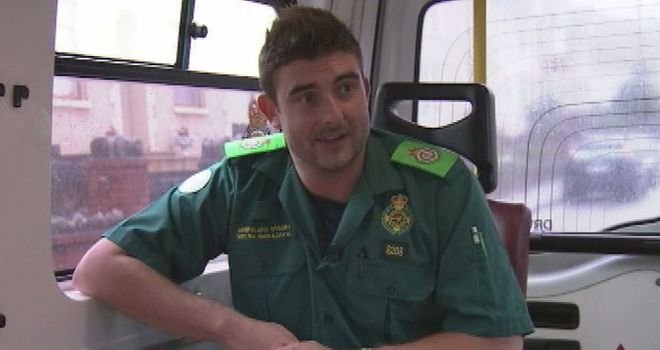 Flicking through the back pages of the tabloids, listening to the radio sports shows and watching the Premier League each week on television, it's easy to forget that the majority of footballers do have to get a 'proper job' at some stage in their life.
Wayne Rooney has no such concerns. His earnings between the start of the season and Christmas would be enough to see him comfortably through the rest of his life, even if he decided in December to pack it all in.
There are plenty more at the top end of the Premier League who won't need career advice once they finish playing. But you don't have to go too far down to realise this isn't the case for the vast majority.
James Thomas was 18 when he turned professional at Blackburn Rovers in 1997. They had won the title two years earlier and the Welsh youngster was a highly-rated prospect coming through the ranks, with his sights set on taking over from Alan Shearer in the Rovers attack.
However, his chances were limited and like so many he had to drop down the leagues to find first team football. By the age of 23 he'd ended up in his home town at Swansea City - the club he had supported as a boy.
Extraordinary
But the Swans were at their lowest ebb in the bottom division. In May 2003 they went into the final game of the season knowing that defeat to Hull City would send them out of the league and bring to an end 82 years of professional football in that part of South Wales.
Thomas wasn't going to let that happen. In an extraordinary match that saw the Swans 2-1 down at one stage and heading into the abyss, he scored a hat-trick to guarantee survival. It really was the stuff of childhood dreams.
But the story that followed is one of frustration and disappointment. Instead of being a platform to move forward, Thomas succumbed to a knee injury that, within four years, ended his career. As the club he held so dear moved onwards and upwards, Thomas was out of the game at the age of 27.
Regret
So when I caught up with him in Port Talbot Ambulance Station as he prepared to go on a patient call-out in his second career, as an ambulance driver, you would be forgiven for thinking he may have some regret at the way things turned out. But he doesn't. The only regret he seemed to harbour was when he introduced me to his work mates; they're all Cardiff City fans.
Thomas now has a season ticket at the Liberty Stadium where two of his his old team-mates, Alan Tate and Leon Britton, are now playing for Swansea in the top flight.
"I do miss the game terribly," he admits, "but that was just the way things turned out. I'm disappointed my career got cut short the way it did but I'm proud of what I achieved."
And it was some achievement, for it is not exaggerating to say that without Thomas's goals at the end of that season eight years ago, Swansea would not be where they are today.
So now he's still in the business of saving, only in a more hands-on role, doing vital work in the community. As you'd expect he gets recognised from time to time and there's always a handshake of thanks from those patients who were at 'The Vetch' for that date with destiny.
It was a far shorter football career than he would have wished for but it had a stellar moment when he became a hero, and not even the very best get too many of them.
Looking back to that rainy Saturday afternoon in May 2003, Thomas reflects: "I'm so glad of that day because no-one can take that away from me now."
You can see James Thomas out on his ambulance rounds on Soccer Saturday this weekend from midday, ahead of Swansea's live match against Wolves.