Managing to succeed
He might not have a host of medals but John Coleman is a managerial marvel, says Johnny Phillips.
Last Updated: 13/09/11 12:09pm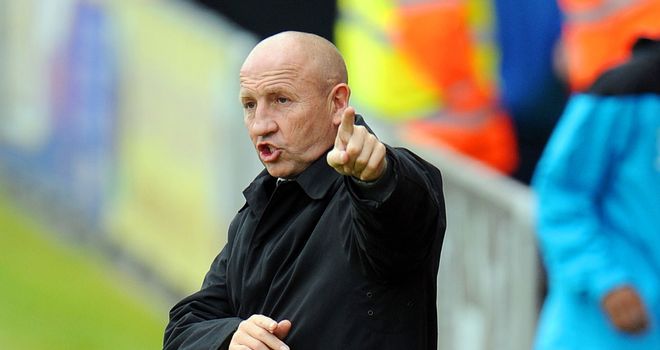 What makes a good manager? One who wins something, certainly.
But English football is no longer a game where honours can be spread around. It's about the haves and have-lots, leaving the huge majority with no serious chance of challenging for trophies.
Cup success is still open to most top-flight clubs, although even then a good argument can be put forward for that being a closed shop.
Since Everton won it in 1995 it has been almost the sole preserve of the 'big four' - Manchester United, Arsenal, Liverpool and Chelsea - until last year Manchester City's exceptional spending inevitably earned them a first trophy. The only club to buck this trend of winners was Portsmouth in 2008. And look what it cost them.
So a good manager isn't just one who can point to silverware. There are plenty of other qualities that mark out the candidate. One who improves his club, builds better foundations, works within his budgets, plays expansive football, engenders a sense of community, making that club something to be proud of.
Imagine a manager who took over a club and did all of the above whilst at the same time bringing an untold level of success on the pitch, taking the club up the leagues in a style supporters could only previously have dreamed of.
Well, there is one who has spent over a decade doing this and his name is John Coleman.
He took charge of Accrington Stanley in 1999. They were in the Northern Premier League First Division. He won three promotions as Champions and in 2006 they were restored to the Football League 44 years after losing that status and ultimately being wound up.
Coleman turned the club round, and has continued to succeed with the odds stacked against him. Accrington is the particularly thin wedge of a sandwich including Blackburn and Burnley.
They have a tiny, but loyal, core of supporters and struggle to compete with those around them in League Two with larger supporter bases to call on.
What Coleman has done incredibly effectively is use his experience and contacts in the north-west, and specifically those closer to his home in Liverpool. The city has a vast pool of football talent but it isn't always tapped into as thoroughly as it could be.
Talented
Of the many players who don't make the grade at Liverpool or Everton there are still plenty good enough to forge a professional career. There are the late developers who have been turfed out of those elite academies and there are those who may have suffered injury setbacks and other pitfalls.
Coleman has always had a core of talented Scousers on the books at Accrington, most of whom have been released by Liverpool at one time or another, and they have served him well down the years.
Coleman himself was no mug with the ball at his feet either. As a non-league striker he scored over 500 career goals. While never making it into the professional ranks as a player, he's proved a more than capable manager.
The question now is how far can he go with Accrington? Well, in his 12 years at the club he has finished each season in a higher league position than the last. That is some achievement and certainly proof of progress.
And that's surely what makes a good manager.