The perfect fit
Balague full of praise for Laudrup
Last Updated: June 15, 2012 12:47pm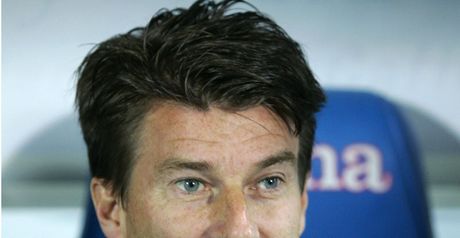 Laudrup: new Swansea boss
Guillem Balague told Sky Sports News why the appointment of Michael Laudrup could lead to an exciting future for Swansea City.
"I think the right club came to him, must have told him the right things and in my eyes it's the perfect marriage."
Guillem Balague Quotes of the week
The former Barcelona and Real Madrid midfielder is set to take up his first job in the Premier League as the replacement for Brendan Rodgers at the Liberty Stadium.
Sky Sports' Spanish expert Balague believes it is a very "mature" choice by Swans chairman Huw Jenkins and says it should be a good fit for a team who were compared to Barcelona because of their passing style last season.
"For me, it's one of the most exciting things that's going to happen this summer," he said.
"It's the sign of a very mature club that has gone for a manager in the same mould as the managers they've had in the past.
"He's a manager that will adapt to the team they've got; a manager that will like to play good football, as he's done in the teams he's been involved in; and a manager of not just quality, but with an aura that will attract names.
"It can only be good for Laudrup and for Swansea. I think it's good news for both of them."
Offers
Laudrup had been working alongside Balague as a pundit on Sky Sports' Spanish football coverage after quitting Mallorca last September.
He had resisted a number of offers to return to management and Balague says Swansea, who finished 11th in their first season in the Premier League, have done well to attract a man with a very good tactical outlook.
"He is a manager now," he added.
"There are some former players that become former players for the rest of their lives, but he is basically a manager. He sees football as a manager.
"Last time I saw him was when he played in the veterans' game before the Champions League Final and you could see he was almost like the manager on the pitch.
"He wanted to go back to training and he had lots of offers from Turkey, Greece, national teams etc, but because of the interest he's always had in the Premier League - both as a player and as a manager - he was looking for an opportunity here.
"I think the right club came to him, must have told him the right things and in my eyes it's the perfect marriage."
Risk
Balague admits it is a risk for Swansea to appoint somebody with no direct experience of English football, but feels the move is a sign of ambition from the Welsh club.
"I get the impression that Swansea don't want to just be 11th next season," he added.
"There is ambition to at least perform as well and, if possible and if there's money available, to try to improve on that.
"It is a risk for both of them I suppose. Michael Laudrup hasn't got experience in the Premier League, something that tends to be considered very important.
"And in the case of Michael Laudrup, the second season for a club like this is really difficult. Can Swansea do it again now everybody knows how they play?
"You're going to have to get the best out of everybody - and that includes scouts, the directors, Laudrup and the players - to match what they did last season, which was extraordinary, but also to go further to challenge for the top 10 and perhaps European places.
"I'm sure that's the ambition. It won't be easy though."