England Buzz monitor
Find out who you have been talking about on Twitter
Last Updated: June 20, 2012 12:49pm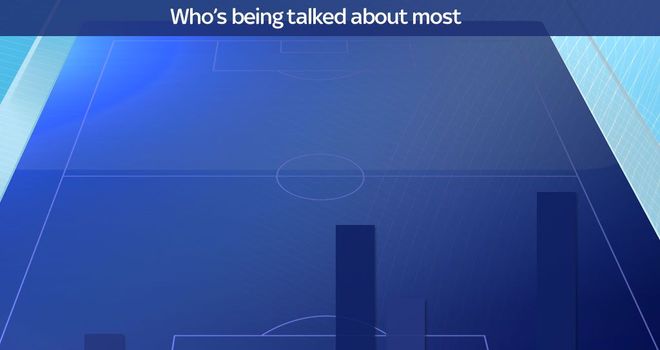 Football Betting

Football Betting

£10 Free Bet
You head to skysports.com to find out who we're talking about in England's campaign to be European Champions. So we thought we would take a look at who you are talking about as well.
Hair we go again! Wayne Rooney made a triumphant return to the England team on Tuesday night, so it's no surprise he's leading the squad in the way of buzz with 26.7 per cent of all tweets, even if most of it is about his hair!
The Manchester United striker's bizarre celebration and admission that he'd used Andy Carroll's 'product' post-match has caused quite a stir on twitter with the majority of tweets involving a 'lol' or the less frequently used 'hahaha'.
Those with photoshop skills have come out the woodwork too, giving us an artist's impression of what Wazza would look like if he continues to use Carroll's hairspray, while others have been busy coming up with ways he can keep his hair-raising antics up...
@APEXLEGALCOSTS Elvis's hair getting auctioned today! Expect an anonymous bid from Wayne Rooney!! #euro2012
But this is our personal favourite...
@thomkirwin
Just heard that UEFA have announced Wayne Rooney has tested positive for the use of a performance enhancing rug.
Hot on the England number 10's heels with 20.4 per cent of the tweets is John Terry who, it's fair to say, continues to divide opinion, despite his overall impressive display and 'goal-line' clearance...
@kavit_patel So now it looks like John Terry is the hero who will have contributed to the introduction of Goal Line Technology...why him!!! Grrrrr
Someone whose hero status isn't in question it seems is Steven Gerrard (10.8 per cent) who made it three assists in as many games and this tweet probably best sums up his performance so far...
@Mattyjboard Steven Gerrard can't stop delivering #royalmail
The wooden spoon for the day goes to Phil Jagielka... again! We're not sure why the Everton defender doesn't inspire conversation on twitter, but we hopefully this will make him feel better...
@amyclairecooper PHIL JAGIELKA <3 always has and always will be my favourite footballer!! #hottie