When Gary Taylor-Fletcher's second half goal put Blackpool 2-1 up against Manchester United at Old Trafford in May 2011, it looked for a brief moment as if Ian Holloway's side would go and secure their place in the Premier League for a second season.
Sky Bet
Loading Market ...
Had they done so, few neutrals would have argued with their right to be there, such was the quality of football they had displayed throughout the campaign. It never happened. United ran out 4-2 winners and Blackpool were relegated.
Three years on, the Seasiders host Charlton Athletic on Saturday knowing that a defeat could send them down to the third tier of English football. This has been a particularly painful season of protest. Fans were flying planes over Bloomfield Road long before the 'Moyes Out' brigade were doing the same at Old Trafford.
Chairman Karl Oyston has been on the receiving end of supporters' frustrations. Some of the protests have over-stepped the mark, with death threats made to Oyston's family. At times there has been an element of slapstick to the complaints, such as the recent home game against Burnley that was stopped when fans hurled hundreds of tennis balls and tangerines onto the pitch.
So where has it all gone wrong? The club is well run according to the financial analysts. Oyston has an admirable stance when it comes to agents, refusing to pay their inflated fees. Last year's accounts revealed a profit of £5.5 million. No mean feat considering the debts accumulated by clubs around them in the Championship.
Those same accounts also indicate that Oyston and his father Owen were paid over £550,000 between them, compared to just under £120,000 the previous year.
That may not seem like a huge amount given the healthy bank balance, but that is the crux of why fans are protesting. Money earned by the football club has been going out to pay the owners and companies they own. Most famously it was the £11 million taken out by Owen Oyston on the back of their promotion to the top flight in 2010, but it hasn't stopped there.
"Since Blackpool's elevation to the Premier League, the owners have prioritised their other business interests to the detriment of the football," claims Tim Fielding of the Seasiders Independent Supporters' Association (SISA).
"Huge sums of money have been withdrawn from the football club - up to 31 May last year at least £26m - whilst the talented squad has been allowed to leave to be replaced with a mixture of ageing players, short-term contracts and loanees.
"Only five players are contracted beyond the end of the season and there is a perceived aversion to paying transfer fees - in the last 12 months we've paid more in directors' remuneration than transfers."
Fans argue that the success under Holloway masked the under-investment at board level. Now, with several managers coming and going since the Premier League days, the club face the prospect of League One football.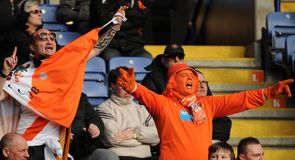 "The departures of Ian Holloway, who finally had enough of broken promises, and Michael Appleton, who lasted barely two months before jumping ship, left the club in a very difficult position with seemingly no one interested in taking over," Fielding added.
"After a number of failed attempts at landing a manager the club was forced to turn to Paul Ince whose style of play proved to be very negative - the antithesis of the swashbuckling football seen under Holloway.
"When Ince was sacked by text in January, Karl Oyston also dismissed the back room staff - including the very popular Steve Thompson - and appointed senior player Barry Ferguson, supported by untried assistants, when an experienced manager was needed to steady the ship. This decision also cost the club its captain, as Barry didn't want to play and manage, and their most influential player in Tom Ince."
SISA also point to the lack of infrastructure as well as under-funding of the team. Despite the redevelopment of Bloomfield Road, much of which was funded by Latvian president Valeri Belokon, there is a feeling that the club has cut corners.
The pitch was a laughing stock in the Premier League. Last season then-manager Michael Appleton described it as a "cabbage patch" and the club were forced to borrow covers from neighbours Fleetwood Town as postponements took hold. Then there are the training facilities.
Fielding added: "Despite numerous promises the players still train at very antiquated training facilities at Squires Gate famously described by Holloway as 'a hell hole'. The facilities are appalling - literally some of the worst in league football."
There was one gesture of goodwill to come out of the club recently. Oyston forked out for 3,000 match tickets to be given to supporters for last Saturday's trip to Wigan Athletic. The team repaid the investment with a much-needed win that could be the one that keeps them up. It was a small good news story in a season that has left fans feeling frustrated and alienated.
Soccer Saturday is on air at 11am this weekend, covering all the crucial Championship games from 12:15pm.