Injury nightmare
Tony Capaldi tells Chris Burton it will not be long before he is ready to join Oxford's promotion push.
Last Updated: 28/10/11 9:14pm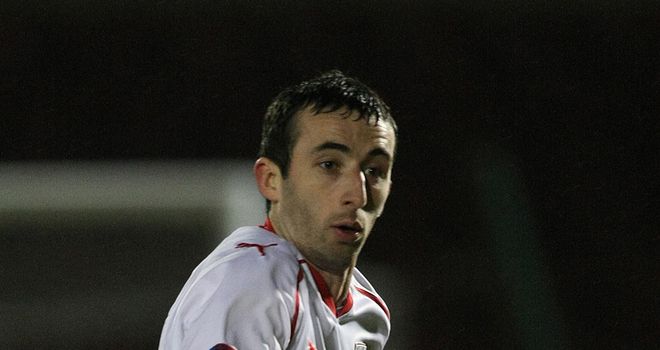 You sign for a new club, run yourself into the ground during pre-season and ready yourself for the big kick-off.
Then, as the curtain gets set to go up on a new campaign, disaster strikes and you are laid low before a competitive ball has been kicked in anger.
Nightmare!
The above perfectly describes the last few months in the life of Tony Capaldi.
Having worked hard to ensure that his future was all sorted before he jetted off for his summer holidays, the 30-year-old has been left cursing his best laid plans.
A two-year contract was agreed with Oxford before the 2010/11 campaign had come to a close and the Northern Ireland international was looking forward to starting afresh.
He put in the hours on the training field to ensure that he was in the best possible condition to represent his new employers, but was then cruelly struck down by a serious back problem.
As a result, Capaldi is yet to figure for the Us in League Two this season and has been left kicking his heels on the sidelines.
The former Plymouth and Cardiff man could be forgiven for feeling a little downtrodden after bearing the full brunt of Murphy's law, but he was in surprisingly high spirits when skysports.com's Chris Burton caught up with him recently for a quick chat about his recovery and his hopes for the future.
Operation
Asked how his rehabilitation was coming along, Capaldi said: "It's getting there. Hopefully in another four weeks I'll be back playing. It's been frustrating, start of the season, but there's not much I can do about it. It's just about getting my head down and working hard and it will only be a few more weeks hopefully."
Pressed on how the injury came about, he added: "I did pre-season, done all the hard work in pre-season, and then a few weeks before the season started it was getting a bit sore. I went to see a specialist and they said I should have an operation to solve it properly. Hopefully when I come back I won't have any more problems.
"It's not ideal. Fortunately I have got a two-year deal so I have got a bit of time now to get my head down and make an impression when I get back fit."
The knowledge that he still has over 18 months left on his current contract offers a timely boost to Capaldi as he knows he does not have to rush back in a desperate bid to prove himself before the end of the 2011/12 campaign.
He said: "Thankfully I have got another full year, but I'll be looking to make an impression over the back half of the season and hopefully we can get promotion."
While it is important for him to take his time in his recovery and make sure he is 100 per cent ready before pressing for a first team recall, Capaldi admits he is eager to get involved with an Oxford side that is in impressive form right now.
He said: "Yeah, they are. It is frustrating. But we have got a good squad, we have got a good team now. Oxford have got some really good players now so there is no reason this year why we can't get promoted."
Capaldi wasted no time in deciding the Kassam Stadium was the ideal place for him to write the next chapter in his career, with Chris Wilder convincing him that Oxford are a team heading in the right direction.
He said: "I was with Morecambe until the end of the season and I spoke to the manager and he said Oxford are interested. I went down with three or four weeks of the season to go and spoke to the manager. Luckily they offered me a deal straight away. I didn't want to torment the manager over the summer so I signed straight away and fortunately I got everything sorted before pre-season.
"I have been in a position before messing about and I didn't want that to happen again. I wanted to get it sorted quickly this time."
Massive
The ambition of the club helped to lure Capaldi in and, while the Us may never scale the heights they did in the 1980s, he is confident that Oxford are going places.
He said: "They were a massive club. They have got good players now and the plans are there to develop the stadium. I'm sure if we get promoted we will be averaging 10-12,000-a-week. It's looking positive.
"The club is moving forward quickly. They have spent a bit of money, they have got a good crowd and they have got a good squad here now. The manager has brought some good players in and things are looking good."
Capaldi was able to get a good look at League Two during his time with Morecambe last season and he is adamant he has seen enough during his time at Oxford to suggest that the club is capable of hauling itself out of the fourth tier.
He said: "Definitely. You look at the squad this year and the teams we are playing against, if we are at our best there is nothing scary in this league for us. It's just a matter of being at our best every week. We are there to be shot at and we have got some tough games coming up. But we have got such a good squad now that even if we have the injuries we've got at the moment, we can cope with it and move on."
No-one is getting carried away, though, with there still 31 games of the season to go, and anything could happen in that time.
Capaldi said: "I know it's a cliché, but you just take things one game at a time. There aren't many games, though, where we are looking to pick up a point. We have got Crawley in a few weeks and we will go to their place looking for a win. You just look to win every game and aim for the top of the league and hope to be there at the end of the season.
"It's not a bad league now, but I'm sure Oxford are looking forward to where they could be. League One is a really good league now, there are some really big clubs in there. Hopefully we'll be there next year."
For now, though, Capaldi's sole focus is on getting himself fit and leaving a hugely frustrating spell where it belongs, in the past.
He said: "It's been an absolute nightmare. Luckily there have been three or four of us in the treatment room and we have kept each other going. It's horrible when you are in the treatment room and you want to be training and playing. There isn't much you can do about it, though, you just have to work hard and make sure that you are ready to go straight back into it when the time comes."