Football Expert & Columnist
Man City must stick with Roberto Mancini, says Jamie Redknapp
Roberto Mancini deserves another season at Man City despite a poor campaign, says Jamie Redknapp.
Last Updated: 09/04/13 2:03pm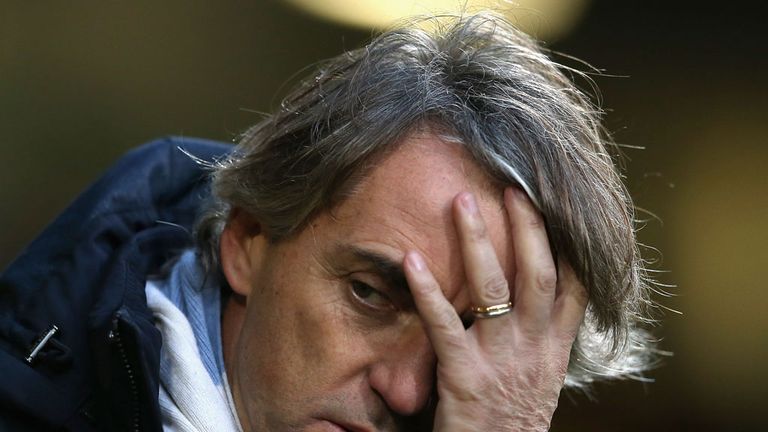 United can lose and it won't make a difference to their championship chances - they've already stormed 15 points clear of City at the top of the Premier League table, after missing out on goal difference to their local rivals last season.
En route to that first Premier League success City did the double over United but, following Robin van Persie's deflected last-minute winner at the Etihad earlier in the season, it's Sir Alex Ferguson's side lining up home and away wins in the Manchester derby this time around.
For City, Monday night is all about pride and proving to their supporters the gap in quality between themselves and United isn't as large as the table makes out.
The manager, the players and the fans won't be happy to be so far behind United, though, given the talent in the City squad. Van Persie has probably made the difference for United this season but, with the likes of Sergio Aguero and Carlos Tevez in their team, there are no excuses for City to be 15 points adrift.
Now all eyes are on how City will respond to a disappointing campaign.
If they can overcome a tough semi-final against Chelsea in the FA Cup and win that competition for a second time in three seasons I think Mancini will stay.
He may have failed to deliver in the Premier League and Europe this season but another trophy could convince the board to give him another chance.
The Italian is popular with City fans - delivering trophies to a club starved of success for so long has earned him credit in the bank - and there is also no obvious replacement if he is sacked. If Jose Mourinho goes to Chelsea who are City going to employ that could guarantee more success than Mancini's delivered?
Check out Jamie's Red Hot Tips at Sky Bet
Their rivals up the road at Old Trafford have shown the benefits of stability and I think Mancini deserves the chance to build another team at City, bring in some additions in the summer and try to reclaim the title next season.
However, the club need to back Mancini in the transfer market.
Mancini was desperate to add to his City squad in the summer but their failure to land big name players, who would have kept their title-winning crop on their toes, has contributed to a disappointing campaign, both domestically and in the Champions League.
It's time for all the backroom staff City have brought in, such as Director of Football Txiki Begiristain, who arrived from Barcelona in October, to start earning their money and make some clever acquisitions which can rejuvenate their squad and boost their 2013/14 title challenge.
Incredible
But make no mistake, what Manchester United have achieved, to be 15 points clear at this stage of the season, is incredible. Nemanja Vidic has said he doesn't feel the team have received the plaudits they deserve this season and perhaps their line-up has been underrated by some people.
However, to win a title you have to be good and there's no doubt United are the best team in the country. I still feel they are missing a dominant central midfielder but this team does stand up to the treble-winning side of 1999 and with a bit more fortune on their side - which that '99 team had, as well as their fighting spirit - they could be going for more than just the Premier League title.
I think at the end of the season Ferguson will look back and be disappointed they weren't able to add an FA Cup or Champions League to their Premier League win. But they've done what they set out to achieve; they've prevented City winning back-to-back titles and reclaimed the championship.
I'm predicting a 2-2 draw on Monday night but there's no doubt United deserve the title and City will have to work very hard in the summer to make up the ground they've lost this season.