Football Expert & Columnist
Gareth Bale may be sold in summer and Arsenal can draw with Tottenham, says Jamie Redknapp
Jamie Redknapp expects Spurs to sell Gareth Bale this summer - and Arsenal to hold them up on Sunday.
Last Updated: 02/03/13 3:16pm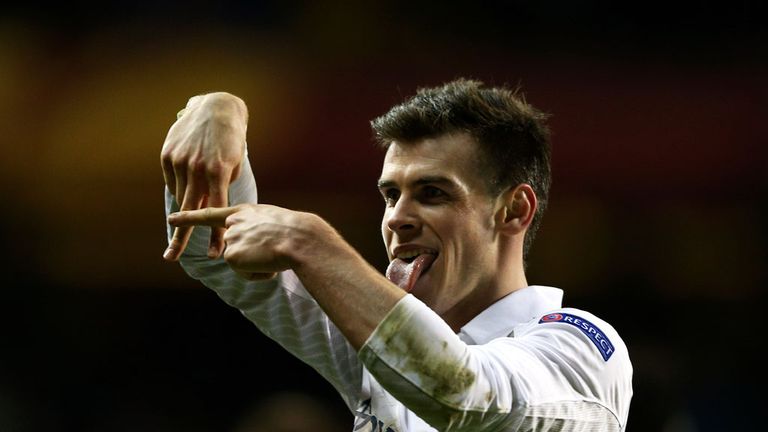 Any player who can score a hat-trick against Inter Milan aged 21 is destined to go right to the top - and his current form is nothing new. Bale has been vital for Spurs for the last few years, it's just that now he's scoring goals regularly - important goals - and that makes headlines.
He's 23 now and he has all the attributes he needs to be a top player. He's quicker than most other players, stronger than most other players and has a left foot like a wand - and he's only going to get better.
If Spurs want to challenge for the title - and I reckon in a couple of seasons' time they may be able to do that - they need to keep him at the club. But whether they can do that is another matter.
Personally, I can't see him at White Hart Lane this time next year.
Tottenham's recent history suggests they sell their best players - look at Michael Carrick, Luka Modric and Dimitar Berbatov - and everyone will be in for Bale now. Daniel Levy runs the club like a business and I'm sure someone will make him an offer he can't refuse.
Jamie's backing a 2-2 draw in the North London derby at 11/1 with Sky Bet
If he does go, it would be a shame to see him leave the Premier League. We want to keep the best players in our top flight - but money talks and the likes of Real Madrid, Barcelona and Bayern Munich have cash to spend. Plus, if Tottenham are serious about progressing they won't be selling their best asset to a rival for the top four.
Should he leave, a lot of people have talked about Bale going to Real as a replacement for Ronaldo or to form a partnership with him. But I think he's the perfect option for Barcelona.
We all talk about Barcelona not having a plan B and recent results against AC Milan and Real Madrid have suggested the Catalans could do with someone like Bale who can offer them something different in matches against well-organised sides.
But for now his immediate future is the North London derby on Sunday and helping Spurs to three points which would strengthen their position in the top four.
In the past Arsenal's Bacary Sagna has coped well with Bale; he's got physical with him and stopped him. But Sagna, who hasn't had a great season, is injured, so perhaps Carl Jenkinson - who, like Bale, is a real athlete - could man mark him.
However, I think Arsene Wenger is too stubborn to think about stopping one player. It's not in his make-up. It could be a huge mistake not to have a set plan for Bale, but he'll be focussing on how his side will cause Spurs problems instead.
But, whatever Wenger has planned going forward, his defence will have to be better than they have been for a long time. Thomas Vermaelen has been struggling of late and I feel the captaincy has weighed him down while if Per Mertesacker is isolated against Bale there's only going to be one winner. Perhaps Wenger will opt for Laurent Koscielny instead, a quicker option than the Germany international.
Threat
However, if Arsenal can contain Bale then they've got Jack Wilshere, Santi Cazorla, Theo Walcott, Olivier Giroud and Lukas Podolski who can cause Tottenham problems - and they have to believe they can get something from this game.
Arsenal beat Spurs 5-2 earlier in the season and if they can get a result this weekend then they can put the pressure on their rivals for a Champions League place.
Everyone is saying this is a pivotal moment for Arsenal and Spurs are going to show how far ahead of Arsenal they are. But I'm not convinced Arsenal will get beaten.
I think they have what it takes to match Spurs and earn a 2-2 draw. With Chelsea seemingly self-imploding, that result could spark Arsenal back into life and rejuvenate their top four chances.