Football Expert & Columnist
Euro vision
Top four-chasing Everton could deny Jamie Carragher a dream finish to his career, says Jamie Redknapp.
Last Updated: 08/02/13 4:46pm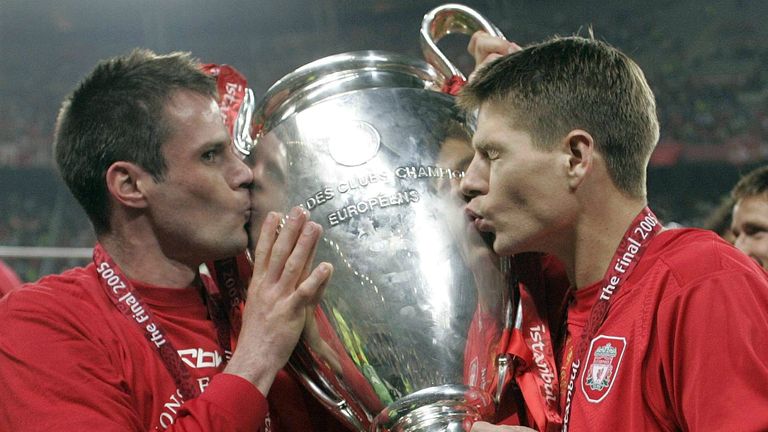 It's not just Liverpool supporters who should be celebrating Jamie Carragher's career, but football fans everywhere.
I remember when I first saw him as an apprentice and you could tell he was going to be a good player, but I didn't realise he'd become a great player, a fantastic ambassador for the club and a hero of the fans.
He's the perfect example of what you can achieve if you work hard.
As a youngster coming through he was cheeky and always up to a bit of mischief but what stood out most of all was his love of football.
He's so passionate about the game and he took that onto the field with Liverpool; I can still picture him cramping up but still throwing his body in front of the ball in the Champions League final against AC Milan in 2005.
He was also a great organiser on the pitch. Going to watch him play is an education; you can always hear him bellowing instructions to his team-mates and demanding more from them.
Liverpool are going to find it so hard to replace him, both on the field and in the dressing room; even in the past couple of weeks when he returned to the side to play Man City and Arsenal he was their best defensive performer.
I'm sure that in whatever he goes on to do next, whether it's management, coaching or media, he'll be a success.
He's got an incredible will to win and to learn, which will stand him in good stead - but, for now, I'm sure his focus is on helping Liverpool challenge for a Champions League place
Helping the Reds back into Europe's premier competition would be a fine way for him to end an Anfield career which has yielded multiple FA Cups, League Cups and a famous Champions League title, to name but a few.
Challenge
However, Liverpool's Merseyside neighbours could deny Carragher his ideal ending.
Everton are six clear of their rivals and trail fourth-placed Spurs by three points and third-placed Chelsea by four - but they could have been even closer to the Champions League spots had they beaten second-from-bottom Aston Villa at home last week.
Although their fight back from 3-1 down to draw 3-3 with Paul Lambert's side earned them plaudits for their spirit, that result was a real coupon buster; it was a game they would have felt confident of winning before kick-off.
It's the third draw for Everton in 2013 and they'll be hoping dropped points against Villa, Southampton and Swansea don't come back to haunt them at the end of the season.
It would be so painful for them to just miss out on the top four, as Newcastle did in the last campaign and, given the size of their squad, I am concerned they may run out of steam.
But seeing Everton challenging for the Champions League is a breath of fresh air as before the season not many people thought they'd genuinely be mixing it with Arsenal, Tottenham, Chelsea and Liverpool.
However, David Moyes is once again getting the most out of the talented players at his disposal - with Marouane Fellaini, in particular, impressing - and the Goodison Park crowd have helped to make 'Everton away' one of the toughest matches on the fixture list.
Their Champions League hopes would get a real boost, though, if Nikica Jelavic could start firing; the former Rangers striker had a fantastic impact in the second half of last season but has only netted six times in the Premier League this term.
They'll be looking to the Croatian to fire them into the top four and, despite missing out on FC Twente's Leroy Fer in the transfer window, if they can get Jelavic back on form and keep their key players fit then they still have a great chance of pulling it off.
Point
And I reckon they may add another point to their tally on Sunday when they visit Old Trafford.
Manchester United's 4-4 draw at home to Everton last season - after leading 4-2 - is often cited as the key moment when Sir Alex Ferguson's side lost the Premier League title - but it's also evidence of the progress Everton have made in recent years under Moyes.
Yes, United have an on-fire Wayne Rooney in their side and it's great to see the England striker finding the net regularly again, lightening the load on Robin van Persie and answering his critics, but they also have a huge Champions League game with Real Madrid on Wednesday night, which could easily prove a distraction.
It only takes a couple of United players coming back from international duty with knocks and a couple more a few per cent below their best on Sunday because they have half an eye on the trip to Madrid, and Everton could take advantage.
The Toffees will certainly make it difficult for their hosts; they're good defensively and Fellaini has caused United problems in the past.
And although I expect Rio Ferdinand and Nemanja Vidic to deal with the Belgian better than Michael Carrick did on the opening day of the season, I'm going for a 1-1 draw.