Football Expert & Columnist
Not so Super Mario
Mario Balotelli's exit won't dent Man City's title hopes - but Liverpool could, says Jamie Redknapp.
Last Updated: 01/02/13 12:36pm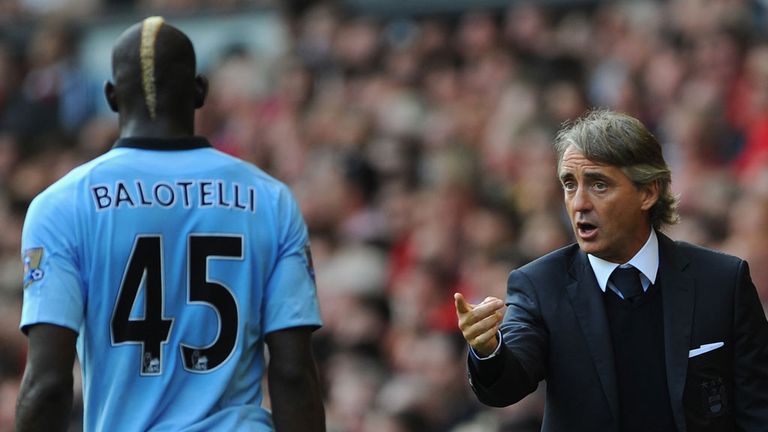 We're used to seeing Manchester City signing big name players on Deadline Day, not selling them - but Mario Balotelli's departure to AC Milan could work in their favour.
The players seemed to like him, the manager obviously loved him and some City fans would say he was a genius - but I never really saw it.
Balotelli gets the attention of Cristiano Ronaldo and Lionel Messi, but when you look at what they produce and what he's done for City then there's no comparison.
He drew a lot of negative attention to the club and when you're going to be as disruptive as he is then you have to produce the goods on the pitch and I don't think he did that consistently enough for them.
He scored just one goal in his 14 appearances in the league this season, completing 90 minutes just once, and those stats simply don't outweigh the hassle which came with him.
I hope the penny drops for him in Italy because it feels like he's wasting his talent at the moment.
We'll never forget his pass to Sergio Aguero for that title-winning strike against QPR, but that was his only league assist in 54 appearances for City and, although Balotelli fans will say it was the one that mattered, his reckless sending off against Arsenal a few weeks before that nearly cost them the title.
On the other hand, you could say he helped them win the title with that red card - without him in the team City pulled together and went on a great run!
I suspect he will find success in Serie A - it isn't as strong as the Premier League - but City will be better off without him.
I doubt Mancini wanted to sell him but he will find his job easier with just Edin Dzeko, Sergio Aguero and Carlos Tevez to keep happy up front and as they're only challenging for the league and FA Cup now they can don't need four big-name forwards anyway.
Priority
City's priority now is focussing on a crucial game with Liverpool this Sunday.
Not many would have expected them to drop two points with a goalless draw at QPR in midweek but, although it was a surprising result on paper, I was at the game and the torrential rain and strong winds really had an impact and stopped the champions from getting the ball down and playing the way they can.
But, regardless of the elements, that draw, coupled with Manchester United's win over Southampton the following day, has left them trailing the league leaders by seven points and desperately needing to get back to winning ways this Sunday.
The pressure will really be on City come kick-off as well; United travel to Fulham on Saturday evening and I fully expect them to beat Martin Jol's struggling side and open up a 10-point gap on their neighbours.
And Brendan Rodgers' team will not be an easy proposition either, as Arsene Wenger's Arsenal found out on Wednesday night.
Liverpool were exceptional at times during their 2-2 draw at the Emirates and they'll be fired up for this one, knowing they need a win to maintain their aspirations of finishing in the top four this term.
Boost
The visitors will also be boosted by the arrival of Brazilian Philippe Coutinho from Inter Milan, and although the attacking midfielder seems unlikely to feature at the Etihad due to an injury, he's an exciting signing for Liverpool fans.
Small and skinny, Coutinho is very good in one-on-one situations, a good passer and likes to cut in from the left. You can see a mile off he's Brazilian because he's got so much flair and Rodgers will be hoping the 20-year-old, who was touted as the next big thing when he went to Inter, can realise his potential at Anfield.
In the meantime, Rodgers will have to rely on the three S's - Suarez, Sterling and Sturridge - to provide an attacking threat, and with Vincent Kompany struggling with injury and Javi Garcia filling in at centre-half alongside Joleon Lescott, I reckon they can cause City problems.
With Kompany out and Yaya Toure at the Africa Cup of Nations, Liverpool will know they have a good chance of getting a result this weekend - although 3-0 defeats in their past two league trips to the Etihad doesn't bode especially well for them.
This time round I reckon we'll see a repeat of the scoreline from when the sides met at Anfield earlier in the season, with a 2-2 draw leading to more frustration and disappointment for City fans.
That will leave them a fair way off United - but there's still a long way to go until the 2012/13 champions are crowned in May.