Football Expert & Columnist
The Suarez spark
Luis Suarez-inspired Liverpool can make the top four - but must keep their key man happy, says Jamie.
Last Updated: 12/01/13 7:33am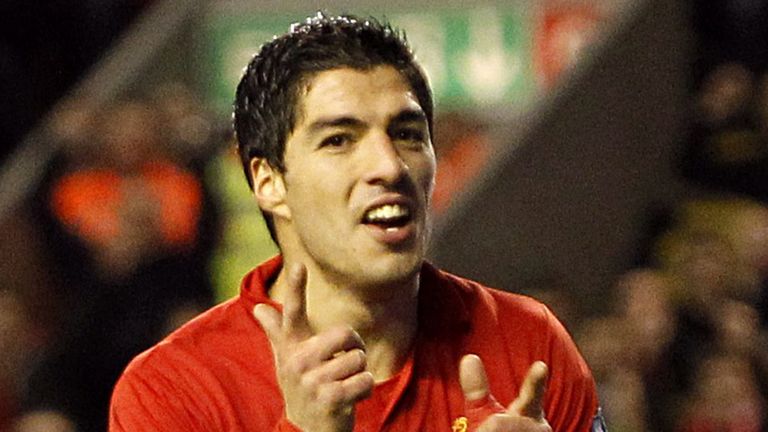 The Premier League's top scorers go head-to-head when Manchester United host Liverpool live on Sky this Sunday and it will be great to see them both in action on the same pitch.
Liverpool's Luis Suarez and United's Robin van Persie are brilliant players. It's tough to compare them as they're so different in their styles. United's Dutchman is like a ballerina, he's all about elegance and he seems to have so much time on the ball; Suarez, in contrast, is like a street footballer, he's all hustle and bustle, wanting to bash into people and take opponents on.
There will be arguments from both sides about which one is better but there's no doubt that at 25-years-old Suarez is having a more influential role for Liverpool than Van Persie had at Arsenal at the same age. (Suarez is 26 at the end of this month and has 30 goals in 64 Premier League games to his name - Van Persie had 39 in 115 games when he reached that age.)
Suarez and Van Persie both to score is 9/2 with Sky Bet
But, whoever you prefer, it's clear Suarez is crucial to Liverpool's ambitions of returning to the top four - despite the arrival of Daniel Sturridge from Chelsea. Sturridge is a young English player with loads of talent and hopefully, after disappointing spells at Manchester City and Chelsea, he can find a home at Liverpool and deliver for a manager who I'm sure will look after him.
However, talk of Brendan Rodgers changing Suarez's role to accommodate the Englishman concerns me.
Liverpool have got a real asset in Suarez - he's probably worth more on the open market today than Van Persie. He's a unique player; as a kid you're taught to keep the ball away from your marker, but when Suarez gets the ball he turns into people and tries to get ricochets, rebounds and go through people.
He courts controversy - although some of his actions are indefensible, often I feel he gets more criticism than others for the same actions - but he is vital to Liverpool and they need to work to get good players around him, to support him and to improve their side.
Most football fans, if you said you could have Suarez in your team, would have him. People going to the game on Sunday will know he's going to get them off their seat, he's going to be exciting. He has the ability to do something different and there's an anticipation watching him which you don't get with a lot of other players.
But if you play Suarez on the right or left you are letting centre-backs off the hook - they'll be delighted to see him playing in other areas. Suarez is so important to Liverpool's ambitions, they can't afford to give him excuses to want to leave the club - and a switch from his current role to accommodate Sturridge could make him feel less important.
Dependent
So far this season Liverpool have been dependent on the Uruguayan; Suarez has scored 44 per cent of Liverpool's Premier League goals in this campaign. They can't afford to let him leave the club.
Champions League football will help them keep players of his calibre at Anfield and I feel they're edging closer to returning to a side capable of achieving a top four finish. If they can do that then that will bring in the revenue which will give them the options to buy the best players, progress and get back to challenging for major honours.
Jamie's tipping United and Liverpool to draw 1-1 with Sky Bet
Liverpool are currently seven points off the Champions League pace but that's surmountable. They've got some amazingly talented players, the defence is good and the keeper is solid - they just need to add to their strength in depth because currently they don't have the players on their bench who can come on and change a game like Manchester United have.
They also need to stand by Rodgers. They've gone through manager after manager in the last 10 years and that policy hasn't worked. Rodgers needs time to implement his policies, bring in his own players and improve the side.
The big one
Regardless of their current league position - and their 23-year wait for a league title - Liverpool's clashes with Manchester United are still the biggest games in the Premier League.
Paul Scholes this week said Liverpool, not Manchester City, are still United's biggest rivals and I agree. There's so much history between the sides. Everton is still a huge game for Liverpool and of course City, with their improved side, are big rivals for United - but this is the one the players want to win.
However, I reckon both sides will have to settle for a draw this Sunday. Liverpool have the pace on the counter attack to cause United problems and will be determined to take something off their rivals after losing at Anfield in September. In that game United benefitted from Jonjo Shelvey's sending off but if it stays as 11 vs 11 this weekend I think it will be a fairly even contest. I'm going for a 1-1 draw.