Football Expert & Columnist
Unfair dismissal
Roberto Di Matteo was never first choice at Chelsea but he deserved more time, says Jamie Redknapp.
Last Updated: 23/11/12 12:59pm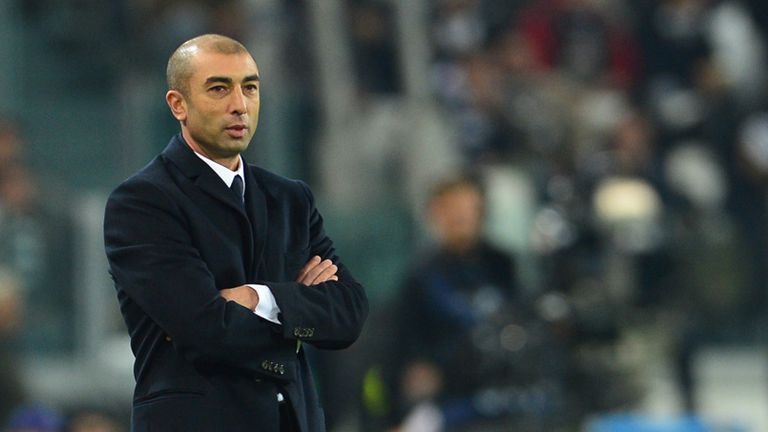 Just 187 days after leading Chelsea to their first ever Champions League title, Roberto Di Matteo was sacked on Wednesday. I'd like to say it was a surprise but unfortunately that's the way Roman Abramovich runs his club.
I'm a massive believer in continuity and think clubs should be prepared to give managers more time to turn fortunes around if they go on a bad run; that's what has worked so well at clubs such as Manchester United, Everton and Arsenal.
Of course, the other side to that argument is last season Chelsea sacked Andre Villas-Boas half way through the campaign and went on to win the FA Cup and Champions League. Most owners will look at that as a successful transition and say it's justification it was the right thing to do.
However, I felt the axe was always hanging over Di Matteo this year. It took Chelsea so long to offer him a contract in the summer it was almost as if they knew they had to give him the job but didn't really want to.
Abramovich always wants the most expensive toy in the toy shop and, even though Rafa Benitez has come in, I wouldn't be surprised if there's a deal in place for Pep Guardiola to join in the summer.
It's a shame he has that attitude, though, because Di Matteo did an amazing job last season, not only in turning their fortunes around on the pitch but changing the attitude of the players.
It was a club in anarchy when he took over, the squad was being torn apart, there were divisions everywhere - but he steadied the ship.
Winning the FA Cup and Champions League was an amazing achievement and, in my mind, he's written his name in Chelsea's history. Yes, he had plenty of fortune along the way, but he deserves recognition for those titles.
He's paid the price for a poor run of form - a spell which has coincided with the absence of key players such as John Terry, Frank Lampard and Ashley Cole - but it was only a few weeks ago everyone was praising them for their impressive start to the season.
They played some really good football and even against Liverpool on 11 November they could have been 4-0 up at half-time.
Staggering
The board have made their move, though, and amazingly they've gone for Benitez as a short-term replacement. To bring in the former Liverpool boss is staggering, considering the history he had with Chelsea when he was in charge on Merseyside - and it's not gone down well with Blues fans.
Knowing he is simply keeping the seat warm for someone else makes Benitez's job hard, as well - but from his point of view it is a fantastic opportunity to show everyone he is still a good manager after being out of the game for a while.
He'll be keen to remind people of the success he had at Liverpool. Of course, there was the Champions League win and an FA Cup title, but he also ran Manchester United close in the Premier League in 2008/09 and I'm sure Liverpool fans would love to have Javier Mascherano and Xabi Alonso - two players he brought to Anfield - alongside Steven Gerrard in midfield again.
The Chelsea board will be hoping he is the man to get the best out of £50million striker Fernando Torres. They opted not to replace Didier Drogba when he left in the summer and told Torres he was the main man but he's not really produced. The Spaniard has scored some goals this term but not the big goals they want from him.
The problem is, sooner or later, it is down to Torres to get the best out of himself. First he had problems with his supply line, now, when he's not scoring many goals with Juan Mata, Oscar and Eden Hazard in the side, it's the manager. It's one excuse after another.
However, I'd expect Benitez to start with him on Sunday in his first game in charge at home to Manchester City and perhaps he'll deliver for his old boss.
Time
Despite their Champions League exit, City have stuck with Roberto Mancini.
The Italian clearly bought himself some time by winning the league last season and the owners at the Etihad haven't got the same 'hire 'em and fire 'em' approach as Chelsea.
That said, by failing to qualify from their Champions League group, the owners will be expecting Mancini to win the title again now. The pressure is on but I feel, in the Premier League at least, they are starting to find some form.
The last half hour against Tottenham, where they transformed defeat into three points, could be a turning point for their season and with David Silva back they're functioning better, as they showed by putting five past Aston Villa.
It'll be a tight game on Sunday, though.
The reaction of Chelsea fans to Benitez's arrival suggests there won't be the usual excitement at the ground you'd expect when a new manager is appointed, and in a fairly flat atmosphere I think this one could end 1-1.
Back Jamie Redknapp's prediction of a 1-1 draw at 6/1 with Sky Bet here.