Football Expert & Columnist
Familiar foe
Man Utd will have too much for Arsenal, especially with RVP in their ranks, says Jamie Redknapp.
Last Updated: 28/11/13 6:16pm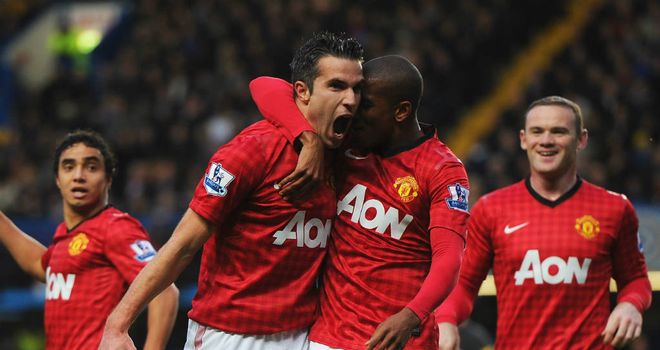 Manchester United and Arsenal were involved in thrilling League Cup ties in midweek - but we'll no doubt see completely different line-ups when they meet in the Premier League on Saturday lunchtime.
Arsenal made 11 changes to the side that beat QPR for their game against Reading and I'm sure after 44 minutes Arsene Wenger was regretting every one of those changes! They were 4-0 down and seemed certain to exit the tournament.
Incredibly, they managed to claw it back and although it wasn't the first team that played, the atmosphere at the training ground would have been completely different had they lost that game. Now there is no doubt a real bounce around the place.
It's been a tough few weeks for Arsenal, though. We were saying a month or so into the season how well they were playing; they had three clean sheets from their first three games and we all thought: 'This is it, the new Arsenal has arrived'.
Unfortunately the same problems from the last few years have resurfaced; they're giving away bad goals, the're conceding from set-pieces and they're looking vulnerable at the back.
On the up side, Jack Wilshere is back and you hope his partnership with Santi Cazorla can cause teams problems this season.
However, it will be a while before we see that combination in full flow because you can't expect Wilshere to come straight back in and be the player that he was before his injuries.
Ultimatum
One player I expect to be involved on Saturday is Theo Walcott. He bagged a hat-trick on Tuesday, scored goals at vital times to keep Arsenal's League Cup dream alive and, at the same time, staked his claim for a spot up front.
However, the more pressing issue for me when it comes to Walcott is his future. Arsene Wenger came out and said he wants the contract situation resolved by Christmas.
Well I'm sorry, but it's Walcott who has all the cards at the moment; he's the one who's out of contract in nine months. Arsenal can't start giving him ultimatums.
Walcott is a very good player. Whether Arsenal fans think he's the best player in the world or not isn't really the issue. He's an asset to Arsenal and a player they don't want to be losing - certainly not on a free transfer or at a cut price in January.
Walcott has got all his options open, those three goals have helped his cause no end and I honestly think he's a good player for them: he's a cool finisher, he's young. There's no upside in letting him go on a free transfer. Even in January if they say they want to sell him he hasn't got to go anywhere.
Someone on the Arsenal board has to start taking responsibility for letting Robin van Persie, Samir Nasri, Theo Walcott and Bacary Sagna - players of quality - go to a year left on their contract. There has to be someone on the board signing them to 3-4 year contracts and once they get to two years to go saying: 'Do you want to stay?' If they say 'no' then Arsenal have to sell them.
At the moment Arsenal are getting it wrong. Considering how well they do in terms of their financial results and working within their limits, there is a real misjudgement being made allowing quality players get to within a year of their contract expiring. It shouldn't happen.
Stick
Last year that philosophy allowed their captain, talisman, top scorer Van Persie to join Manchester United - and the Dutchman has had a great start to life at Old Trafford.
He meets his old club for the first time on Saturday and I'm sure he'll get a bit of stick from the away fans in the corner of the stadium but it'll be easier for him as United are at home. It would have been a lot tougher if his first meeting with Arsenal was at the Emirates.
He'll be looking forward to this match and I'd be amazed if he doesn't score. His movement at the moment is exceptional and he's playing as well as he was last season for Arsenal. He'll be taking on some familiar faces when he lines up against the Gunners' defence but I'm sure they'll be a lot more worried about him than he is about them.
Van Persie will have some really good memories of playing for Arsenal but he's moved on now. I suspect like many players he won't celebrate if he scores against them but I don't like that. If a player likes a club so much that he won't celebrate scoring against them then he shouldn't have left them in the first place!
But Van Persie wanted to win trophies and he's moved to a club where he believes he'll have a better chance of doing that. A few years ago Manchester United v Arsenal matches were key title battles, six pointers which had a big say on who took the Premier League. Arsenal fans will admit United are now on a different level, though.
United look like they've got their form and rhythm back. Against Chelsea in the Premier League last week, for the first half hour, they were exceptional. After that Chelsea caused them a lot of problems but I think United are hitting their stride.
A key player for them in this match will be Antonio Valencia. He's a real power player, a left-back's nightmare and if he plays against Andre Santos I think he could really hurt him. Valencia will be too powerful and too quick for him.
That's an area where United can have a lot of joy on Saturday, because I don't think Santos is a good defender. If he can get at the Brazilian then I expect United to win comfortably.
United have got better players than Arsenal at the moment, Van Persie, for me, is a certainty to score, and I can see the hosts winning this one 3-1.