Football Expert & Columnist
Looking for a spark: Jamie Redknapp says Suarez and Sterling must shine for Liverpool at Everton
Liverpool need Luis Suarez and Raheem Sterling to unlock a talented Everton side, says Jamie Redknapp.
Last Updated: 27/10/12 11:55am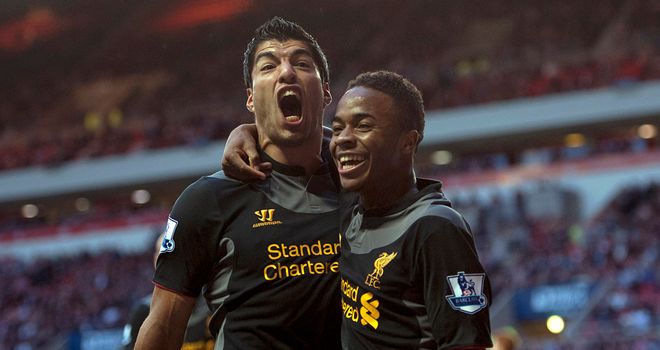 Merseyside derbies are usually great encounters with plenty of passion. Goodison Park provides a brilliant atmosphere and with Everton off to a great start in the Premier League this season this will be a really interesting clash.
We all know what an incredible job David Moyes has done at Everton; he's forged a togetherness and team spirit which has ensured the club have continued to deliver good results in recent years, despite the limited resources at his disposal.
However, looking at the Everton squad now, it's clear he has more than just team spirit in that camp - there's real quality there too. The likes of Steven Pienaar, Marouane Fellaini and Leighton Baines have taken the headlines with their outstanding form so far this term which has helped propel Everton to fourth in the league, but there is talent right through the squad.
After doubts about whether Phil Jagielka could step up to the top level after his move from Sheffield United, he has turned into one of the best defenders in the country, then there's Nikica Jelavic up front looking sharp, Leon Osman, who is so underrated in midfield, and Tim Howard solid in goal.
This is the best squad of players Everton have had for a long time and they've flown out of the blocks this season.
However, they'll be without Fellaini, who's got a knee injury, and Pienaar, who's suspended after his red card against QPR - and Liverpool will be delighted with that news because Everton will miss them. Fellaini's a huge presence in the middle of the park - both literally and figuratively - and Pienaar is a quality footballer whose relationship down the left with Baines has been fantastic.
I'd have made Everton favourites for this one if they had those two in their side but I think now we'll be in for a very tight affair.
Liverpool are currently exactly where I expected them to be at this stage of the season. People have said it is taking time for them to adapt to Brendan Rodgers' philosophy of football - but unless I'm reading it wrong, Liverpool have always played a nice passing game. Even back in the 1980s I remember watching players like Alan Hansen and Mark Lawrenson passing it out from the back.
The problem at Liverpool is they are so dependent on Luis Suarez - and that's nobody's fault except the management, who have left them as short as they have by not moving to bring in some support during the summer. They must be desperately hoping he stays fit because without him they're just relying on young players.
The youngsters are getting great experience, of course - and some of them have really bright futures in the game - but you still need players who know the game, know the Premier League and who can make a difference, especially in tight games like this one against Everton.
Unless someone like Suarez can turn the game for Liverpool, I feel they haven't got the capability to go and beat a team like Everton comfortably at the moment.
Special Sterling
However, one player who has really benefited from Liverpool's thin squad is Raheem Sterling - and I'm a huge fan of the 17-year-old.
Since I left Liverpool, I can't remember the last person at Anfield who played in wide areas, dribbled the ball and took on opponents but also had the presence of mind to cross the ball at the right time and pick out a man.
Rafa Benitez tried to fill that role with all sorts of players - and many I'd never heard of before or since - and it didn't work out for Stewart Downing in that role last season. But Sterling has the dangerous combination of lightning pace and a footballing brain - and if you've got that then you're going to be a real asset to your side and a player the opposition rightly worry about.
Sterling doesn't just get into wide areas and thrash the ball across as so many wingers seem to do these days; his quality in wide areas is very good and he knows when to stand one up to the far post, pick someone out or whip it across the face. He's a real player and he's an exciting player of the kind Liverpool haven't had since Steve McManaman was playing. He's been a revelation for Liverpool this year.
The Anfield fans love a player who can do something different and understand the game. For someone so young his game belies his tender years and he's got it all in front of him; he'll be an England regular in a few years and in Brendan Rodgers he's got a manager who will relish the opportunity to work with him and develop him as a player.
Liverpool will be looking to him and Suarez to pull something out of the bag on Sunday because to me this Merseyside Derby looks like it will be a tight 1-1 draw, a result which will probably suit both managers, considering their respective starts to the season.
If you love watching football live on Sky Sports then you'll love this great offer from Sky Bet for all new customers. Sign-up today and the online betting firm will not only give you a free £10 bet now, but also a free £5 bet every week for the rest of the season! This offer is open to new customers who register for a Sky Bet account via the internet and mobile devices before November 16th 2012. To find out more go to skybet.com.