Football Expert & Columnist
Welsh wizard
Chelsea must restrict Gareth Bale if they're to continue their undefeated run at Spurs, says Jamie.
Last Updated: 19/10/12 12:27pm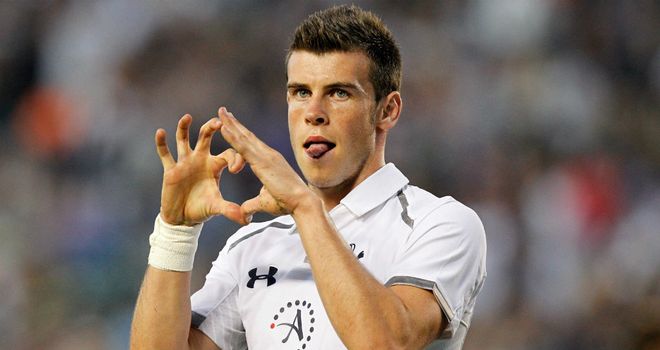 After an eventful international break the Premier League returns this weekend and Tottenham against Chelsea is a real mouth-watering fixture to kick things off.
Looking at the two squads on paper, there will be some top players involved and both sides have been in good form, so we're in for a treat.
Predictably the match is being billed as Andre Villas-Boas vs his old employers but it looks like he's learnt from his mistakes at Stamford Bridge and is moving on at Tottenham.
Check out all Jamie's tips for the weekend at Sky Bet
Of course he got it wrong at Chelsea - he couldn't have done much worse - and leaving a club in turmoil and then seeing one of his coaches, Roberto Di Matteo, take over and lead them to the FA Cup and Champions League couldn't have been easy for the Porto man to watch.
But he's got a much quieter group of players at Tottenham, perhaps less divisive than the group at Chelsea can be, and they are eager to win trophies just as their opponents on Saturday have done in recent years.
After a stuttering start they've hit some form now, as well. Defeat to Newcastle on the opening day and then home draws with West Brom and Norwich were disappointing but they've followed that up with four wins on the spin in the league.
I wouldn't actually blame the manager for those first three results, though - that was down to their chairman Daniel Levy holding out until deadline day to get his transfer dealings done. That business should have been done earlier in the summer to avoid disrupting the squad and, who knows, those seven points they missed out on could come back to haunt them at the end of the season.
But they're going well at the moment, with Gareth Bale in particular playing exceptional football. When he first came on the scene we all realised straight away that he was someone with talent and now he's an incredible athlete too; he can sprint, he's got endurance, he's strong, he's over six foot... If you were to create the perfect physique for a footballer he wouldn't be too far away.
He's also an incredibly hard worker in training, desperate to improve. If the Premier League was an open market, with every player for sale, he'd fetch the biggest fee, without a doubt.
Attack or defend?
The key to this game on Saturday is how Chelsea deal with him.
Earlier this season I was pleasantly surprised to see Di Matteo take on Arsenal at the Emirates by trying to play them at their own game. He put all his flair players in the team - Oscar, Eden Hazard, Juan Mata, Fernando Torres - and they all starred in an impressive 2-1 win. It will be interesting if he goes that way again and takes the game to Spurs.
The other option would be to try and stop Tottenham's flow, which is coming down the flanks with Aaron Lennon and Bale. He could push Ramires out to the right, or leave him inside to double up on Bale whenever he goes forward.
Jamie's backing a 1-1 draw in the Spurs v Chelsea clash
Looking at Chelsea's ranks one player who I think could have a big impact at White Hart Lane this weekend is Mata. He's really impressed me so far this season but didn't make the Spain squad, which I find remarkable. I know they've got loads of talented players but he's been Chelsea's unsung hero this year and not many have played as well as him.
However, Di Matteo would have been delighted with his international absence because it meant for the first time in a long time - after his efforts last season, at the Euros and at London 2012, Mata finally got a decent break.
While most of the other players involved on Saturday will have been away with their countries he should be fresh and ready to go.
Adebayor's chance?
Ashley Cole will perhaps not be feeling quite as sprightly after playing on a heavy pitch against Poland on Wednesday night. Spurs' Jermain Defoe also played 90 minutes in that game and I wouldn't be surprised to see Villas-Boas use this as an opportunity to give Emmanuel Adebayor - who fired Togo to the African Cup of Nations on Sunday - a shot up front.
Due to Defoe's form Adebayor has had his game time restricted this season but Villas-Boas will be keen to keep his big striker happy because if he gets in a mood that can cause problems - as we've seen previously in his career at Arsenal and Manchester City. He's not one to sit on the sidelines and take his money, he wants to play every game.
However, one player who won't be on the field will be John Terry. The Chelsea captain decided not to appeal his ban from the FA and he will be a really big loss for Chelsea. Some people might say he's not at his best but, whatever you think of him, if I was in the Chelsea dressing room the one player I'd want leading us out would be Terry. He's a winner and that back four needs him. They'll certainly feel his absence in their next four games.
In terms of a prediction, I can see this game being a tight 1-1 draw. There were two draws in the Premier League between them last year, despite Chelsea giving Spurs a good hiding in the FA Cup, and I don't expect anything different this time. I certainly can't see Spurs being beaten.