Football Expert & Columnist
Capital contest
Arsenal's Emirates clash with Chelsea should be a fascinating encounter, says Jamie Redknapp.
Last Updated: 28/09/12 2:49pm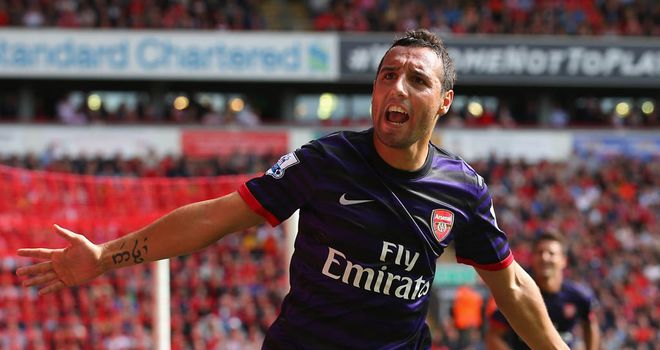 The Saturday lunchtime clash between Arsenal and Chelsea will be a real treat for football fans.
They are two teams who, going into this season, will have felt they had something to prove in the Premier League, and with both sides undefeated - Chelsea top of the league and Arsenal showing some promising form - this should be a fascinating contest.
Arsene Wenger's side won plenty of plaudits for their performance at the Etihad last Sunday, where they held champions Manchester City to a 1-1 draw and were unfortunate not to get all three points from an exciting game.
People had been saying that would be Arsenal's first real test of the season - but their first real test was playing Liverpool at Anfield, and they passed that with flying colours in getting a 2-0 win at the start of September.
Their clash with City, though, confirmed they have the resilience to cope with the best attacks in the league. In recent seasons, Arsenal have always been chopping and changing their back four and that makes it hard for players to build relationships on the pitch.
Jamie's backing a 1-1 draw at the Emirates
In their first five games this season, though, they have only made one change to their defence, and that was to bring in Laurent Koscielny against City when Thomas Vermaelen was ill. Arsenal have reaped the benefits of that and Joleon Lescott's goal was only the second time they've conceded in the league this season.
Steve Bould was brought into the coaching set up this summer and he's clearly had an impact. The defence looks more organised and they look like they're defending for each other this season, rather than as individuals.
But it's not just about the back four. I wouldn't say Mikel Arteta is a defensive midfielder but he's doing a nice job in front of that backline, protecting them, stopping little balls going into the front men, and then, when he's got the ball, he's able to play the ball and keep possession.
Zonal
They conceded from a set-piece against City last week and that will frustrate Arsene Wenger, but I have to say I'm not a fan of the zonal marking system he's using. There's a reason why in the Olympics people use a run-up to do the high jump: you get momentum and elevation with a run-up. There was no way Lukas Podolski's standing jump was going to beat Lescott's running jump to the ball on Sunday.
I like zonal marking from wide free-kicks but from corners you have to pick a man and stick with him. Everybody can concede from a corner, though: City are a huge side and they concede from set pieces. We can't be too critical, but at the same time they have to be a little bit careful.
Another ingredient to Arsenal's successful start to the season has been how quickly they've moved on from losing their captain, top goal scorer and talisman Robin van Persie to Manchester United this summer.
Last year it took them a long time to get over losing Samir Nasri to Manchester City and that affected their season. But this year they made the decision to sell Van Persie before the start of the season and that was a good move, because when you've got someone in your dressing room who doesn't want to be there it really doesn't help.
It seems - also considering the sale of Alex Song - that Arsenal have decided they'll no longer be dictated to by their players. Arsenal know where they are; they're a Champions League team and players should feel lucky to be there. Players - perhaps such as Theo Walcott - might be thinking they can go somewhere better, but they'd do well to find somewhere better than Arsenal.
Check out Jamie's Red Hot Tips at Sky Bet
Van Persie has gone but new arrival Santi Cazorla is really catching the eye for Arsenal now. If you asked me who would I'd like to buy a season ticket to watch every week in the Premier League, I'd pick him. And I think this Saturday's contest could come down to whether Cazorla or Eden Hazard has a bigger influence on the game.
Transformation
We've seen a complete transformation at Chelsea over the past couple of seasons. They've remodelled their squad from one which had a huge physical presence who could play football against you but also battle in midfield and out-muscle teams at set-pieces, into a side with a midfield and front line of tiny tots; smaller, more technical players, such as Hazard.
This will be a real test for them, though. In the past they went to Arsenal with Drogba up front and battered them with him. He scored 13 times in 14 games against Arsenal and Chelsea only lost one of those matches he played in. This time, though, they're going to have to play through Arsenal, be clever using wide areas and try to beat them at their own game, with no Plan B of hitting it long to Drogba if they're struggling.
It should be a fascinating contest, a tight game and one not to miss for football fans.
Home games are going to be important for Arsenal this season, especially against sides who are likely to be challenging them in the top four this year. They'll also be eager to get three points on the board because, although they've had a tough start with trips to Liverpool and Manchester City, they're only a point ahead of Spurs in the league, who everyone has said have had a poor start to the campaign. But I just feel this will be a tight 1-1 draw.
If you were an Arsenal fan, though, you'd be pleased and impressed with what you've seen so far. Of course there's a long way to go - and the key is to keep their key players fit - but I think they can have a really good season.