Football Expert & Columnist
Lion cubs not ready
Experienced heads will be key for England in Moldova on Friday night, says Jamie Redknapp.
Last Updated: 07/09/12 12:23pm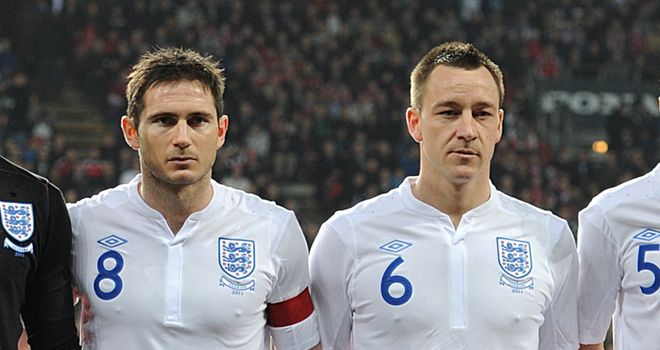 England travel to Moldova on Friday night to kick-off their 2014 World Cup campaign - and the experienced players in Roy Hodgson's squad will be vital to ensuring they come away with all three points.
There have been calls for Hodgson to do away with the old guard - players such as Frank Lampard, Steven Gerrard and John Terry - and look to the future by filling the squad with young players - but that just isn't realistic.
This is where I have real sympathy for Hodgson. Tom Cleverley, for example, is being talked about by many people as the next midfielder who will run the game for England. Well, last week at Southampton, Manchester United were losing until Paul Scholes came on for him and changed the game.
It's easy to say we should play the youngsters but, for me, they've got to be playing regularly for their clubs and producing week-in, week-out in the Premier League before they can displace the more experienced players we've got in the side.
And that's the problem - not enough of our young players are playing regularly in the top flight. Jordan Henderson is another example; he's not in the starting XI at Liverpool.
When we last played away to Moldova, in Glenn Hoddle's first game in charge of England, David Beckham made his debut. Well, where's the modern day young David Beckham or Paul Scholes making their case for a starting spot?
I haven't seen a young English player of that quality recently. The predicament is the older players are the best we've got, which is a shame, but I don't think Hodgson feels he's in a position to experiment anyway.
Of course he is trying to make changes to the way we play; he showed that when he played a 4-2-3-1 formation against Italy and I hope he continues with that approach.
But, despite taking over for the Euros, he probably feels like he is still settling in and will want to get results on the board early - and to do that he will need his experienced players.
Opportunities
However, his task isn't made easier by the string of withdrawals from the squad. Wayne Rooney, Andy Carroll, Adam Johnson and Ashley Cole will all be missing with injury, which isn't ideal, but it does open the door for other players to stake a claim for a place in the team. Jermain Defoe, in particular, will be desperate to make his mark.
He scored a good goal against Italy last month to take his tally to 17 in internationals, but he's never really sealed a place in the team. In fact, he's never played a full 90 minutes for England in 49 appearances! But I think this sort of match is made for him.
I remember when I played with him at Tottenham - he was one of the best forwards I ever played with in terms of his finishing. However, I would never have believed you if you told me he'd be able to play up front on his own.
He struggled to get in the Tottenham team last year when they were playing Emmanuel Adebayor up front with Rafael Van der Vaart in behind him and if Hodgson perseveres with this formation he used against Italy then Defoe needs to lay down a marker in this game and show people he can do the job.
This is the way the modern game is going and he needs to embrace that or face being a sub. But, in recent years, he's improved remarkably as a lone front man and I think he will show that on Friday night.
I'm expecting an England win but I don't think it will be that easy. Moldova will sit back and make it difficult for us and Eastern European players tend to be able to keep the ball well, too. But I think we'll have too much for them and win 2-0. There's a bit of confidence in the team after the Italy result and hopefully they'll be able to build on that in Moldova.
England should have no problems winning their group but hopefully during the campaign Hodgson will start to get a better idea of how he wants the team to play - and how they're able to play. His main objective, though, is to ensure we qualify.
The manner in which we do it isn't the most important thing - as previous campaigns have shown, but if we can get a strong start under our belts, later on in the qualification phase Hodgson can start introducing more young players - and hopefully there will be one or two coming through in the next season or two to make a case, as well.