Football Expert & Columnist
Red response
Liverpool can put opening day defeat behind them by beating Man City at Anfield, says Jamie Redknapp.
Last Updated: 24/08/12 8:15am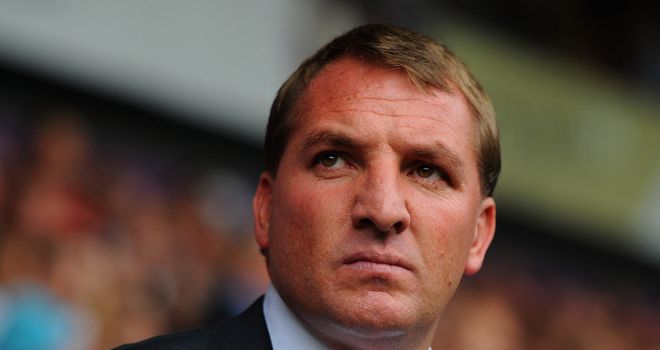 Brendan Rodgers endured a nightmare start to life in the Premier League with Liverpool on Saturday, but the visit of Manchester City this weekend gives him and his side the perfect opportunity to put that defeat to West Brom behind them.
During his time at Swansea there were so many highs for Rodgers and this summer he realised a dream by being appointed manager of such a huge football club. He would have looked at the history of Liverpool and the great managers who have led Anfield sides and relished the opportunity.
Since his arrival he's come across really well. He's said all the right things, the fans have taken to him and he's bought into what Liverpool is all about. I've spoken to Liverpool players about him and they've loved his training, his confidence and the way he speaks to them. Before the season there was a real sense of optimism around the club.
But Saturday must have been the lowest moment in his career.
Everything that could have gone wrong for Liverpool did go wrong. Zoltan Gera scored with a one in a million strike - a brilliant goal - and from that moment Liverpool missed chance after chance, had Daniel Agger sent off and conceded two penalties.
To lose 3-0 - Liverpool's worst opening day defeat in 75 years - have a man sent off and then get on the bus and see your old team have won 5-0 at QPR would have been terrible for him.
Although he wouldn't admit it, I'm sure at that moment he would have been filled with doubts about whether he made the right decision swapping Swansea - where it was all going so well - for Liverpool.
But the beauty of football is that he's got the chance to turn that all around this weekend against the champions, Manchester City.
However, although Liverpool deserved more out of the game and defeats for Manchester United and Tottenham, and a home draw for Arsenal, mean they haven't fallen too far behind, there were some warning signs that the Reds could be facing a similar problem to last season: scoring goals.
Last year Liverpool managed to find the net just 47 times in the Premier League. That was one less than relegated Blackburn and nearly half as many as City. At the Hawthorns they had 16 shots but only found the target with two of those efforts. That's not good enough.
As a team they simply don't score enough goals. Luis Suarez (11) and Andy Carroll (4) only managed 15 between them last year, but they didn't get much help from their midfield, with Jordan Henderson and Charlie Adam managing just two apiece last term and Lucas Leiva (who, admittedly, was out from December) and Stewart Downing failing to register at all.
It's something that Rodgers needs to address and he'll be hoping new signing Fabio Borini will be able to take his chances this year - but the midfield need to step up and help, too.
Home advantage
They certainly can't afford to be so wasteful on Sunday - although, I actually think Liverpool could cause a surprise of their own and beat the champions this weekend.
Liverpool are at home and there will be a big atmosphere there, with the fans looking forward to the first Anfield game of the season. It's a tough game but City haven't won there in their last nine Premier League visits.
I didn't think City were at their best last week, either. They had a hard game against a fired-up Southampton, who played without fear, before eventually seeing off the Premier League new boys 3-2. Mancini will be disappointed with the goals his side conceded and he'll know if his side play like that against Liverpool they will lose.
City will also be without Sergio Aguero, which is a huge loss for them.
Carlos Tevez had a good game last week, but that shouldn't come as a surprise. When he plays, things happen and he appears a bit slimmer (He's reportedly lost a stone but I find it hard to congratulate him on that - he should have lost it last year!).
He's a joy to watch, he sets the tempo with his work rate, he chases lost causes and, as we saw on Sunday, he scores goals. But all eyes will be on who Roberto Mancini goes with alongside him up front.
Edin Dzeko came on against Southampton but if he opts for Mario Balotelli you have to wonder how those two talented but volatile players will cope in the hot atmosphere of Anfield.
Jamie's Prediction:
I've got a feeling Liverpool could win this one. They need to get back on their bike, be confident and not lose that belief they had in pre-season. They can't let the West Brom result affect them because if they can beat Manchester City it will all turn round again. I'm going to say they can pull it off and beat the champions 2-1.