Football Expert & Columnist
Jamie's preview (O-W)
In part two of his Premier League preview, Jamie Redknapp assesses the chances of teams from O-W.
Last Updated: 16/08/12 2:08pm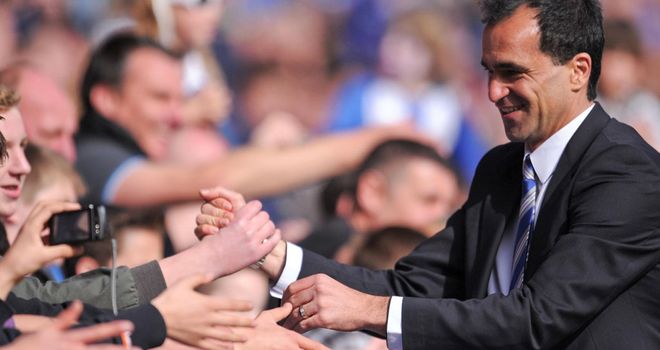 After a summer of sport where England earned credit at the Euros before another penalty shoot-out defeat, this time to Italy, and the UK was gripped by the Olympics, which featured a Team GB football side, the Premier League returns this weekend.
Champions Manchester City took the title from arch rivals Manchester United in the most dramatic of fashions with an injury time winner from Sergio Aguero on the final day of the season.
While City celebrated a first Premier League crown, there was heartbreak for supporters of Blackburn, Bolton and Wolves as they suffered relegation to the Championship.
Ahead of the new season Sky Sports expert Jamie Redknapp assesses the top-flight's twenty teams and gives his verdict on how their season will pan out. Read on for part two of his Premier League preview, which looks at sides from QPR to Wigan.
QPR (Last Season: 17th)
The fans and everyone involved with Queens Park Rangers football club should be very thankful they survived last year because relegation could have put them into meltdown, given the money they'd spent on transfer fees and wages. Mark Hughes is an experienced manager and he did a good job keeping them up last year but they should never have been in that position in the first place. They've splashed out a lot of money this summer but seem to have brought in the same sort of players as they had before. Apart from Junior Hoilett, I don't get excited by the players they've signed. Ji-Sung Park will work hard but to me he has always looked like a player who plays well with good players. Whether he can perform in a mid-table side is yet to be seen. I'd like to see them bring in some more youngsters, too. They seem to be investing a lot of money in older, experienced players who come with big wage demands and a shorter shelf life. It would be nice to see some young talent involved in the first team and the club developing talent for their future.
Key man: Hoilett is a good player with a lot of potential. But I look at the rest of their team and they don't really excite me.
Jamie's Judgement: They have to stay up otherwise their wage structure will cripple the club. I think they'll be mid-table but for the money they've spent I'd have thought the fans would want a bit more than that.
Reading (Last Season: 1st in Championship)
Reading are a team with no real stars but they won the Championship last season with a great work ethic, good organisation and a real commitment to each other. They'll take those values into the Premier League this year and I expect there will be many teams who find them difficult to beat. They'll be looking at Norwich, QPR and Swansea, who all survived as promoted teams last season, and analysing how they stayed up and try to follow their lead. I think when you actually look at it there's no set formula. Swansea won a lot of games at home, Norwich won a lot of games away - the important thing is to take your opportunities to get points on the board whenever you can. I remember when I was at Southampton and we were struggling, the last five minutes of matches, when you were tiring, was when mistakes were made and wins turned to draws and draws turned to defeats. They'll need to keep their concentration and focus - but they'll also need to be clinical in front of goal because they're going to be spending a lot of time on the back foot.
Key Man: They've brought in Pavel Pogrebnyak which, to me, looks like a good signing. He'll need to take his opportunities to give Reading a chance of getting points on the board. He looked good at Fulham last season but they didn't sign him, which surprised me. There must be a reason for that - and we might find out why they didn't go for him this year!
Jamie's Judgement: There will be seven or eight teams who could be struggling come the last day of the season and I think Reading will be in that group. I don't think even the staunchest Reading fan would disagree with that. It's going to be a battle.
Southampton (Last Season: 2nd in Championship)
I really hope Southampton, my old club, stay up. I'm really looking forward to seeing how Rickie Lambert adjusts to the Premier League. Like Grant Holt at Norwich, Saints will be relying on him to score the goals to keep them up. Adam Lallana is another talented player in their ranks. He was there when I was - although he was just a youngster coming through the youth set-up at the time. He's got lovely feet, he's very skilful and he's going to be important for them. We've got them on Sky at Manchester City on the first Sunday of the season and that should be a great game - and will give us an indication of how they'll fare this year. I've got a lot of time for the manager Nigel Adkins. For a long time they were challenging for the Championship title last season and I'm sure he'll have his side well prepared for this challenge and stick to the attractive football they were playing last year. There seems to be a bit of a sea change in the Premier League at the moment with a lot of the older managers moving on and a younger breed coming through. He's one of them and I think he'll do really well.
Key man: Rickie Lambert. He needs to do what Grant Holt did last year for Norwich. He scores all sorts of goals; free-kicks, headers and close finishes and he will be very important.
Jamie's Judgement: It's going to be a long, tough season and, much like Reading, they'll have to battle right to the end of the season to keep their Premier League status.
Stoke (Last Season: 14th)
Stoke have spent a lot money over the last couple of years on players such as Peter Crouch and Wilson Palacios and I think it's time for them to start aiming to do more than just survive. I like their manager Tony Pulis and I've got a lot of time for him, but now they need to start pushing on. Stoke were disappointing for me last year and to finish 14th, just two points above Wigan, isn't really good enough. There has to come a time when you evolve as a team and become more than a side reliant on long throw-ins. For the first time there may be some pressure on the team to perform better than they did in the previous season.
Key man: Peter Crouch. He's done it on the international stage for England and in the Champions League for Spurs. However, he only got 10 in the Premier League last season and Stoke will be hoping for a better return from the big man.
Jamie's Judgement: It's time for Stoke to step up and I'm expecting a better finish from them than last season. They haven't got the distraction of Europe this season so they need to they need to focus on securing a better league position - and sparring their excellent fans a nail-biting finish to the season.
Sunderland (Last Season: 13th)
When Martin O'Neill arrived at the Stadium of Light last season there was an instant impact on the Sunderland team. However, that form inevitably dipped and they had a disappointing end to the season. The Sunderland fans will be hoping that doesn't run into the 2012-13 campaign. The honeymoon period is over for O'Neill now and he needs to freshen up the squad with some better players who can raise the club to a better level. I'm sure he's been working hard to try and do that but so far they've only got Carlos Cuellar in on a free from Aston Villa. Black Cats fans will be hoping there are more new signings in the pipeline because otherwise it could be a tough season. The current crop probably overachieved last year, finishing 13th, and that might put them under a bit of pressure this season. I'm a huge fan of O'Neill and he's a manager you'd like to play for. But he needs some support from his board to take the club forward.
Key man: Sebastian Larsson scored some crucial goals at crucial times for them last season and he'll need to be on song again. They seem to be edging closer to signing Steven Fletcher and that would be a really good signing for them. A goal-scorer like him is what they need.
Jamie's Judgement:
It's going to be a long season for Sunderland unless they can make some additions to their squad before the transfer window closes. Put it this way, I don't expect to see them challenging for the top six.
Swansea (Last Season: 11th)
Swansea had a fantastic first season in the Premier League. They showed us that promoted teams don't have to rely on long balls and physicality to survive, and that by sticking to principles of good, stylish football, you can also earn good results against the best sides in the country. Their passing game won praise from pundits across Europe. It was a big blow for them to lose Brendan Rodgers to Liverpool but I expect them to play in just the same way under Michael Laudrup. That mentality was instilled in the club when Roberto Martinez was there - and he deserves a lot of credit for that. It was continued and developed by Rodgers and now runs right from their first team, through their reserves and into their youth teams. However, he does have some work to do because they've lost Joe Allen to Liverpool and Steven Caulker has returned to Tottenham. They were two very important players for Swansea last year. However, they've managed to keep hold of their other key men and, with the football they play. I think they'll be okay this year.
Key man: Danny Graham scored some important golas for them last year and Swansea will be hoping he can continue to hit the net this time around.
Jamie's Judgement: They've lost a couple of key players in Allen and Caulker but Laudrup has the experience and football philosophy to take over from where Rodgers left off and I think they'll have another good season.
Tottenham (Last Season: 4th)
Spurs finished fourth last year and had a good season. Obviously Daniel Levy wanted a change but there's an awful lot of pressure now on Andre Villas-Boas. He'll really come under pressure if they lose a few game because all eyes are on him. Everyone wants to know whether what he did at Porto was a fluke or if he was just unlucky at Chelsea. If you look at his record at Porto you think he can't be a bad manager but he made so many mistakes at Chelsea. To leave the club after a terrible start to the season and then see them go and win the Champions League was really bad for his reputation. Fortunately they've got a good run of fixtures early on so there's the chance for him and Spurs to get off to a good start. However, if they do lose a few games the fans will get a little upset, knowing what happened at Chelsea. Spurs aren't broken, though. They're likely to lose Luka Modric and Scott Parker is out for the start of the season but he hasn't got to change a lot. He just needs to keep them ticking over and slowly make improvements over the next couple of years - rather than try to do too much, too soon, like he did at Chelsea. But they're a good group at Tottenham. At Chelsea, once he tried to fight a few of the players there was only going to be one winner, whereas at Tottenham they're not a divisive bunch, they're quite a quiet group and there aren't any real troublemakers in the dressing room.
Key man: Gareth Bale. Quite simply: he's world class.
Jamie's Judgement: AVB needs a good start to earn the trust of the crowd and the players. I think they'll be fighting for fourth spot at the end of the season - anything less won't do.
West Brom (Last Season: 10th)
West Brom did well under Roy Hodgson last season. He got them well organised and difficult to beat. It wasn't always exciting to watch but Peter Odemwingie or Shane Long would knick them a goal and they finished a very creditable 10th. However, I'm not sure they'll hit those heights this year. They'll be okay - I don't think they'll go down - but they'll be just above the relegation zone and finish in the bottom half. Their new manager Steve Clarke has always been known as a good number two, but can he be a good number one? A lot of managers struggle to make that step, but everyone talks about him in glowing terms and I'm glad he's got the chance to do it on his own. This season will be a big test for him and there will be times when WBA will be up against it. However, with Jonas Olsson in the side and Ben Foster - who I think will have a good season - in goal they can survive a tough season.
Key Man: Ben Foster has had his problems in the past but he seems settled at the Hawthorns and I'm expecting the keeper to have a solid season for West Brom.
Jamie's Judgement: It will be hard for Clarke to match Hodgson's top-10 finish of last season but the Baggies have enough talent in their side to come through and secure their Premier League status for another year.
West Ham (Last Season: 3rd in Championship)
West Ham are back in the Premier League and with Sam Allardyce at the helm I'm expecting them to have a decent season. Like all Allardyce sides, they'll be direct, difficult to beat, they'll lump it into the box, they'll be big and strong and well organised at set pieces. There will be plenty of sides who won't fancy that challenge. However, it's important for them to start well. They've got some good fixtures to kick-off their campaign and it's important they make the most of that and pick up points early on to ease the pressure on them. The atmosphere at Upton Park will be important for them, too. When West Ham are going well there is no better atmosphere in football - but if the team are struggling the fans can turn on them quickly. They've made some changes this summer. They've replaced Rob Green with Jussi Jaaskelainen who's a good keeper Sam knows from his time at Bolton. However, he has a point to prove because he lost his place at the Reebok last season. They've also brought in Mohamed Diame from Wigan who I like, as well as Alou Diarra from Marseille and James Collins from Aston Villa, among others. They're solid signings and I expect West Ham to have a decent season.
Key Man: Mohamed Diame is a very good signing from Wigan. He's big and powerful and fits right into that West Ham set-up.
Jamie's Judgement: Sam Allardyce knows what it takes to win football matches at this level and will play to the percentages. It might not be the attacking, passing football West Ham fans love, but it will be effective.
Wigan (Last Season: 15th)
Roberto Martinez has done such a good job keeping Wigan in the Premier League by the skin of their teeth every year, but you have to worry for them again. They haven't signed many players and lost some important ones, such as Mohamed Diame and Hugo Rodallega and it looks like they're going to lose Victor Moses, too. If they aren't able to make some additions before the window closes this could be the year they finally go down. Either way, you can pretty much guarantee that they'll either go down on the last day of the season or survive on the last day of the season. Get your money on that now! Their fans will be hoping they can start the season in the same form they finished last year, but unfortunately relegation will threaten again and Wigan are never going to be anything different unless they invest a lot of money.
Key Man: Shaun Maloney. He scored in three games last season and Wigan won each one of them. They'll need the talented midfielder to be at his best throughout this campaign.
Jamie's Judgement: Wigan and Martinez have done fantastically well to survive for the past few seasons but, after losing several key players this summer, I just feel this could be the year they finally slip out of the top flight.