Football Expert & Columnist
More to come
The Manchester derby is unmissable, but there'll be more twists in the title race, says Jamie Redkanpp.
Last Updated: 28/05/12 9:28am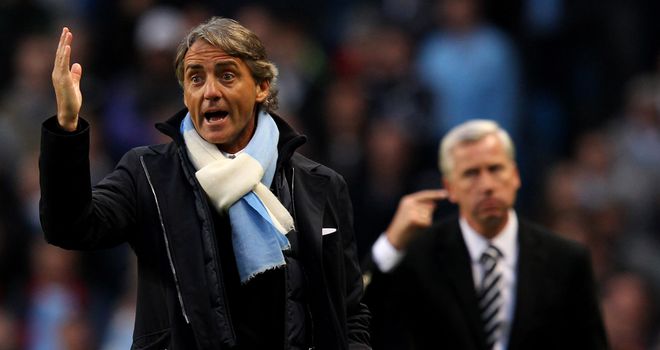 The Manchester derby on Monday Night Football is being billed as unmissable and that's spot on, but there will be plenty more twists and turns following the final whistle at the Etihad Stadium, I'm sure of that.
Two-and-a half-weeks ago the title race was over. United had raced eight points into the lead following City's defeat to Arsenal and it looked for the entire world as if the Premier League was destined for Old Trafford once again.
The bookies moved Roberto Mancini's men to 33/1 for the title and no one, including me, gave them a hope of getting back into it. Three games on and it's all to play for, and that is fantastic news for all the neutrals as we head into what is arguably the biggest game ever in Premier League history.
Sir Alex Ferguson is the master in these situations and United are probably still in the driving seat because they do have that three-point advantage, but you sense they are playing with a little bit of fear all of a sudden and I think a few doubts have started to creep into the players' minds.
It's not something that you associate with United teams, especially at this time of year when they are usually so strong, but the defeat to Wigan coupled with the 4-4 draw with Everton on Sunday would've knocked their confidence.
At 4-2 up on Sunday United were getting overrun in midfield by Everton and I'm sure if Sir Alex could do it again he would've added another man in there to help out Michael Carrick and Paul Scholes.
Instead they went looking for a fifth goal and looked incredibly open. Sir Alex eluded to the fact that the defence didn't do its job and I think Rafael was at fault for two of the goals, but I don't believe they had enough protection either, which is why I can see them reverting to five in midfield against City.
Problem
The problem he has is that Wayne Rooney and Danny Welbeck have looked formidable in recent weeks. They've started to develop a real understanding and if he is going to play five in midfield it will be most likely be at the expense of Welbeck, unless he chooses to play him out on the left.
In the big games in Europe Sir Alex has always tended to play one up top, two wide and three in midfield, and I can see him setting up like that at the Etihad with Ryan Giggs coming in alongside Scholes and Carrick, because a draw would be good enough for them.
The onus is very much on Manchester City to win the game if they have designs on ending their 44-year wait for a league title. Personally I think they will come away with three points on Monday night, but that won't be the end of the story.
They still have to face a Newcastle side who are playing the best football in the Premier League at the moment and are undoubtedly the form team.
People will say that the momentum City would get from beating United at home should be enough to beat Newcastle, but I don't think it will be as simple as that.
Alan Pardew's men have won their last six games on the bounce and have already beaten United at home this season. And in players like Hatem Ben Arfa, Demba Ba, Yohan Cabaye and, of course, Papiss Cisse they have an abundance of talent in form, so it will be far from an easy game for City, as impressed I have been with them since their defeat to Arsenal.
Partnership
Carlos Tevez's return to the team has undoubtedly made a huge difference - as has Mario Balotelli's disappearance from the side - and his partnership with Sergio Aguero is one of the best around.
Together they can tear apart any team and City look like a far harder working unit with those two up top than when they were carrying Balotelli, so it's no coincidence they have scored nine goals between them in the last three games.
We've had a great week of football with the Champions League semi-finals and this is another game to get really excited about because there are so many match winners all over the pitch, but the two Argentineans will be the key men for me on Monday night, and I just hope Mancini lets his team go out and play.
Until we see the two team sheets it's difficult to predict what sort of game we will get but Everton showed that if you're bold you can get after United and cause them problems.
That goes against the City boss' nature a bit, but his side have been given a second chance at winning this title and they have to go and grasp it.
Three points on Monday and they'll be within touching distance, but anyone who thinks that will be that is mistaken. There'll be more turns after this latest twist and the Magpies could have a big say where this title goes.