Football Expert & Columnist
Elders statement
Chelsea's old guard have proved their value to the club with the right man in charge, says Jamie Redknapp.
Last Updated: 16/03/12 11:37am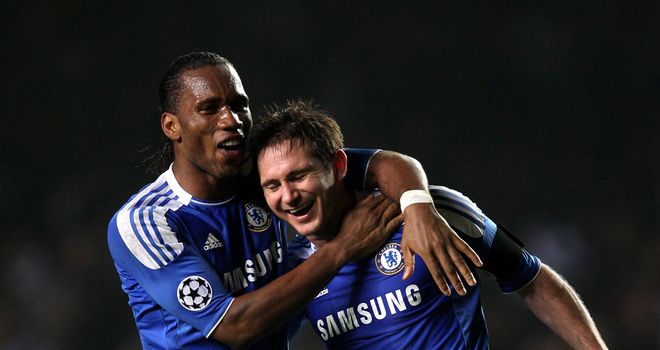 If you ever need an example of the value of having experienced players in your side, then look no further than Stamford Bridge on Wednesday night.
There has been a lot of talk at Chelsea about getting rid of the old guard, but you cannot completely discard players once they reach a certain age, and the game against Napoli proved that.
Of course Frank Lampard and Didier Drogba can't play every game, but you can still use them in a way that you get the best out of them. The key is dialogue and that's what Roberto Di Matteo has introduced since taking over from Andre Villas-Boas.
He explained to a few of the senior players that they wouldn't be playing against Birmingham in the FA Cup last week because he wanted to keep them fresh for the games against Stoke and Napoli, and that's fine. They knew where they stood.
In contrast, Villas-Boas kept the players completely in the dark to the point that he was being a bit awkward, and he ended up paying the price.
There is no doubt in my mind that players have the ability to get managers sacked. I've been in situations during my career where a chairman has come up to me and asked me what I thought. Personally that always made me a bit uncomfortable.
There were times I didn't want to bump into the chairman, because I knew he would ask if the manager was doing the right things and whether the players still supported him. In my opinion, players shouldn't be getting involved in conversations like that.
In this case it wasn't so much what the players said, but how they performed under Villas-Boas which was telling.
Self-preservation
Chelsea is a different place from four or five years ago when they wanted the best players there with them to help them achieve great things and to win European Cups and league titles.
Now, in some cases, it looks like it's more about self-preservation. There will be a few players just looking out for themselves who will want a manager who likes them and makes them part of his plans.
I do think that if Villas-Boas had just taken a step back and did things a little bit differently he would still be in a job now. But he chose to go in and start fighting players, when I don't think there was ever any need.
As a manager you have to be smarter than the players and one step ahead of them all the time. He didn't help his own cause in the first leg against Napoli, for example, when he dropped three senior players in Michael Essien, Ashley Cole and Lampard.
They might be getting on, but they still have miles in them and it's not like their legs have gone. Whether you like them or not they still have something to offer to that football club, so to cast them aside in that manner was a mistake, especially because they are all such strong influences.
But having strong characters in your dressing room does not have to be detrimental to your cause, as long as you deal with them in the right way, which is why the decision by Roman Abramovich to sack Carlo Ancelotti last summer looks more and more like a nonsense every day.
Ideal
Here was a manager who had won everything in the game, had gone in and settled everyone down and could handle all the egos; he was the ideal man.
But having sacked him the decision to appoint Villas-Boas baffled me. We have a tendency to think that foreign managers are better than any British ones, but that simply isn't true. The most successful manager in Premier League history is Sir Alex Ferguson and you can't tell me that David Moyes couldn't have done a better job than Villas-Boas.
Yes, Villas-Boas did fantastic at Porto, but to overlook people like Mark Hughes and Martin O'Neill - both who were out of work in the summer - and Moyes who has been doing an incredible job at Everton over the last 10 years just doesn't make any sense to me.
I don't think Abramovich ever got over Jose Mourinho leaving and it's almost like he was just going for a younger model with Villas-Boas. Both men had done brilliantly with Porto, were young up-and-comers and, of course, the same nationality, but unfortunately for Chelsea he didn't come near to recreating the success Mourinho had.
Idolise
They say never go back, but I don't believe in that which is why it wouldn't surprise me if Mourinho did end up back at Stamford Bridge.
The fans still idolise him, he's yet to sign a new contract at Real Madrid and I can picture him winning the Champions League, throwing his medal into the crowd and jumping on a plane back to London.
But whoever comes in will have to understand that they need to move the team on with the help of good senior players, and I think an English core is essential.
Manchester United have always had that and players like Cole, Lampard and Terry will continue to be important for Chelsea, even if they don't play every match.