Football Expert & Columnist
Test of strength
Jamie Redknapp says Andy Carroll can fill the Luis Suarez void - if Liverpool play to his strengths.
Last Updated: 07/01/12 2:46pm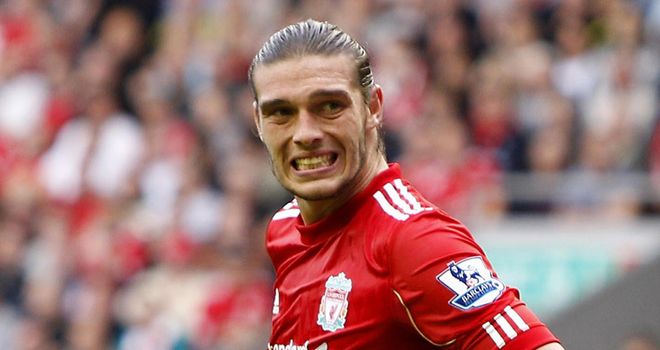 Losing Luis Suarez for eight matches is a massive blow for Liverpool; that's stating the obvious. But the question is can they cope without him?
I think they can, but the answer lies in Andy Carroll. If they can get him back to the player he was at Newcastle, he can be a success at Liverpool, there's no two ways about it.
But for that to happen two things have to change; Liverpool must start playing to his strengths and Andy has to start showing desire, he has to really want to prove he can play for Liverpool.
At the moment he doesn't look that up for it and he looks like he's low on confidence. When he was at Newcastle everything was about him in the same way that everything is about Demba Ba up there right now.
He was the focal point of that team, he was the star player and every set-piece was dreamt up with him in mind, but that hasn't been the case since he arrived at Liverpool.
All the focus has been on Luis Suarez and he's gone there and tried to play a game that suits Liverpool rather than playing the game that suits him. He's looked so placid to me and he doesn't seem to want to put himself about.
Sometimes you go to a big club and you think you've got to change your game, but Liverpool signed him because he was a ferocious centre forward, who was great in the air and who would happily head the back of other players' heads to get on the end of crosses.
See all Jamie's Red Hot FA Cup tips at Sky Bet
Since he's moved I've hardly seen him make an aggressive challenge. He looks as though he's just happy to be at Liverpool and he's trying to play the Liverpool way. If he wants to be a success, he has to go back to playing the Andy Carroll way.
If I was him I would stick on the videos from his Newcastle days and look back at why he was so good, why he scored 31 goals in 57 starts and why Liverpool were happy to spend so much money on him.
Service
That said, he needs to be helped by the service coming into him and Liverpool have to tailor their game to suit him.
At Newcastle he had Joey Barton on the right-hand side of midfield putting crosses into the box at every opportunity and the likes of Jose Enrique, Glen Johnson, Stewart Downing and Steven Gerrard can do the same.
If he's going to be your main man there is no point playing intricate football. You have to hit him in the right areas at the right time like Gerrard did in the game against Newcastle last Friday.
If you don't want to do that, then don't play him. Simple as that. If you want to play free-flowing football with people rotating and constantly moving into different positions, Andy Carroll is not your man.
There's nothing wrong with utilising his strengths. Tottenham did it for a long time with Peter Crouch and now he's doing brilliantly at Stoke, too.
Jamie's FA Cup treble is Man City, Sunderland and Aston Villa all to win - 5/1
The game has changed to a certain extent and we all think we have to play like Barcelona, but you can also benefit from playing a big man up front and there's no shame in that.
Kenny likes to play three in midfield with two wide men and I think that formation can work, even without Suarez.
Against Manchester City he played Jordan Henderson, Jay Spearing and Charlie Adam, but none of them are what I would call particularly dynamic midfielders. You won't see them bursting into the box and feeling comfortable playing off a frontman, but Steven Gerrard will.
He played that link role between midfield and attack when Fernando Torres was at the club and I can't see any reason why he can't do it again. There were a couple of instances against City where Andy pulled off to the back post against Gael Clichy and nodded balls back across the goal and that's where you need someone like Gerrard getting on the end of it.
In the end, City dealt with it fairly well because every time he pulled off to the far post Vincent Kompany would mark him, but that's a lot easier to do when you haven't got another player in the box to worry about.
There's no doubt that Andy Carroll has the ability to succeed at Liverpool and there are a lot worse players than him who have had huge success at the club.
Jamie's backing Man City to beat Man Utd 2-1 - 15/2
But just having the chance and a run in the first team isn't going to be enough, he's got to go and grab hold of it with both hands. That's the key for him and Liverpool.