Football Expert & Columnist
No code red
Man United may be missing some key players, but Jamie Redknapp says they won't splash the cash in January.
Last Updated: 16/12/11 10:54am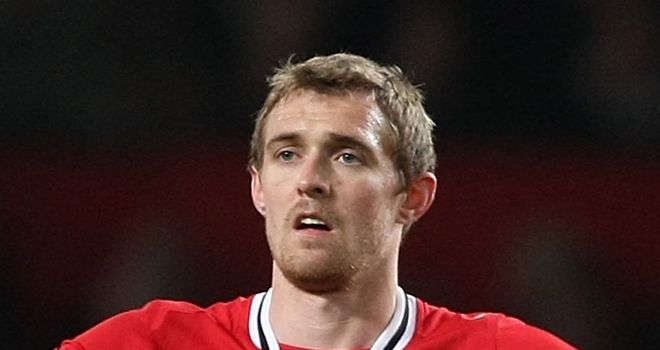 Sir Alex Ferguson has a lot of things to ponder.
Nemanja Vidic and Darren Fletcher will be absent for quite some time, while Tom Cleverley, Anderson, Javier Hernandez and Dimitar Berbatov are also on the sidelines.
With the transfer window opening shortly, I'm sure the Manchester United manager will be looking at potential signings - but I'm not sure he will bring anybody in.
Ferguson's very well stocked at centre-back with Phil Jones, Chris Smalling, Jonny Evans and Rio Ferdinand, so he shouldn't be overly concerned about Vidic's injury.
But losing the Serb is a big blow. United look so much better with him in the team; he's their captain, a leader and a terrific player. They may not miss him over the next few games but over the course of the season they will.
However, signing a defender as cover would only stunt the development of Jones and Smalling, who I believe are the two best young centre-backs in the country.
Jamie's backing Rooney to score 1st v QPR - 3/1
I remember the first time I saw Jones play for Blackburn, when his task was to mark Didier Drogba. I spoke to my dad afterwards and he said: 'I've got to sign him'. But obviously there was a queue all around the block and United got to the front of it.
He'll be a great for that club and with Vidic out, he'll be even more integral this season. The only way I see Sir Alex bringing in another centre-half is if Rio picks up an injury.
Big games
United have needed a midfield player for some time, though, as shown by their summer pursuits of Samir Nasri, Luka Modric and Wesley Sneijder and the fact that Jones and Wayne Rooney have had to fill in there this season.
The unfortunate illness to Darren Fletcher - who I send my best wishes out to - only makes that need greater. He didn't play much towards the end of last season but he always starts the big games and marks other teams' star individuals.
But would the calibre of player United are looking for be available?
Jamie's weekend treble is: Man U, Chelsea and Man City all to win - 12/5
January is a notoriously difficult time to shop. If you're a great midfield player, you're still going to be in the Champions League or at a club fighting for a league title, and most teams are not going to want to sell their best players.
It's not as simple as opening up the cheque book and bringing someone in. Where are the available players? Answers on a postcard please...
Dominant
The need for a general in the middle of the park is not as big as in years gone by. United haven't had a dominant midfielder player since Roy Keane and they've still won trophies.
The game has changed now; crunching sliding tackles get punished by referees and it's more about staying on your feet and making interceptions. That's why I think they have had such success. It may have been different if football was still about people like Keane and Patrick Vieira going to war.
Ideally, they would want someone of Modric's ilk to come in but with that unlikely, it gives a chance for others to step up.
Michael Carrick has won a lot since joining United but seemed surplus to requirements earlier this term. He now has a chance to stake a claim, as does Cleverley when he returns from injury; he looked like a top young player when he was starting games at the beginning of the season. Plus, the evergreen Ryan Giggs can play there, too.
I don't think United will sign a striker either. They are a little short at the moment, but what would happen when Berbatov, Hernandez and Michael Owen heal? You would have too many players fighting for too few positions.
Sir Alex will cope with Rooney, Danny Welbeck, and Federico Macheda and he can always revert to one up front with one behind if he has to. Remember, Ashley Young played very successfully in the hole for Aston Villa.
Quality
United's rivals, City, lost their first league game of the season on Monday night, but it was hardly a disaster.
Look at the quality players Chelsea have. They should be beating Manchester City at home. They've got one of the Premier League's greatest-ever midfielders, Frank Lampard, on the bench, £50million Fernando Torres on the bench, Florent Malouda on the bench.
That should take nothing away from City and their terrific start, which could have got even better had they been awarded a penalty at 1-0 for Jose Bosingwa's trip on David Silva. If that spot-kick had been converted, they could have been looking at another big win.
Jamie's gone for a 1-1 draw in the Wolves v Stoke clash - 11/2
I don't see any weaknesses in this team and Carlos Tevez's likely January departure will only help them. Plus, Mario Balotelli is showing me things I never thought I'd see.
When he joined, people said: 'He's a great character', but I thought he was a bad character and a guy you wouldn't want around. He's showing signs of maturity now, emphasised by his improved consistency and the way he said well done to Daniel Sturridge when the Chelsea man was substituted on Monday night.
Balotelli seems to have reaped the benefits of the Tevez saga; he's been given more responsibility and has taken a starring role. He now looks like a regular match-winner and you can never have enough of those. Roberto Mancini has done brilliantly with him.
Huge test
This is a big weekend for City, though. They need to bounce back and prove that they are capable of being champions. I believe they are but for all their world -class players, they haven't yet done it as a unit.
The game against Arsenal is a huge test; the Gunners are in superb form - mainly thanks to Robin van Persie up front and Thomas Vermaelen at the back - while Mancini's men haven't kept a clean sheet in eight Premier League games, something that will give the chasing pack confidence. A defeat, or even a draw, could see doubts creep into City's mind.
It's also a massive weekend for the title race. City can seize firm control of it; Arsenal can get back in it; Chelsea - whose next six or seven games, apart from Tottenham on December 22, look very winnable - can REALLY get back in it; and Manchester United, despite their injuries, could be leading it.
Still, with City having already travelled to Stamford Bridge, Old Trafford, White Hart Lane and Anfield, they are still very much favourites.