Football Expert & Columnist
Down to the wire
Jamie Redknapp is still backing United but believes Chelsea could smuggle the title out of Old Trafford.
Last Updated: 06/05/11 5:36pm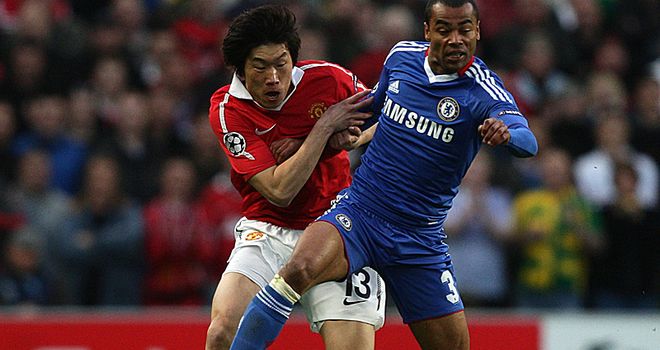 What a game this is going to be! This is one of those games that anyone who loves football will find a way of watching. We have been really lucky this week with some great games and this one will really end it on a high.
I think the neutrals would love Chelsea to win, while Sir Alex and his boys will just want to wrap the title up - get it done and dusted so they can rest some players and focus on the Champions League
If United win on Sunday then I think we can pretty much give them the trophy. If Chelsea win then you'd have to say United will still be in it because they have Blackburn away and then host Blackpool at Old Trafford.
Jamie's backing a draw at between United and Chelsea at 23/10 with Sky Bet
At this stage you are always looking at where your goals could come from and you would prefer to have United's run-in, especially if it comes down to goal difference. Chelsea have Newcastle at home but then they go to Everton which is going to be a very tough game for them.
In a way United, have two bites at the cherry but Chelsea just have one - so Sunday is going to be a very big game for Carlo Ancelotti.
It has been a very strange season and impossible for anyone to try to predict. The form that Chelsea were in a couple of months ago was terrible; to be honest, at one stage I didn't think they would finish in the top four.
But they have stepped up and as much as Fernando Torres has not really been a success for them, his arrival has coincided with their league form dramatically improving. I think he perhaps has given everyone a bit of a lift and their bench has really improved - which has helped Ancelotti and his options.
Instead of having a bench full of young kids, he now has a bench full of men that can come on and affect a game like they did on Saturday when Salomon Kalou scored the winning goal against Tottenham.
Chelsea's dilemma
I still think Ancelotti has a real dilemma with Torres though. No matter how you dress it up he has obviously had a terrible time since arriving at Stamford Bridge.
However, his presence at the club has got Didier Drogba riled and ready and he has certainly picked up his form of late - he seems to have realised that he needs to pull his finger out as well.
In a game like this you have to pick the 11 players who you believe can win you the title; you cannot worry about people's feelings at this stage of the season. You have to deal with what is best for the team and if that is having Drogba up front and Kalou and Florent Malouda as your front three then you have to do that. I really expect him to go that way, although it is going to be a tough call.
Jamie thinks the match could end in a 2-2 draw - 16/1 with Sky Bet
It seems absolutely incredible to me that there is even talk of Ancelotti and his job at Chelsea. This guy won the double last year! I know they are searching for European glory, which is the Holy Grail for Roman Abramovich, but I am sorry, it is not as easy as that.
If he does not win the Premier League this year should he get the sack? Absolutely not in my opinion. However, I am not sure what the message is from the club, he does not seem to have received any support from the club so I really don't know.
Playing it safe
As for United, the defence and goalkeeper pick themselves. Ji-Sung Park always has success in these big games so I can imagine him and Antonio Valencia playing in the wide areas.
Then I see Ryan Giggs and Michael Carrick in the heart of midfield with Wayne Rooney playing as a second-striker-come-extra-midfielder behind Javier Hernandez.
Where Sir Alex has a dilemma is if he goes and plays Rooney up front on his own and tries to pack the midfield. Then he is almost saying to his players: "We are going to sit back and go for a draw here."
By playing Hernandez and Rooney he is saying they have enough good players to beat Chelsea and that influences their mindset instead of sitting back and waiting for something to happen. Chelsea will be hoping that United will sit back and wait for the draw, but if they don't then that is really dangerous.
In United's favour is their very impressive home record which certainly gives them the edge.
Jamie thinks United will win the title - 2/9 with Sky Bet
I am still backing United to take the title because I have been saying that all along and surely they will not blow it at this stage? But the facts are that United could end up with nothing this season and Chelsea could smuggle the trophy out of Old Trafford.
This game has certainly come as a surprise - I really expected the engravers to have already have nailed United's name on the trophy but luckily for us there have been twists and turns all season and I would not be surprised if we see a couple more!