Football Expert & Columnist
The thin blue line
Only Chelsea can stop Man United from winning the Premier League now, says Jamie Redknapp.
Last Updated: 21/04/11 2:15pm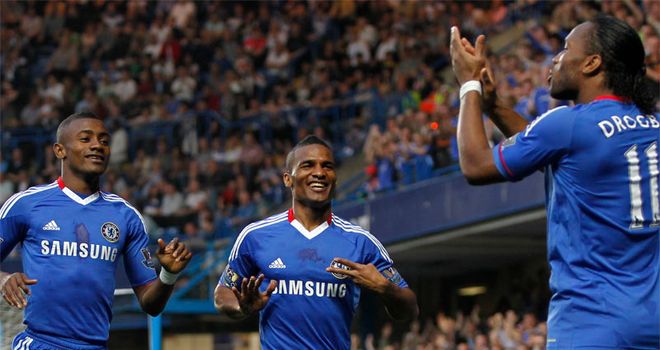 I think that's it for Arsenal's title hopes. For me, Chelsea are now the biggest threats to Manchester United.
It's still United's to lose of course and they are still odds-on to win it and rightly so. But if anyone is going to stop them, it is Chelsea.
The key word at this stage of the season is momentum and that is what they have. I know they are on the same number of points as Arsenal and both still have to play United, but I can only see Carlo Ancelotti's men catching the leaders.
Two weeks ago they had no chance. A few weeks before that we were worried about them making the top four and not so long ago it was in such doubt they had to go and spend £75million to make sure they did not drop out of the Champions League.
The big difference is that Carlo Ancelotti has gone back to 4-3-3. That is their best formation and when things aren't going well you always go back to your tried and trusted.
They played it against West Brom and despatched them no problem at all, played it against Birmingham and did the same; Florent Malouda and Salomon Kalou came back in and are scoring goals again.
Yes, the pressure has probably been off Chelsea for a couple of weeks now and that has helped. But what it has proved is that players make formations, formations don't make players.
Frank Lampard is better in a three-man midfield, Malouda is better in a three up front, and with the four-man midfield you just wonder whether Frank and Michael Essien lack that little bit of guile to break teams down.
If Ancelotti sticks with that system, I really do think Chelsea can win the six games they have got left. I do think they will need to do that but of that top three, they are most likely.
People will point out they've got to go to Old Trafford, but they went there last year at this stage and got the win - and there are already some parallels to the way they ended last season.
After they went out of the Champions League to Inter, they drew at Blackburn straight after but then went on that incredible run. I really can see them doing something similar in the final six games.
Gutless
Had Arsenal won at White Hart Lane on Wednesday night, you could have made a case for them doing the same, but I just can't see them doing that now. And I've got to be honest and say I feel sorry for Arsene Wenger and his side.
I know people will point to him being a bad loser and the fact that they blew a 4-0 lead at Newcastle, threw away two points against Liverpool and lost a 3-1 lead at Tottenham and I can understand why some people are losing sympathy; but I'm not.
To go anywhere, be it the leaders or the bottom club, in the Premier League and get a result is some achievement; you need characters, you need leaders. Arsenal this season have the best away record in the league, so you cannot tell me they do not have character in that side, you cannot tell me they are gutless.
People have been caning them for weeks but sometimes you just don't have any luck and nerves just kick in now and then - no matter who you are.
It'll be of little consolation right now, but of the three managers at the top of the table right now, I would be happier being in Arsene Wenger's shoes looking ahead to next season.
I know he made a mistake at Tottenham, but in Wojciech Szczesny they have found a proper keeper, they have Tomas Vermaelen to come back and everyone else is young enough to go again.
Pivotal
Chelsea have a decent back four and keeper but will probably have some big changes to make elsewhere. United need a new goalkeeper, I am not sure how long Rio Ferdinand can keep going and they certainly cannot rely on Ryan Giggs and Paul Scholes for much longer, so they have some serious rebuilding to do.
Even now, you fear for them if they lose Wayne Rooney between now and the end of the season. The Everton game this weekend is massive and will be pivotal; Everton are in form, having nothing to lose and we will have to see how United react to going out of the FA Cup to Man City.
Yes, they should beat Everton, but they have got the first leg of Champions League semi-final with Schalke on Tuesday and that might well have a bearing on the side Sir Alex Ferguson sends out. Will he do what he did against West Ham and leave some of his big players on the bench?
If United win, those odds will get even shorter, but if they lose or draw, then Chelsea will really start to believe they could pull it off.
It is a long shot but given the season we are having - at either end of the table - I don't think you can rule it out yet.