Mark Selby impressed at Masters, but the Snooker Shoot-Out is something else, says Neal Foulds
Neal Foulds reviews Mark Selby's Masters victory and looks ahead to the World Snooker Shoot-Out.
Last Updated: 22/01/13 4:22pm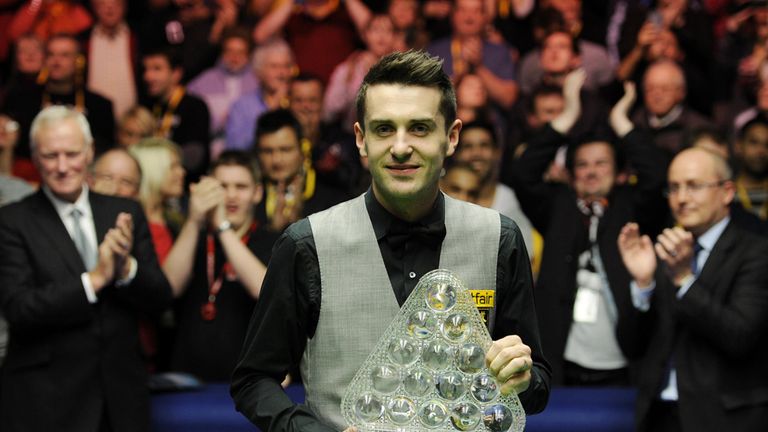 The Jester from Leicester, as he's known, had gone into December's UK Championship not playing particularly well, in my opinion, and there were times in north London when he was struggling.
But in both events he demonstrated his never-say-die attitude and fought his way to impressive victories.
From his very first match in this year's Masters he was up against it, needing to come back from 5-1 down against Stuart Bingham to win 6-5, which is no easy task.
Even going into the final I couldn't find one snooker expert who thought he was going to defeat defending champion Neil Robertson.
Yes, of course he could beat him on ability but Robertson looked fantastic in his semi-final against Shaun Murphy, while Selby, once again, had to come back from behind to get through, eventually seeing off Graeme Dott 6-5 in the early hours of Finals Day.
But Selby has such mental fortitude that he is able to raise his game in the final when he has to. He never gives in, either.
I'm not sure everyone thoroughly enjoys watching him play - but people used to complain about Cliff Thorburn and he was a world champion.
Thorburn was known as 'The Grinder' and Selby is almost a modern-day equivalent, although he is more talented and does have the ability to play flowing snooker at times.
With those back-to-back wins Selby has built up a bit of an aura; he's not necessarily the most frightening player to play against - as his nickname suggests - but he's someone you have to scrape off the table to beat.
If you beat him you will have had to outplay him over a long period of time, because he'll always have something to throw back. That's a formidable thing to have up your sleeve.
Following his UK win and his third Masters title, Selby's dream now is to win the World Championship. Whatever you've achieved in snooker, that's what you want to win.
Hes going to have lots of pressure on him at this year's event and it is going to be a huge hurdle to cross. However, everyone has a bad session at the Worlds and he has the 'B' game to still win frames when he's struggling, so he has a chance.
But I just wonder whether, given the amount of resources he has to use battling past people, he may just run out of petrol over the longer format.
We'll see how he gets on in April...
Snooker Shoot-Out
But this week snooker fans can turn their attention to the World Snooker Shoot-Out, which is something different entirely.
The three-day, one-frame knockout, shot-clock event is great fun. Although, perhaps not one for the connoisseurs of the game, this is snooker's answer to Twenty20 cricket and sees the world's top 64 players all in the same building.
I'm really looking forward to it - but don't ask me who's going to win it!
Nobody would have picked Barry Hawkins or Nigel Bond as the previous winners of this event and I don't expect a big name player to take the title this time, either.
Instead, the format favours someone who can think on their feet, who's street-wise, clever and quick on the shot - perhaps someone like Mark King or Robert Milkins, who did well last year.
It's all a bit of fun, there's audience participation and I'd advise anyone with an interest in the game who's not seen it before to tune in from Friday because it should be an entertaining weekend of snooker.