No stopping us now
Our League spotlights return with Matt Tubbs telling Chris Burton that Crawley will take some stopping.
Last Updated: 20/09/11 11:20am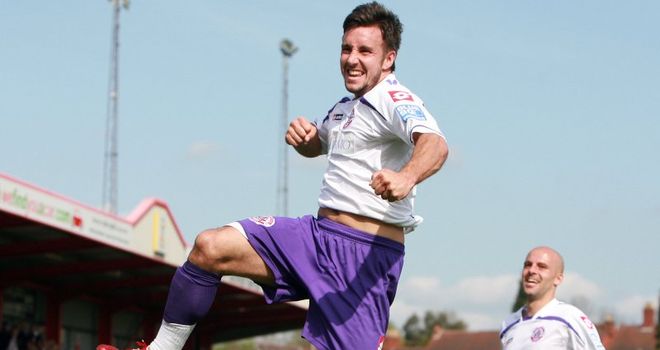 Manchester United are not the only set of Red Devils setting their sights on back-to-back league titles this season.
Down in League Two, Crawley Town are a side on the up and they have every intention of riding their own particular rollercoaster all the way into the third tier.
Steve Evans' men roared to the Blue Square Premier title last season, with an immediate return provided on their considerable investment.
With there still plenty of money left in the bank, and with the playing staff determined to make their mark within the League ranks, Crawley may take some stopping.
They were installed as pre-season favourites for promotion by the bookies, and they do not tend to get things wrong.
Walking the walk is entirely different to talking the talk, but the Red Devils have already broken into their stride this season and are looking like safe bets to be among the fourth tier frontrunners.
Inevitable wobbles have been endured, with this season a learning curve for all involved with the club, but there is a feeling that an historic season can provide a fairytale ending.
It was not that long ago that the club found themselves in administration and facing up to the very real threat that they may go to the wall.
Now, they find themselves in the Football League for the first time in their history and chasing a spot on the third rung of that ladder.
Crawley, it would appear, are not ones to do things by half.
Unsurprisingly, the mood in the camp is buoyant and Evans appears to have pieced together a side that has unwavering belief in its own ability.
One man who has helped to instil such belief is prolific frontman Matt Tubbs - a forward that plundered 40 goals for the club in all competitions last season.
Challenging
The 27-year-old is confident both he and Crawley can flourish in League Two in 2011/12 and admits anything less than a top-seven finish will be considered a failure.
"With the money that the club has got now and the players that the gaffer is bringing in, there is no reason why we shouldn't be challenging," Tubbs told skysports.com's Chris Burton.
"We have had a couple of bad results lately, but we aren't going to win every game because it is a step up. You have to appreciate that you aren't going to win every single game so it's about how you bounce back and we have to try and do that at Aldershot on Saturday.
"Our aim is promotion again. With the players the gaffer has brought in and the money the club has got, there is no reason why we can't achieve that. We have had a good start to the season, we have put in performances against a few sides that will be up there this season, and we are delighted. There is no reason why we can't be challenging come April/May.
"I believe we can get promotion this season. In the Conference only one club goes up automatically and four teams go in the play-offs but this season we are in a division where three teams go up automatically and four more go into the play-offs, so there are seven places that we can get into and I think we will get promotion."
While there is pressure on the club as a whole to deliver results this season, Tubbs is also expected to replicate his heroics from last term.
He appreciates that he is unlikely to scale such heights again, but he is confident he can get goals in the Football League.
"Without being big-headed, my stats don't lie," he said.
"I have scored goals every season, bar one three or four years ago. I'm a confident lad and believe in my own ability and with the squad that Crawley have got now, they are a team that is going to create chances. If I'm playing, I'll try and get myself on the end of them.
"I probably won't score 40 goals again ever, but this season is about trying to get myself in the right places at the right time and get goals where I can. As long as I can get a few and we are doing well as a team and playing some good football, that's the main thing really."
Tubbs, given his record, could be forgiven for thinking that he deserves to have been gracing the League ranks for some years now, but he admits that some clubs are reluctant to dip into the non-league for goal-getters.
There have, however, been success stories in recent years, such as Norwich's Steve Morison and Queens Park Rangers' DJ Campbell, and Tubbs believes more clubs should be prepared to look a little lower for promising talent.
Gems
He said: "Yeah. You look at some non-league players that have gone on - Morison is now playing in the Premiership, so there are non-league gems out there. It's about clubs being willing to take a risk on a non-league player, because it is a risk at the end of the day. But it has been proven and maybe that could be the way forward."
Tubbs helped to raise his own profile last season with his goal-scoring exploits, while Crawley were able to complement their league crown with a run through to the fifth round of the FA Cup.
Derby and Torquay were disposed of along the way, but it was a day out at Old Trafford against the other Red Devils that really captured the imagination.
Reliving those heady days, Tubbs said: "We set high expectations of ourselves and with the season we had last year, it was almost a freak season with the games we went unbeaten, the manner we went about it and the cup run where we beat some good teams and got to go to Old Trafford.
"Usually it's one or the other, you have a good cup run and you don't win the league or you win the league and don't have a good cup run. But we had a bit everything and those memories will last for a long time."
While those memories will never fade, the priority for Crawley at present is establishing some consistency - with their last four league games seeing them win 4-1, lose 6-0, lose 3-0 and win 3-1.
"That's what League Two is all about," said Tubbs.
"You have experienced players and experienced teams that are used to playing in the league week in, week out. It's about us settling in League Two. You can have all the players in the world and all the money in the world but you still have to go out and beat teams. Last season we went out knowing we were a big team, but this season it's a bit different. I think we need to find that consistency level and if we can do that, I don't see any reason why we can't be up there.
"We know that Crawley aren't the biggest club in League Two by a long way, but we have got the resources and the gaffer has brought in players who are capable of playing at a higher standard. We have to go and grind out results and consistency will be a key thing from here on. If we can get that we should be okay."
Tubbs is looking forward to playing his part in the next chapter of Crawley's colourful history and admits he has given little thought to leaving the club.
Each passing transfer window brings with it a fresh round of speculation, but Tubbs insists he is fully focused on his football and will leave others to discuss where his future may or may not lie.
He said: "You do hear about it but you have to put that at the back of your mind and concentrate on every game. If you are thinking this club are watching me it plays on your mind, regardless of what people say. You have to put it to the back of your mind and focus on your own game. If someone likes you they will bid for you and then it's up to the two clubs to negotiate a fee. It's up to you to keep focused on your own performances."
Access to Matt Tubbs was provided by Midas Sports Management.