The Insider
Skysports.com considers the factors at the heart of an evolving, new-look Manchester City.
By Peter Fraser - Follow me on twitter @SkySportsPeteF
Last Updated: 22/08/11 12:57pm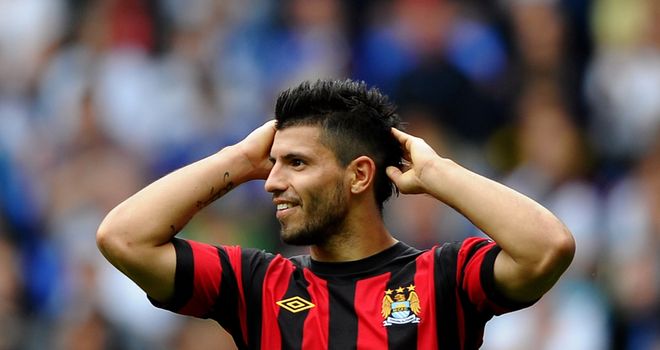 Bright purple boots and the hair of a Latino version of Jedward may sound like a circus dress code, but David Silva and Sergio Aguero are instead the ringleaders of Roberto Mancini's development at Manchester City.
Silva and his adidas F50s look set for a season to remember after tormenting Swansea and Bolton, while Aguero and his brilliantly subtle movement, and spiked hair to compare to a set of Irish twins, is undoubtedly a star.
They are the leading lights in what is a City team which Mancini is shaping into a new style. It will be interesting to see how City adopt to playing in the UEFA Champions League and against the Premier League heavyweights, while there are also defensive concerns. But it is evolution not revolution.
David Silva
When the former Valencia player arrived in England in a £26million deal at the end of June 2010, the move did not attract as much attention as can often be the case in transfer windows. But the Spaniard has for the last six months been demonstrating why Mancini was so keen to secure his services. After playing a full 90 minutes against Tottenham on his Premier League debut last August, Silva did not play another full match at club level until the 2-1 win over Newcastle on 3rd October. Mancini was allowing his creative, but lightweight, spark time to accustom to the rough and tumble of life with an English club. He is now reaping the benefits. Silva is proving a nightmare for defenders. He drifts from the flanks and discovers the pockets between midfield and defence for which opponents find so difficult to establish responsibility. His blindside passes between full-back and centre-backs are also a significant weapon and provide an indication of City's new blend of adventurous attacking.
Sergio Aguero
The Argentine did not have quite the impact of his two-goal debut against Swansea, but there were still plenty of signs of encouragement against Bolton. In the 14th minute, he did not flinch at the prospect of a 50-50 challenge with Martin Petrov. In the 31st minute, he darted past a flat-footed Gary Cahill to tap in, but the strike was disallowed for a foul in the build-up. Aguero did spoon a glorious chance over the bar in the 18th minute and missed a good headed chance 10 minutes before half-time, but there is more to his game. Aguero's running style, with little back-kick, gives the impression he almost floats over the turf and defenders often seem unaware of his location. He provides far greater subtlety than Carlos Tevez, who replaced him in the 68th minute. Perhaps the greatest indication of City's new style came in the 12th minute. Aguero was furious with a long punt from Joe Hart, which left the forward gesturing with his thumb as if trying to flag a hitchhike. He wanted the ball behind the defence. In contrast, Tevez and his bulldog running took one ball from Hart on his barrel-chest with no complaint. These long balls are likely to become a thing of the past.
Edin Dzeko
In the second half of last season, the January signing from Wolfsburg was a figure of fun after failing to score his first Premier League goal until late April. But the £27m man has now scored in every one of City's games this season, including the Community Shield, and he appears to be revelling in some new-found confidence. Dzeko still displayed moments of cumbersome frustration when with the ball at his feet in deep areas against Bolton. But he also looks like an ideal foil for the delicate touches of Aguero and Silva, linking up nicely with the pair and creating both of the former's missed chances. It is the blend of power and skill which is part of the evolving City. The imminent arrival of Samir Nasri is further evidence of Mancini's preferred direction. Dzeko is also beginning to prove he knows where to find the back of the net and was tenacious in firing City into what was at the time a 3-1 lead at Bolton. Mancini has always maintained the Bosnian would prove a success after scoring goals for fun in Germany and he is beginning to reap the benefits.
Defence
Last season, City were strongly criticised for a negative approach. It was fair comment. They were at times one dimensional and, to be blunt, boringly ugly to watch. Criticism reached a peak after successive 0-0 draws against derby rivals Manchester United and Birmingham in November. Early days, but, this season, City's more attacking emphasis has been evident against an admittedly naive Swansea and a Bolton team who committed defensive mistakes. Whether Mancini 'parks the bus' as he did against the likes of United and Arsenal in the Premier League last season remains to be seen. City were outplayed by United in the Community Shield and, including the Wembley outing, have already conceded more goals in the current campaign than they did in the final eight games in 2010/11. It is an issue which clearly angers Mancini and post-match at the Reebok Stadium he spoke of the need for his players to 'pay more attention'. It is a criticism often levelled at the likes of England internationals Micah Richards and Joleon Lescott, who have all the attributes, but can at times be guilty of lapses. Expect a defender or defensive-minded midfielder to arrive at Etihad Stadium before the end of the transfer window.