Don't blame Bale
The Insider insists the system is to blame for yet another debatable PFA Player of the Year award.
Last Updated: 18/04/11 12:19pm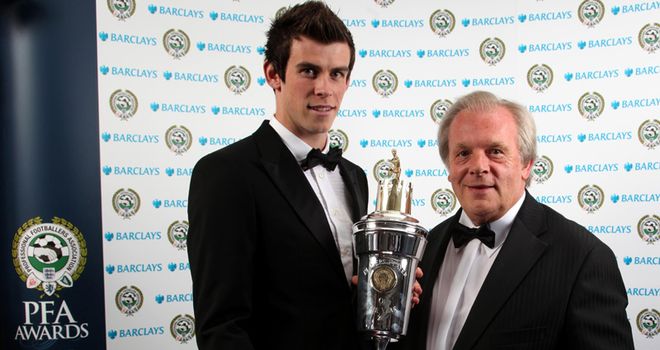 Gareth Bale was handed the Professional Footballers' Association Player of the Year trophy on Sunday evening, but even before he picked up his prize many were wondering how the Spurs flyer actually did take the award.
Many have been critical of the choice and Bale himself has been on the end of some unwanted and unjustified criticism.
Tottenham star Bale, like with runner-up Samir Nasri and to a lesser extent third-placed Carlos Tevez, was in exceptional form at the start of the season which threw him into the media glare and into the minds of the voters, his fellow professionals.
But if the voting was done now, you could easily see none of the top three making that list again.
The real issue is how the award is decided, and that is where the problem lies.
The PFA ballot their members at the turn of the year, and every player in England is asked to vote on Player of the Year, Young Player of the Year and the team from their respective divisions.
The timing is the first and major issue, and even many players have admitted that they would like to see this delayed.
Backlash
Sometimes a player can dominate an entire season, like Wayne Rooney last year, and the award does get it right, but two of the last three seasons have seen decisions which have led to a critical backlash.
Ryan Giggs two years ago was handed the PFA prize and, like with Bale this year, many have questioned what he did to win it.
I would also suggest that only players from that division should be able to cast a vote. Each division should name their own Player of the Year, with the Premier League winner gaining the overall crown.
The Bale award this year also raised the question of how can the Player of the Year, age permitting, then not get the Young Player prize - it simply makes no sense - if the Spurs man is the best player, then he is obviously also the best young player.
So it is clear what the PFA needs to do. They need to totally overhaul their system and in today's electronic dominated world, there are no excuses for why each individual member could not cast their vote in seconds. The Football Writers' Association allows its members to cast their vote in this manner.
The PFA need to make sure that such a prestigious prize is not devalued - something it is very much in danger of doing as it stands.